Cineplex Movie Formats Explained: What Are Premium Tickets and How You Can Save Money
By
Simon Hung
January 11, 2017
It's a lot trickier to see a movie nowadays. Once upon a time, you only needed to pay for general admission, but these days there are premium formats like 3D, AVX, VIP and more options with capitalized abbreviations, each more expensive than the last -- but what do they even mean?
Cineplex movie tickets can cost as much as $25.00, making date nights and family movies an expensive outing. We're here to help and have listed the common movie formats found in Cineplex cinemas to give you an idea of what each one has to offer, along with some money-saving tips at the end.
Note that ticket prices reflect adult pricing at various Cineplex theatres in Downtown Toronto -- prices vary by region and tickets at your local theatre may differ.
| Pros | Cons | 2D Price, 3D Price | SCENE Price |
| --- | --- | --- | --- |
| Cheapest | Seats not reserved, little leg room, more ads, can get crowded | $13.50, $16.50 | 1000 points |
The cheapest and most ubiquitous ticket option, seats to regular movies are general admission and available on a first-come-first-serve basis. Regular theatres usually have smaller screens, seats with little leg room and can get crowded quickly during popular movies. Regular showings also play a longer pre-show, which means more ads will play before the movie starts.
| Pros | Cons | 2D Price, 3D Price | SCENE Price |
| --- | --- | --- | --- |
| Reserved seats, some Prime Seats are larger | Same disadvantages as regular theatres, but more expensive | $15.50, $18.50 | 1500 points |
Some Cineplex cinemas have tickets designated as Prime Seats, which are usually a block of 20-30 desirable seats in the centre of the seating area. Tickets for these seats are sold in conjunction with regular admission, but Prime Seats cost more than regular tickets with the added benefit of being able to reserve your seats.
| Pros | Cons | 2D Price, 3D Price | SCENE Price |
| --- | --- | --- | --- |
| Reserved seats, larger screen, roomier seats | Screen and audio improvements are minimal | $16.50, $18.50 | 1500 points |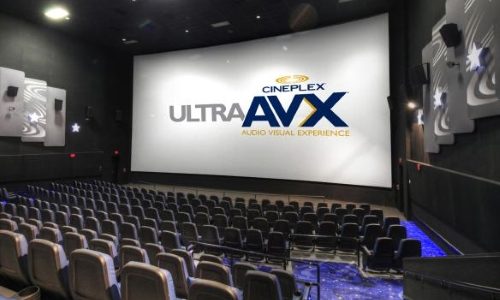 UltraAVX theatres promise a larger screen and better seats.
UltraAVX is the most common premium format, featuring reserved seating, a larger screen and more comfortable seats with extended leg room. UltraAVX and other premium formats usually play big-ticket movies, as they'll draw a larger audience and as a result, more revenue for Cineplex. While the perks are nice, UltraAVX is where prices start to creep into the territory where you have to think twice before buying.
| Pros | Cons | 2D Price, 3D Price | SCENE Price |
| --- | --- | --- | --- |
| Same advantages as regular or UltraAVX theatre, motion seats | Same visual experience as regular or UltraAVX theatre but more expensive, motion seats offer little value | $22.50, $24.50 | 1500 points |
D-BOX seats are a block of 20-30 specialized seats in regular or UltraAVX theatres that offer the same pros and cons as the theatre with which they share, but D-BOX seats vibrate and move along with the events on-screen, adding an extra dimension to the movie. It equates to sitting in a rocking massage chair and for most people, the extra cost isn't worth it.
| Pros | Cons | Price | SCENE Price |
| --- | --- | --- | --- |
| Reserved seats, largest screen, improved audio, some movies have exclusive IMAX scenes | Price, not all theatres have traditional IMAX, no TimePlay in some theatres | $20.50 | 1500 points |
Described by many as the best visual experience, IMAX features a massive screen with improved audio, but only if you're in a genuine IMAX theatre. There are only a few cinemas in Canada that have a traditional 80-foot IMAX screen, while most have much smaller screens that are only branded as IMAX and jokingly called Lie-MAX by movie purists -- click here to view a list of IMAX venues in Canada (venues marked as Dual Projection or IMAX with Laser use traditional IMAX screens). Cinemas with the misfortune of sporting a small IMAX screen offer a similar experience to UltraAVX.
| Pros | Cons | Price | SCENE Price |
| --- | --- | --- | --- |
| Reserved leather seats, smaller audience, lounge, in-seat dining service, 19+ | Price, no major audio/video improvements, no TimePlay in some theatres | $19.99 | 2000 points |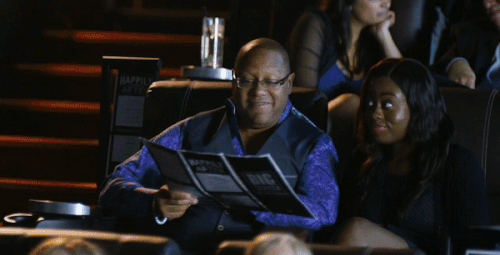 The main advantages of VIP theatres are the smaller audiences and in-seat dining.
Those looking for a more intimate movie experience will want to try VIP, as these tickets are only available to those aged 19 and up. VIP theatres only seat about 30 people and feature an in-seat dining service (including alcohol), priced à la carte. The visual quality is the same as regular theatres, but VIP tickets are worth it for those who want to enjoy the movie experience while avoiding the hectic crowds in regular theatres.
| Pros | Cons | Price | SCENE Price |
| --- | --- | --- | --- |
| Reserved seats, motion seats and environment effects are neat | Most expensive, motion seats and environment effects may be annoying | $24.99 | 2000 points |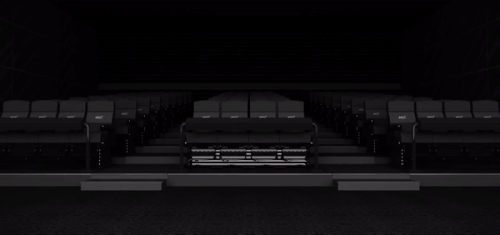 In addition to moving seats, 4DX theatres spray water in your face.
The crème de la crème of premium tickets, there's currently only one cinema in Canada with a 4DX theatre (Cineplex Yonge/Dundas in Toronto). 4DX theatres feature motion seats, but with a new trick -- environment effects. These specialized theatres include jets that spray mist, wind and scents to enhance your movie experience. It's an expensive experience and the "spray water in your face" marketing tactic is an interesting one, but you may see more of these spring up if the format is successful.
Tips to Save Money
Cineplex vouchers -- Cineplex vouchers can usually be purchased at a discounted rate through your employer or programs like CAA. RFD forums legend Hellfire has also organized group buys for Cineplex vouchers regularly over the past nine (!) years
Costco -- Costco regularly sells Cineplex movie ticket packages that cost less than paying full-price in-theatres. Pricing varies by province and packages are available both online and in Costco warehouses
Get a SCENE card -- SCENE is Cineplex's loyalty program where you earn points by watching movies and can redeem them for free movies. SCENE members also get 10% off concession snacks
Grocery vouchers -- a few times a year, you'll find Cineplex vouchers on packages of Coca-Cola or General Mills products that offer free or buy one get one free admission. These products will often cost far less than a ticket at the box office
Other cinemas -- although Cineplex holds an 80% market share in Canada, Landmark Cinemas and Rainbow Cinemas also operate in Canada and you'll often find cheaper tickets for the same movies
TimePlay -- TimePlay is an interactive trivia game played before most movies. Download the app on your phone and play with the audience to get free SCENE points, concessions and contest offers
Tuesday -- Cineplex offers discounted ticket prices for all shows every Tuesday and SCENE members also get an additional 10% off the Tuesday price
VIP "Hump Date" Wednesdays -- questionable marketing name aside, those who enjoy VIP theatres should go on Wednesday, as you can get two tickets and dinner for $50.00 -- look for the "Hump Date" pricing when buying your tickets online
What do you think of Cineplex's multitude of formats? Good choices or gimmicky cash grab? Let us know which format you enjoy the most and any tricks you use to save money when going out to the movies!