Best Buy is Offering a Sale on Sony Android Smart TVs
By
Jordan Maxwell
May 29, 2020
Looking for a new TV with rich picture and sound? Best Buy is doing a sale on Sony Android Smart TVs for a select handful of 4K models in Canada. As an Android smart TV, most of the models feature Google Assistant, which allows you to control it without a remote. At the same time, you can also pair it with other smart devices in your home if you're an avid user of smart home technology. Whether you're watching content in 4K through a connected Blu-ray player, streaming service and appropriate subscription, cable/satellite TV set-top box, or even home movies, it's hard to beat the real-world quality these TVs have to offer.
We've highlighted a couple models to show you to get you started. Check out the full list of Sony TVs available for sale here.
Offering quality picture and sound, this Sony 4K HDR Smart TV will let you upgrade your home entertainment system in style. It's a solid 43" TV that has ultra HD LED display and is power by a 4K HDR X1 processor. As mentioned above, all of these TVs are compatible with Google Home and Alexa technology so you can control your TV and other devices with voice commands.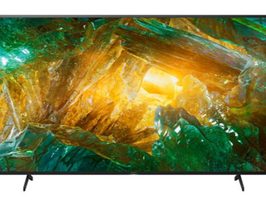 If you've been stuck in the 40" zone for a while, it's time to upgrade to a bigger unit. This 55" inch has all of the bells and whistles the previous TV has just bigger. What's great about this model is its X800H design comes with Sony's TRILUMINOUS Display, which allows it to reproduce more colours than a conventional TV. The TV analyzes and processes data in every image in order to reproduce colours that are not only more precise, but also more natural. Combine that with Dolby Vision and you have an almost flawless TV.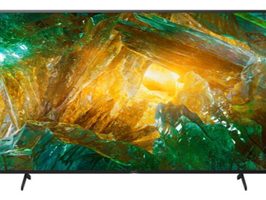 Start casting your favourite movies and TV shows on this massive 75" Sony TV model, powered by Android. It gives you access to all of your favourite streaming services, including Netflix, Crave, Amazon Prime Video, and YouTube, along with access to Google Play apps, including games, and music through services like Spotify, and more. Even video game play will never be the same. It has superior mapping technology and resolution quality that will enhance your gameplay and visuals, whether you're playing Call of Duty or FIFA 19. You can also add other media sources to it as it has 4 HDMI inputs, 3 USB ports, Wi-Fi, Ethernet, and Bluetooth connectivity.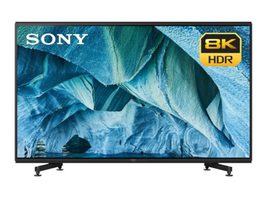 Featuring 8K Ultra HD display and a 7680 x 4320 resolution, there's no real way to beat this model. It offers lifelike detail, superior colour display and contrast that will take your home entertainment system to the next level. If you're building a home theatre in your home, this is the perfect TV to start with. It's big enough to satisfy your appetite by bringing the theatre experience home to you. Combine this with Dolby Vision, which helps provide striking highlights, deeper darks, and more vibrant colours, and the result is an advanced picture with better colours and light gradations that can bring scenes to life.
Start Shopping for a Sony TV Today!
Improve your TV experience through Best Buy's Sony 4K and 8K TV sale. You can also cast content to the TV from a mobile device, like a smartphone, tablet, or laptop computer, using Google Chromecast, which is built right into the TV. Or, you can share content from your Apple Device with AirPlay 2 support. The possibilities are endless. Check out the full list of Sony 4K and 8K TVs here. and start shopping today.