Best Buy Discontinues Weekly Flyers in Canada
By
Simon Hung
February 22, 2021
Best Buy has discontinued their weekly flyer in Canada, replacing the popular shopping guide with a dedicated webpage to showcase their weekly deals.
In a statement to RedFlagDeals, a Best Buy spokesperson says the change will allow customers to shop for deals more easily on their website, provide quicker access to products and allow flexibility to continuously add more deals. In addition, Best Buy does plan to issue special flyers later this year for Black Friday and Boxing Week.
Best Buy's flyer was consistently one of the most popular flyers on RedFlagDeals, serving as a handy visual aid for shoppers looking for tech deals, especially during major shopping events like Black Friday and Boxing Week. The earliest flyer in the RFD archive is from June 2012 (our flyers section was launched that month), although Best Buy flyers did exist before then.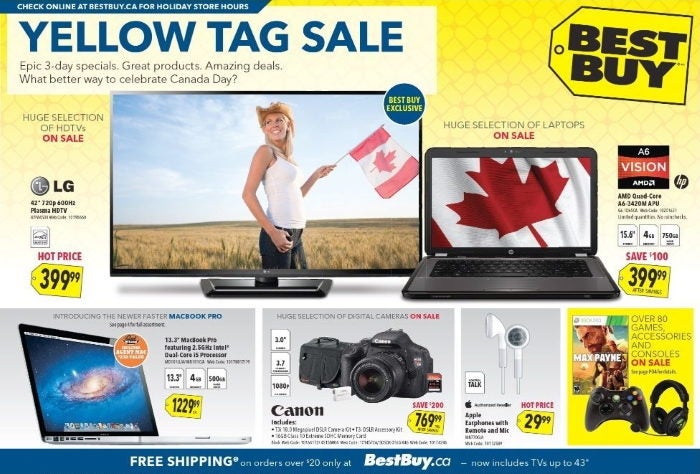 The oldest flyer in the RedFlagDeals archive dates back to June 2012 – click to see the hottest deals from nine years ago.
The final flyer was issued on February 5 – a short three-page flyer that featured approximately 30 products. In contrast, their longest flyer ever was an 89-page catalogue for Boxing Day 2017 with over 900 products.
Since late-January, shoppers looking for the flyer have been re-directed to Best Buy's Top Deals page, which features weekly deals that would typically be included in their flyer. In the weeks leading up to the change, their flyers became noticeably shorter in length, from an average of approximately 30 pages in 2020 to just two pages in 2021.
While Best Buy isn't the first Canadian retailer to nix weekly flyers in the COVID-era, they are the most prominent retailer to eliminate flyers entirely – back in April 2020, No Frills and other Loblaw-owned grocery stores stopped printing paper flyers and switched to an all-digital model, presumably to reduce touch-points in-store, but began printing paper flyers again six months later.
____________________
Corrections: this article was updated on February 24 with an official statement from Best Buy.