Amazon's New Fire TV Cube Brings Alexa Hands-Free Control to Fire TV (Review)
By
Thomas Kenzaki
October 10, 2019
Streaming devices for your TV are a dime a dozen these days. Amazon's own Fire TV Sticks have been some of the most popular choices in Canada and the new Fire TV Cube looks to build off that momentum by being the most advanced Fire TV device available. Here's what I thought of the new Fire TV Cube.
Inside the Box
In typical Amazon fashion, the packaging is very minimalistic, offering just what you need and nothing more. The exterior of the box offers a peek of what's inside, along with a bunch of featured Fire TV apps.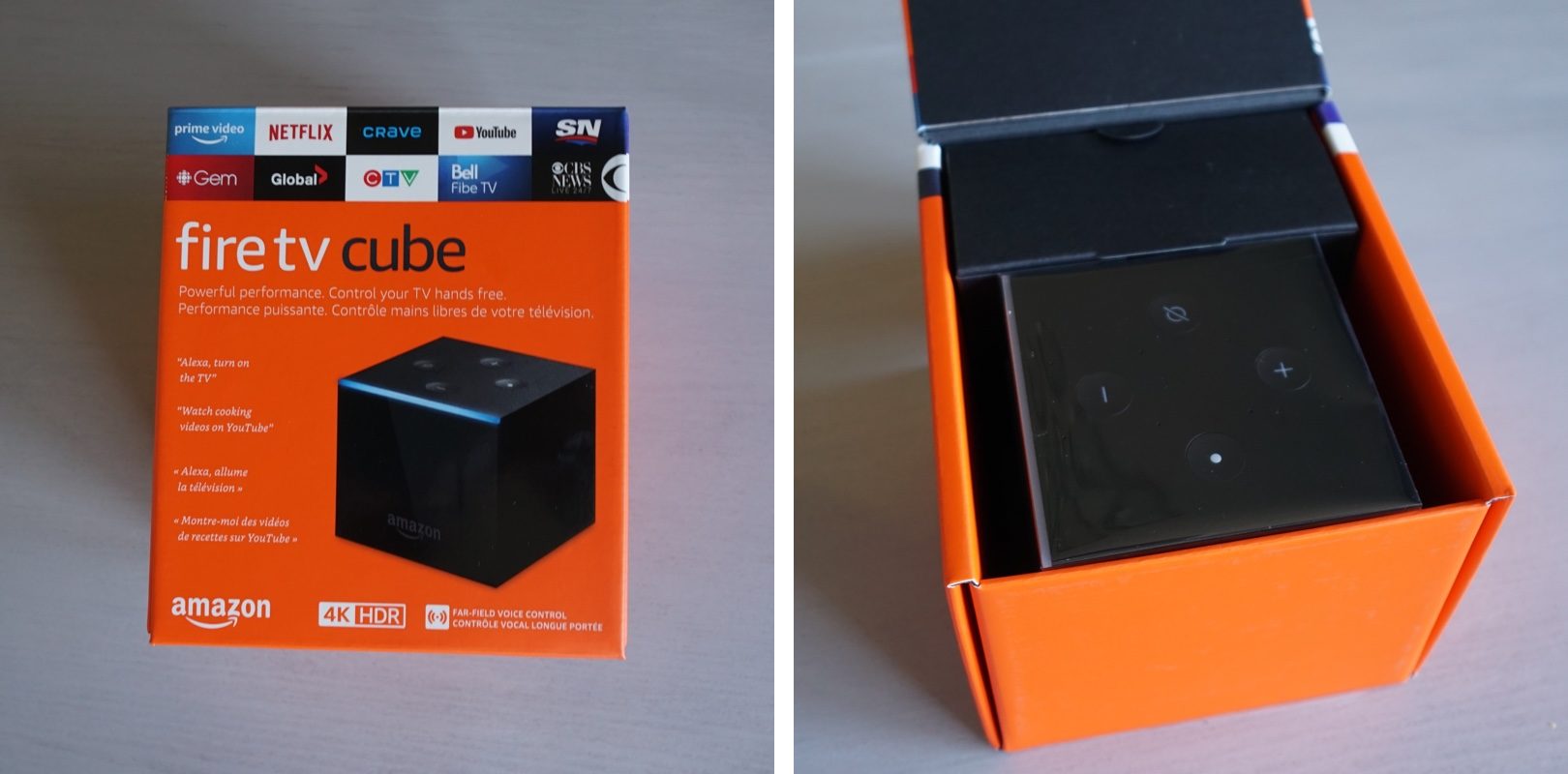 Current Fire TV Stick owners will immediately notice the larger and much heavier box. The Fire TV Cube itself is not large by any means, but a significant size increase over the Fire TV Stick (a small device that can attach directly to your TV's HDMI port).
The Fire TV Cube is intended to sit out in the open, which makes sense given it contains 8 microphones that allow it to offer up voice control using Alexa, and also blast infrared signals to your TV and other supported devices.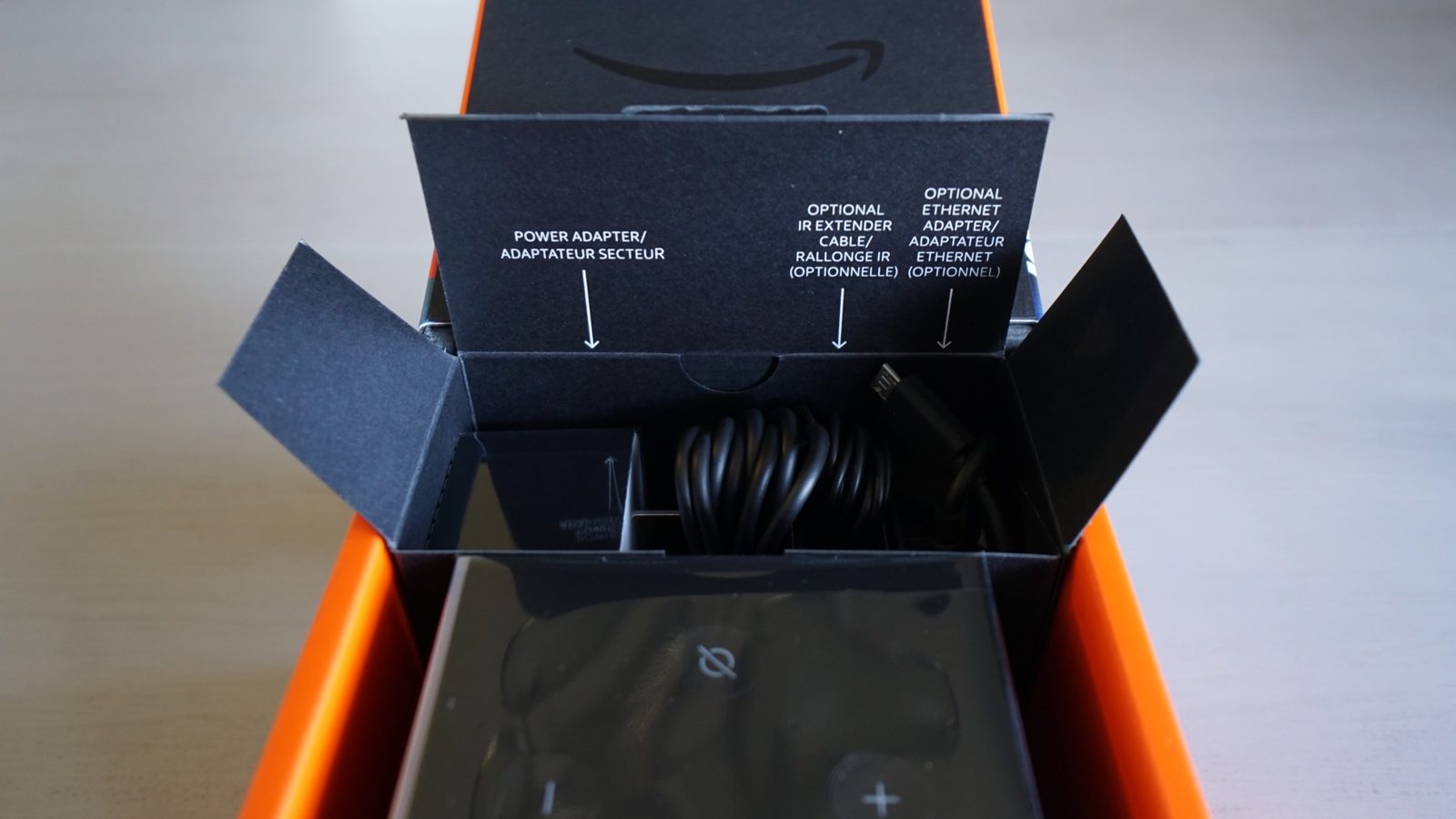 Also in the box you'll find an ethernet adapter (for those who prefer not to use WiFi), an IR extender (to help reach any devices that might not have line of sight of the Fire TV Cube), the power adapter, Voice Remote with batteries, and quick start guides.
Setup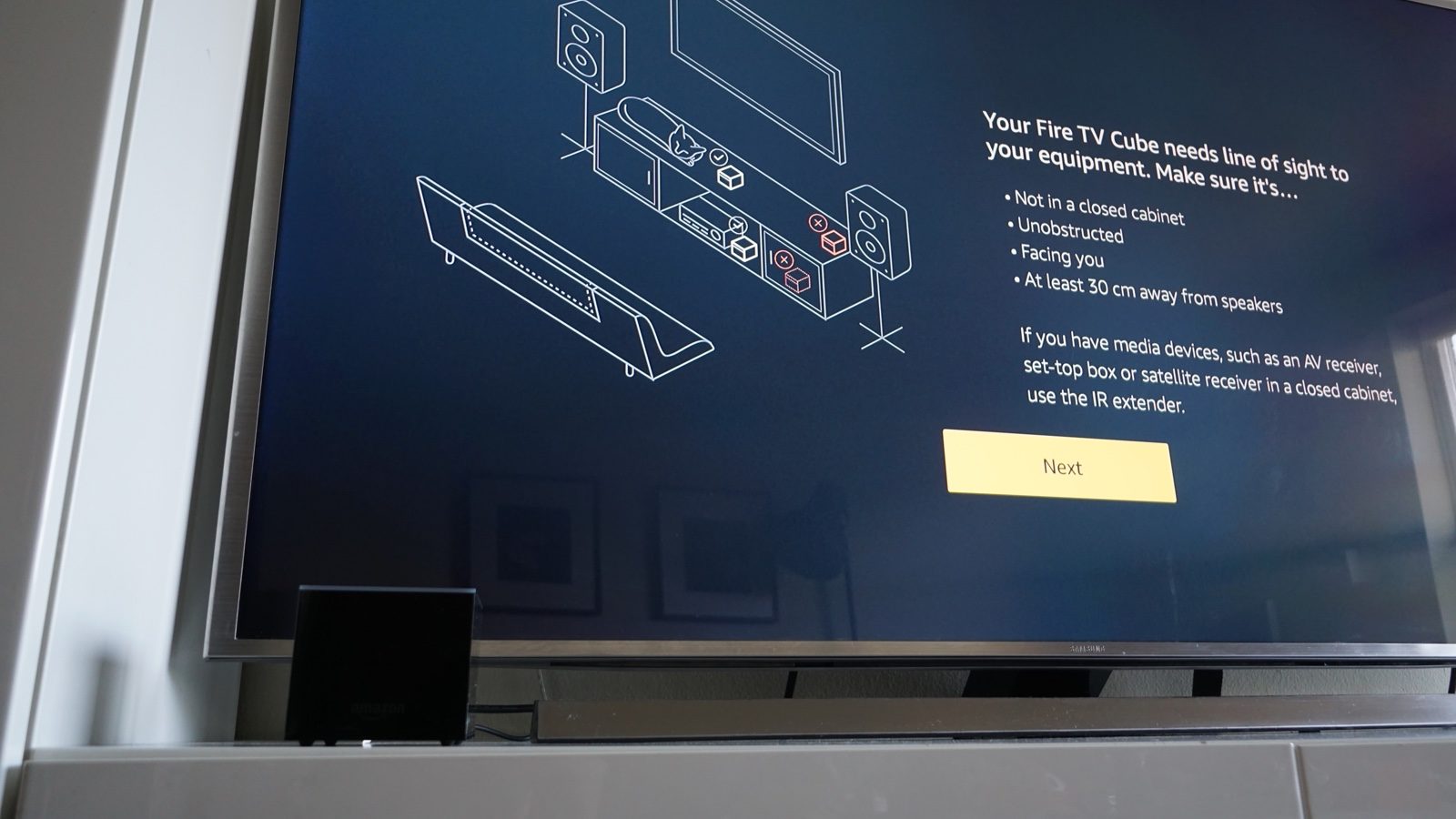 Setting up the Fire TV Cube is a breeze. You place the device where you want it, then connect the HDMI cable (not included) and power cables. Amazon recommends placing it 1-2 feet from speakers but I had to put mine closer and it still worked fine.

From there it's as simple as following the on-screen instructions and you'll likely be up and running within a few minutes. The longest part of the setup process will likely be downloading and installing updates.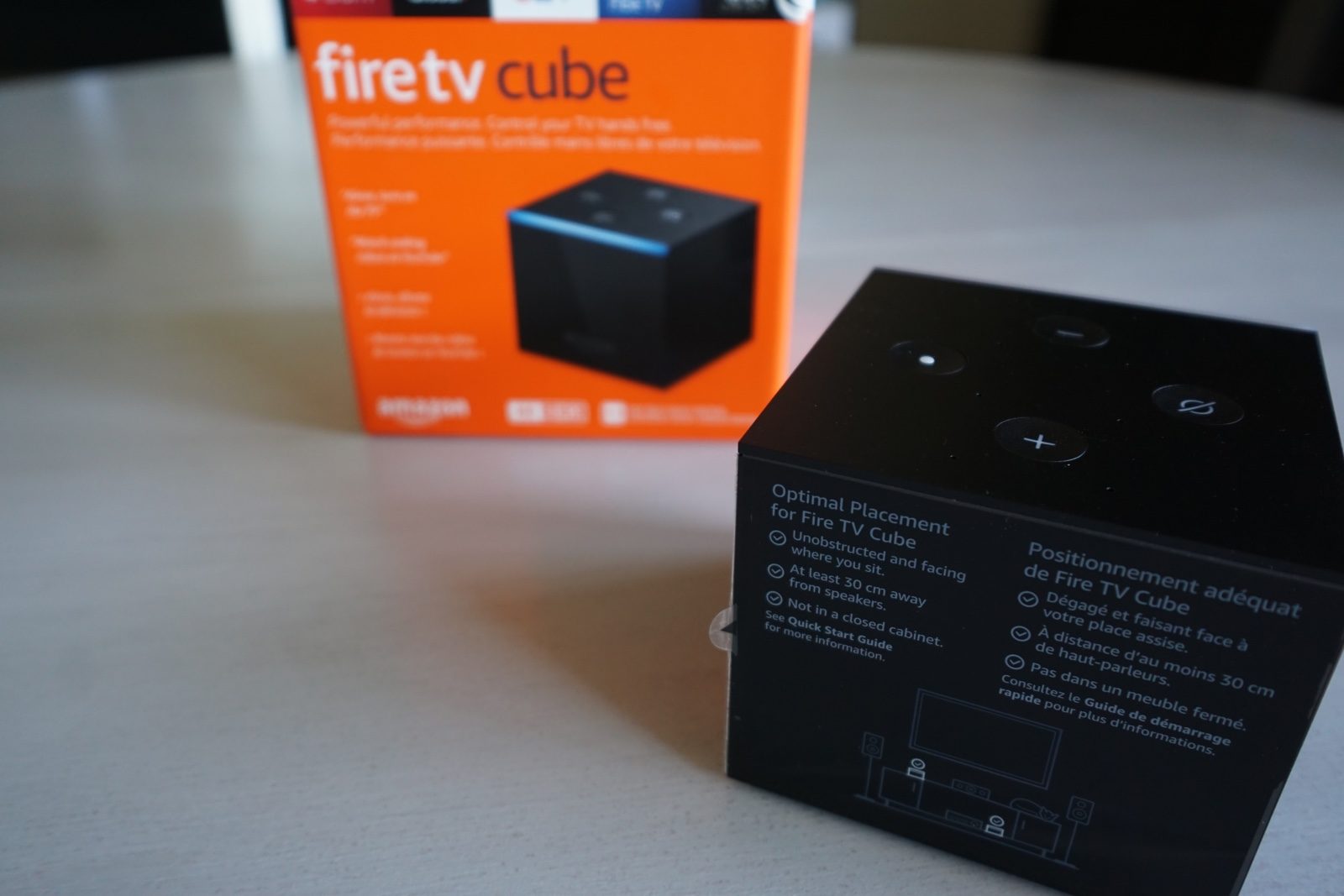 Key Features
The Fire TV Cube is the most powerful Fire TV device, but it's also the most expensive. It's retail price of $149.99 puts it $80 more expensive than the Fire TV Stick 4K.
The main thing most people will ask themselves is if it's worth the premium. Let's take a look at the differences between the two.
Built-in Alexa voice control at the device - Control almost everything using your voice alone. Powering your TV, volume control, content discovery, playback controls, and Alexa skills are just some of the ways you can use your voice with the Fire TV Cube.
Built-in Infrared (IR) - With the built-in infrared, you can operate compatible devices that you can't with just a Fire TV Stick. You'll be able to control things like your TV and soundbar using just your voice thanks to this feature.
Ethernet adapter and IR extender - The Fire TV Sticks support wired networks but the adapter isn't included. If you prefer using a wired connection, this is an added bonus with Fire TV Cube as it comes with the adapter. The IR extender is also great for those with extra devices that may be hidden inside cabinets.
A more powerful Fire TV device - Many people making the jump from the Fire TV Stick, to the Fire TV Stick 4K, note the faster performance alone being worth the price increase (without even considering the 4K support). The faster hexa-core processor in the Fire TV Cube means even better overall performance over the Fire TV Stick 4K. As newer, more demanding apps get released, the Fire TV Cube will likely hold up better over time.
A Bonus Echo Speaker - While you're not actually getting anything for free, because the Fire TV Cube includes 8 mics and a built-in speaker (for use when the TV isn't on), you're essentially getting a Fire TV with a built in Echo smart speaker. The speaker's performance is on par with the Echo Dot though, so don't expect room shattering sound from it.
Final Thoughts
Whether you're already invested in the Alexa and/or Fire TV eco-system or are completely new to it, the Fire TV Cube is a great all-in-one device that gives you the features of both an Echo smart speaker and the best Fire TV experience currently available.
Considering all that you get, the Fire TV Cube gives you a lot of extras which many will find very appealing to have. Hands free voice control of your TV viewing experience is very convenient (and not just for those times when you can't find the remote control).
At $149.99 it's not the cheapest Fire TV option, but definitely the most advanced. If you're looking for the best way to stream with Fire TV, you'll definitely want to consider the Fire TV Cube.
--
Setup a RedFlagDeals Deal Alert for "Fire TV Cube" to be alerted of any future deals for this item.
Purchase the Fire TV Cube today at Amazon.ca