Amazon Unveils Plans for Whole Foods, Including Price Cuts and Prime Integration
By
Simon Hung
August 28, 2017
Amazon's acquisition of Whole Foods Market will officially close on Monday, August 28 and the online retail giant has unveiled their plans for the grocer, including price cuts on popular foods, Amazon Prime integration and a long-term goal to make organic food more affordable.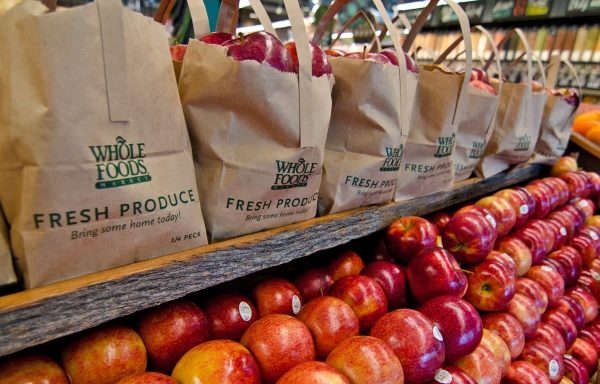 Organic apples will be among the products with a lower price starting August 28.
In a press release issued August 24, Amazon outlined four initial strategies, with Worldwide Consumer CEO Jeff Wilke stating "We're determined to make healthy and organic food affordable for everyone...we will lower prices without compromising Whole Foods Market's long-held commitment to the highest standards."
Starting August 28, shoppers will see lower prices for numerous staples and groceries, including Whole Trade bananas, organic avocados, organic large brown eggs, organic responsibly-farmed salmon and tilapia, organic baby kale and baby lettuce, animal-welfare-rated 85% lean ground beef, creamy and crunchy almond butter, organic Gala and Fuji apples, organic rotisserie chicken, 365 Everyday Value organic butter and more
Amazon Prime will be integrated into Whole Foods Market as their customer rewards program, offering Prime-exclusive deals and benefits to members. The integration will not be immediate, as both companies need to work on technical logistics before a widespread rollout
Whole Foods Market's private-label products, including 365 Everyday Value, Whole Foods Market, Whole Paws and Whole Catch, will be sold on Amazon.ca
Amazon Lockers -- self-serve pick-up units for Amazon deliveries -- will be placed in select Whole Foods Market stores and customers will be able to pick-up and return Amazon orders in-store
According to Global News, the price cuts will extend to Canadian Whole Foods Market stores immediately and a number of private-label products are already available on Amazon.ca, but there's no specific timeframe as to when the other initiatives will take effect and become available in Canada.
The availability of private-label products and in-store pick-up are particularly notable, as it hints at the possibility of an Amazon grocery pick-up or same-day delivery service making its way to the Canadian market, similar to AmazonFresh and Prime Now in the United States and grocery pick-up services from Walmart and Loblaws. This idea is even more feasible when you consider that 12 of 13 Whole Foods Market stores in Canada are in regions that offer same-day Amazon Prime delivery.
Amazon acquired Whole Foods Market this past June for $13.7 billion USD and the grocery chain currently has 13 stores in Canada and over 400 worldwide -- click here to find the Whole Foods Market nearest you.