Add a Deal Alert by November 20th for a Chance to Win 1 of 10 $50 Gift Cards
By
Thomas Kenzaki
November 14, 2023
The busy holiday shopping season is upon us and a great way to find new deals is by using RedFlagDeals Deal Alerts.
After you set one up, we'll then send you an email as soon as a new deal pops up that matches your alert. It's that simple!
How to enter:
Every member who currently has a Deal Alert setup is already entered to win. You can get up to 10 bonus entries by adding new deal alerts during the contest period. You can get a final bonus entry by replying to this thread with what Deal Alert(s) you setup.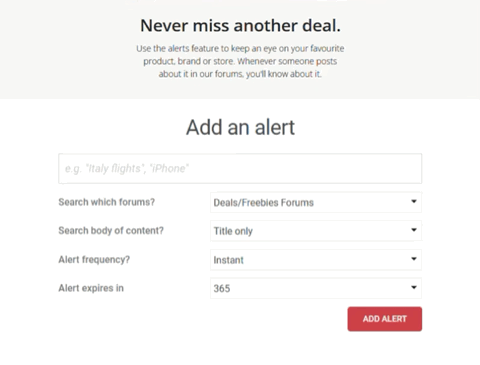 Rules:
Open to all RFD members. Not a member? Sign up today
You must enter by 11:59pm ET on November 20, 2023
Your account must be in good standing
Winners will be selected by random draw and will be sent a PM after the contest closes
Good luck everyone! If you're wondering what the most popular Deal Alerts are on RFD right now, here's our top 15 list: