Apple Starts Selling Refurbished iPhones in Canada
By
Simon Hung
September 20, 2021
Apple has (finally) added iPhones to their official Certified Refurbished Store in Canada, giving Canadians a new option to purchase iPhones directly from Apple.
This is the first time Apple has ever offered refurbished iPhones in Canada – refurbished iPhones have been available in Apple's US Certified Refurbished Store since 2016, but the Canadian store has only offered refurbished Apple TVs, iPads, iPods and Macs.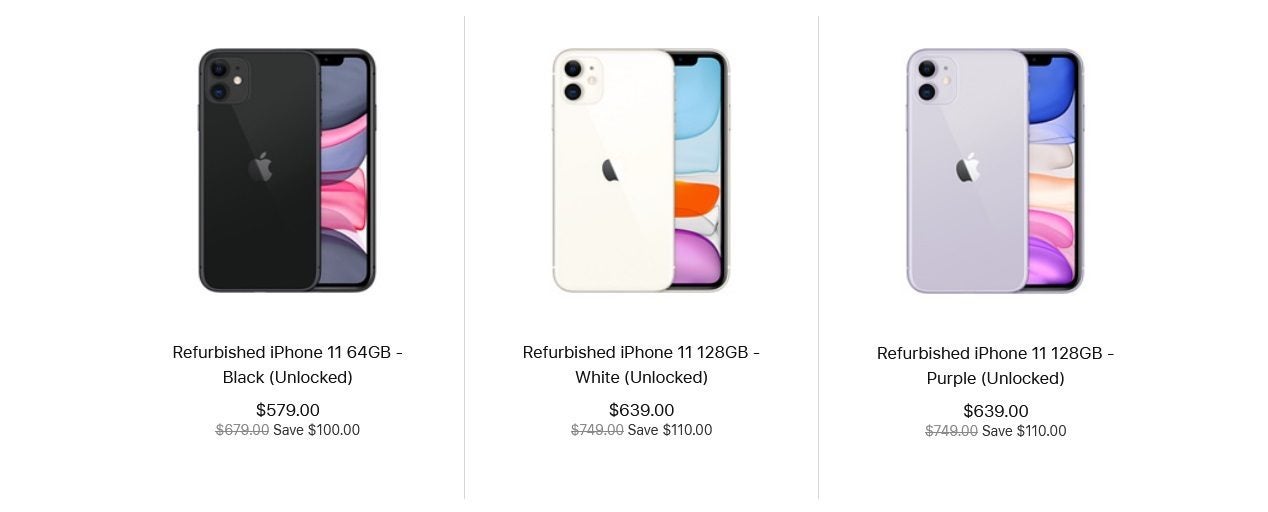 This is the first time Apple has offered refurbished iPhones in their Canadian store.
Apple's Certified Refurbished Store is one of the more popular places to find deals on Apple products in Canada, as Apple's refurbishment process is widely considered one of the best in the tech industry. All Apple refurbished products are sold in like-new condition and backed by a one-year warranty – the only notable difference between new and refurbished products is the packaging, as refurbished products are packaged in a plain white box.
As of September 20, refurbished iPhone XS, XS Max, 11, 11 Pro and 11 Pro Max are available with savings of up to $560.00 off regular price, but you can expect more recent models like the iPhone 12 and 12 Pro to trickle into the store in the future. All refurbished models come with a new outer shell and battery, along with new accessories and manuals you'd find with a brand new iPhone.

Refurbished iPhones are packaged in a plain white box instead of regular packaging.
The addition of iPhones to the Canadian Certified Refurbished Store is recent, as a snapshot of the store from September 17 shows no iPhone category. Nonetheless, it's a welcome addition for Canadian shoppers looking for refurbished iPhone deals, as purchasing directly from Apple is a more reassuring option than third-party sellers.