LEGO's 2064-Piece Super Mario 64 Question Mark Block is Packed with Easter Eggs
By
Simon Hung
September 10, 2021
LEGO and Nintendo are teaming up once again this fall, releasing a brand new 2064-piece Super Mario 64 Question Mark Block to celebrate the 25th anniversary of the N64 classic.
Scheduled for release on October 1 and priced at $199.99 in Canada, the LEGO Super Mario 64 Question Mark Block is a brick-built version of the "?" block seen throughout the Super Mario franchise, which Mario uses to unlock power-ups and coins. This cubed version pays homage to the Super Mario 64 iteration, as it was the first Super Mario game to feature 3D graphics.
The LEGO Super Mario 64 Question Mark Block hides four miniaturized Super Mario 64 levels.
Just like in the game, the LEGO Question Mark Block hides a few surprises for Super Mario fans, as the set opens up to reveal four miniaturized levels from Super Mario 64 including the Bob-omb Battlefield, Cool Cool Mountain, Lethal Lava Trouble and Peach's Castle.
10 LEGO microfigures also come with the set, each inspired by characters from the game including Mario, Yoshi, Princess Peach, Big Bully, Chain Chomp, King Bob-omb, Lakitu, Mr. I, Penguin and Baby Penguin – for those unfamiliar with the game, Luigi was famously snubbed from Super Mario 64 and doesn't make an appearance in the game, hence his notable absence in this LEGO set.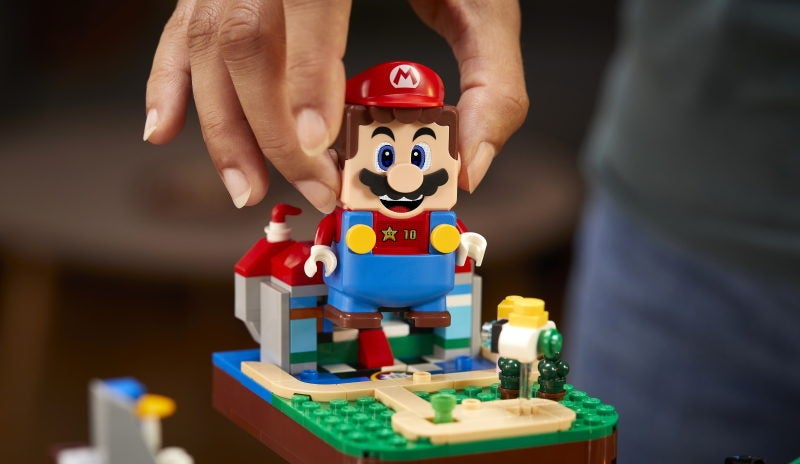 Owners of the LEGO Super Mario Starter Course can unlock additional hidden Easter Eggs.
The fully-assembled LEGO Question Mark Block measures 18cm x 18cm x 18cm and is also compatible with LEGO's interactive Super Mario Adventures Starter Course (sold separately). Owners of the Starter Course can use the included Mario or Luigi figures to interact with the Question Mark Block and unlock unique music from Super Mario 64. Plus, 10 Power Stars are hidden during the build process of the LEGO Question Mark Block, which unlock secret reactions for the Mario or Luigi figures.
A must-have for Super Mario fans this holiday season, the LEGO Super Mario 64 Question Mark Block will be available exclusively from the LEGO Shop at launch and throughout 2021, then from other retailers like Amazon.ca and Best Buy in early-2022 after LEGO's exclusivity period lapses.
____________________
Source: LEGO