Cineplex is Launching a Movie Subscription Service in Canada
By
Simon Hung
August 9, 2021
Cineplex is hoping to woo movie lovers back to theatres this fall with a brand new service, as the company is set to launch a movie subscription service in Canada called CineClub.
Scheduled to launch on August 11, CineClub was first teased in the September 2021 issue of Star Cineplex, the company's monthly film magazine. According to the teaser, CineClub members will be entitled to perks including one movie every month, member-priced movie tickets and a 20% discount on concessions for $9.99 per month.
CineClub's $9.99 monthly price is competitive for frequent movie-goers, as the price for one general admission ticket is regularly $13.25 in Toronto theatres (pricing may vary by region), which means the membership would pay for itself as long as you watch one movie every month. It's currently unknown if the membership will also include premium formats like UltraAVX and IMAX, which would make the service an even better value, but finer details will likely be clarified after CineClub's official launch.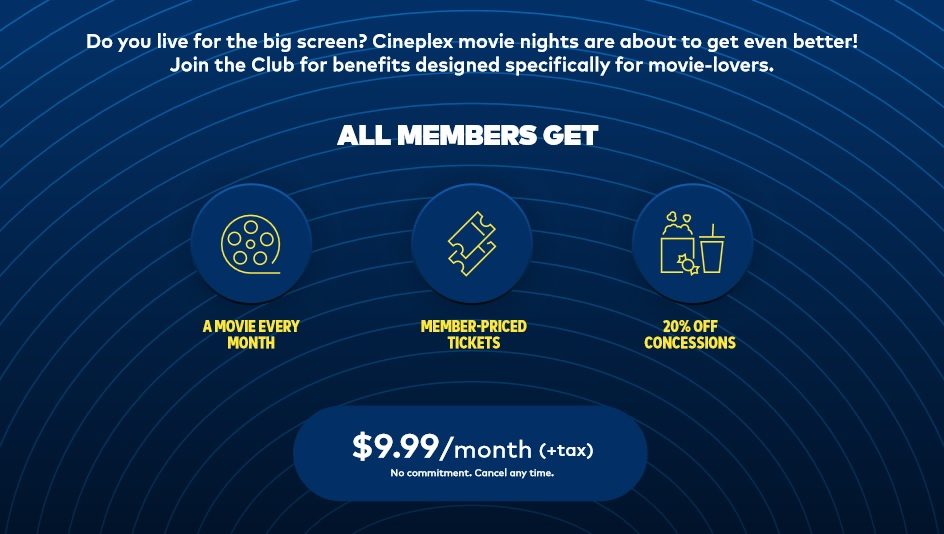 A CineClub teaser was first spotted in the September 2021 issue of Star Cineplex.
A Cineplex subscription-based service has been long-rumoured in Canada, dating as far back as 2011 with the launch of the now-defunct MoviePass in the United States. In 2018, a similar service called Sinemia was launched in Canada, but the company was not affiliated with Cineplex and operated in a legal grey area, resulting in its abrupt closure in less than a year.
Speculation increased again in late-2019 after British movie company Cineworld were in talks to acquire Cineplex for $2.8 billion, but those rumours fizzled after Cinewold backed out of the agreement in June 2020.
The entertainment industry was one of the hardest-hit during the COVID-19 pandemic and movie theatres across Canada were closed for extended periods between 2019 and 2021, leading Cineplex and other movie companies to seek unorthodox methods of revenue during lockdowns, including renting out entire theatres for private parties and offering giant bags of popcorn for home delivery.
While movie theatres across Canada are now re-open, movie-goers have been reluctant to return despite growing vaccination rates and enhanced safety measures, in part due to the rise of Delta variant cases and a lacklustre line-up of movies. However, the slate of movies should become more appealing, as several highly-anticipated films like Shang-Chi and the Legend of the Ten Rings, No Time to Die, Dune, Spider-Man: No Way Home and others are scheduled to premiere in theatres only later this year.
____________________
Source: Cineplex, with reports from The Canadian Press