LEGO Adds a 3292-Piece Star Wars Republic Gunship to the Ultimate Collector Series (UCS)
By
Simon Hung
July 15, 2021
"I love democracy. I love the Republic."
LEGO has officially unveiled the newest addition to their prestigious Ultimate Collector Series (UCS) – a 3292-piece Republic Gunship inspired by Star Wars: Attack of the Clones and Star Wars: The Clone Wars animated series.
Scheduled for release on August 1 and priced at $479.99 in Canada, this new set was originally teased in February 2020 after LEGO held a fan vote to decide what would be the next set in the Ultimate Collector Series. The Republic Gunship won decisively, getting 58% of the vote and beating out the Nebulon B Escort Frigate and TIE Bomber, both seen in The Empire Strikes Back.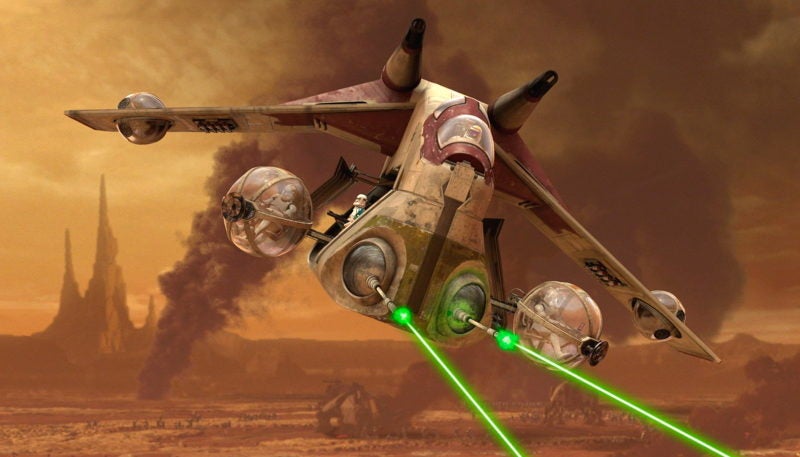 The Republic Gunship was first seen in Star Wars: Attack of the Clones.
The LEGO Star Wars Republic Gunship is a brick-built replica of a Low Altitude Assault Transport (LAAT), which was first seen during the Battle of Geonosis and used extensively by the Grand Army of the Republic to transport Jedi and clone troopers throughout the Clone Wars. The Republic Gunship will be the third prequel-era build in the UCS collection, following the LEGO Darth Maul in 2001 and LEGO Obi-Wan's Jedi Starfighter in 2010, both of which are now retired.
Like most Ultimate Collector Series sets, the Republic Gunship is humongous, measuring 68cm long, 74cm wide and 33cm tall when fully-built. At $479.99, it's the third-most expensive set in the current LEGO UCS lineup, slotted below the Millennium Falcon ($899.99) and Imperial Star Destroyer ($849.99).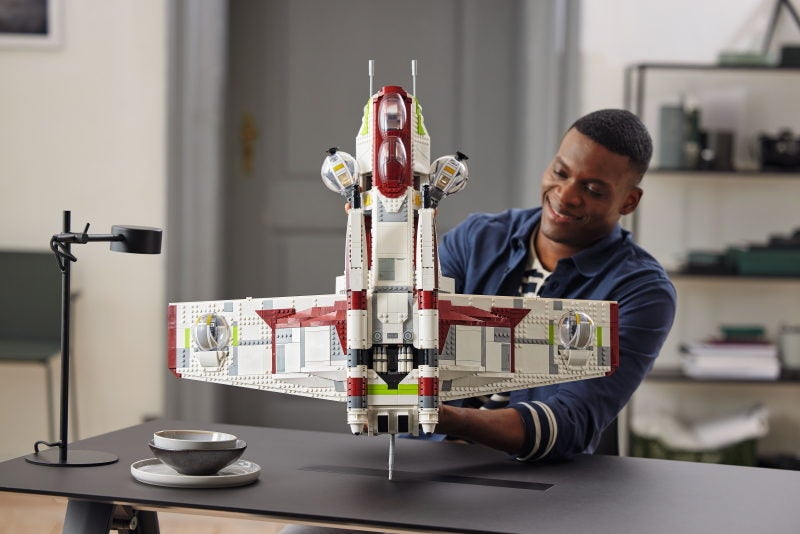 The LEGO Republic Gunship features an enormous wingspan of 74cm.
The set was designed by Hans Schlömer – who also designed the UCS Millennium Falcon – and is packed with movie-accurate details including free-swinging side doors, dual pilot cockpits, a rear hatch and gunner pods along both sides and each wing. Two LEGO minifigures are included of Jedi Master Mace Windu and a Clone Trooper Commander, along with an information plaque for display.
The LEGO Star Wars Republic Gunship set will be available in Canada exclusively from the LEGO Shop starting Sunday, August 1.
____________________
Source: LEGO