LEGO's Newest Art Set is a Giant 11,695-Piece World Map
By
Simon Hung
May 25, 2021
LEGO has officially unveiled the newest addition to their popular Art Collection – a huge World Map with a whopping 11,695 pieces.
Scheduled for release on June 1 and priced at $349.99 in Canada, the LEGO Art World Map features a bathymetric-style map of the world, measuring 104 cm wide and 65 cm tall when fully-assembled.
At launch, the LEGO World Map will be their largest set to-date in quantity and second-longest in length, outnumbering the LEGO Colosseum by over 2600 pieces and measuring 6 cm shorter than the 110 cm LEGO UCS Imperial Star Destroyer. However, it is notable that most pieces included with the World Map aren't conventional bricks, but individually-coloured LEGO studs used to fill in the "pixels" of the map.
The fully-assembled LEGO World Map measures over one metre in length.
Like other sets in LEGO's Art Collection, the World Map is designed for adults with home décor in mind, as the map sits in a white LEGO frame with unique hanging elements to easily mount on a wall. The map itself can also be customized to your liking with different ocean colours and your choice of three land masses as the central focal point – North and South America, Europe and Africa, or Asia and Australia.
The build process is also designed to be methodical and relaxing, as the World Map is built with 40 individual canvas plates, each with a specific layout of pixels filled with LEGO studs. A companion soundtrack can also be downloaded to fill the silence, which takes you on an audio tour of the world as you build. Once complete, the 40 plates can be assembled like a puzzle into the fully-built map for final display.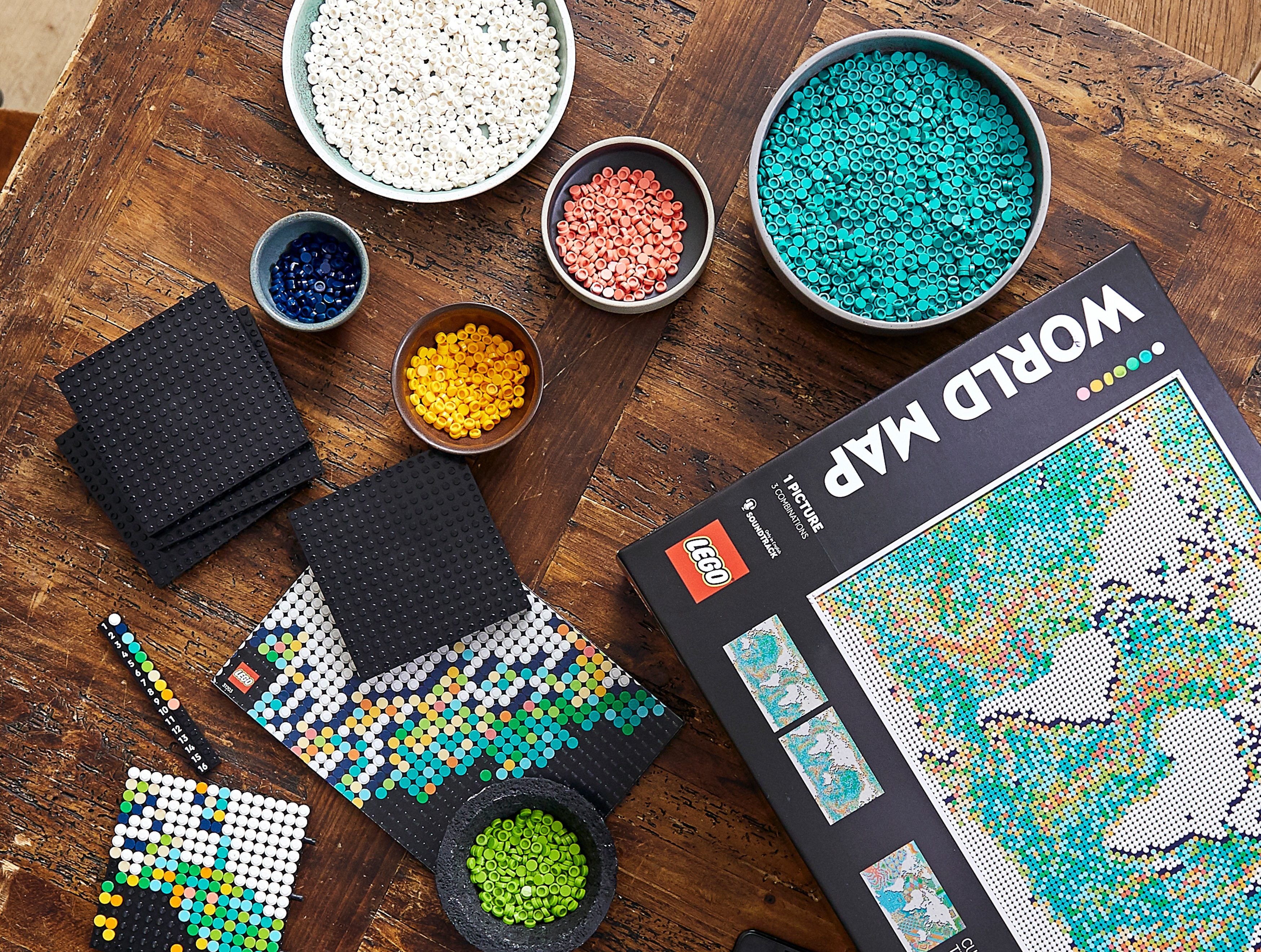 Most of the 11,695 pieces in the set are individually-coloured LEGO studs.
The LEGO Art World Map (31203) will be available exclusively at the LEGO Shop in Canada starting June 1, while other retailers will carry the set starting August 1.
____________________
Source: LEGO