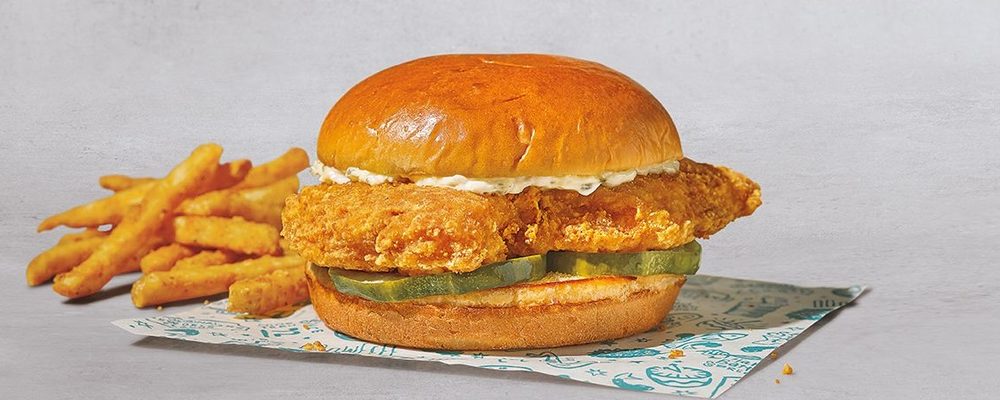 Popeyes Brings the Cajun Flounder Fish Sandwich to Canada
By
Simon Hung
February 23, 2021
Popeyes is looking to make 2021 the year of the fish sandwich, as their new Cajun Flounder Sandwich is now available in Canada.
Originally released in the United States on February 11, the Cajun Flounder has received considerable fanfare south of the border from news outlets and some celebrities, as the sandwich was largely viewed as their big follow-up to the insanely popular Chicken Sandwich.
Unlike the Chicken Sandwich, Canadians won't have to wait months to taste the hype, as Popeyes has quietly brought their new fish sandwich to Canada less than two weeks after its big debut in the United States, as evidenced by a series of posts on their Instagram account.
The Cajun Flounder shares similar DNA with the Chicken Sandwich and includes two of the four ingredients found in the latter – barrel-cured pickles and a toasted brioche bun. But instead of a chicken filet and mayo, the Cajun Flounder comes with a Cajun-seasoned Pacific Flounder filet and tartar sauce.
Early reviews from fast food aficionados (a-fish-ionados?) in the States have been mostly positive, but not as glowing as the Chicken Sandwich – Thrillist praised it for being "tasty...and good enough to be on the menu all year", while The Washington Post called it a "muted sequel to the Chicken Sandwich".
The Popeyes Cajun Flounder is available now at participating restaurants in Canada for a limited time. The sandwich is priced at $7.49 on its own or in a combo for $11.99 (pricing may vary by region) and can be found in-restaurants or through your favourite food delivery apps.