How to Claim a Work From Home Deduction on Your 2020 Income Taxes
By
Simon Hung
February 17, 2021
This past year, millions of Canadians found themselves working from home on a regular basis and the Canada Revenue Agency (CRA) has introduced new guidelines for Canadians claiming home office expenses on their 2020 income taxes.
Claiming a home office expense was somewhat onerous in previous years, as the CRA required calculating metrics like the size of your home office, rent, electricity, internet, phone and other individual expenses, with supporting documents as proof and approval from your employer.
This year, the CRA has simplified the process with a flat-rate method – Canadians who worked more than 50% of their time at home for at least four consecutive weeks due to the COVID-19 pandemic can claim a deduction of $2.00 per day on their 2020 income taxes, up to a maximum of $400.00 (200 days worked).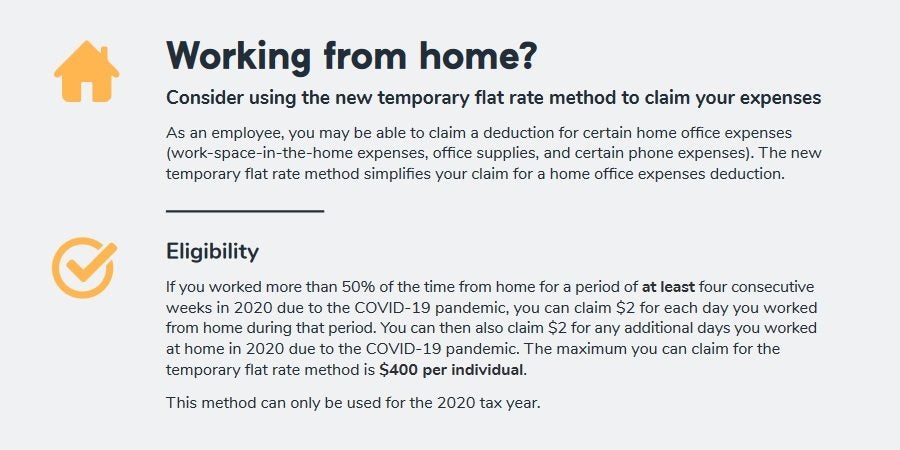 Eligible Canadians can claim up to $400.00 in home office expenses with the new flat-rate method.
If you're eligible (use this tool to check if you qualify), you'll need to fill out Option 1 on Form T777S and include it with your return (most online tax programs will include it automatically) – multiply the total number of days you worked at home by $2.00, then enter the result on Line 22900 of your income tax return.
The previous home office expense method is still available for those who require a more detailed expense report or those who need to claim home office expenses over the maximum $400.00 flat-rate threshold. In this case, you'll need to fill out Form T777 and get approval from your employer via Form T2200 (the simplified flat-rate method does not require employer approval).
This simplified flat-rate process is temporary and only applies to the 2020 tax year, but the CRA may re-evaluate this at a later date as regional lockdowns continue into 2021.
____________________
Source: Canada Revenue Agency