Black Friday
Top Five Black Friday 2019 Deals from US Best Buy, Target and Walmart Flyers
By
Simon Hung
November 18, 2019
Black Friday 2019 is less than two weeks away and you can see this year's American deals now in US Black Friday flyers from Target and Walmart! Best Buy US has also unveiled their Black Friday deals on the American Best Buy website, but it's more of a categorized list instead of a traditional flyer.
As per tradition, you'll find plenty of deals on big-name electronics including televisions, video games and smart home tech, but perhaps more importantly -- these flyers provide a glimpse at the products we'll likely see on sale at Canadian retailers once our flyers are released.
We've picked five deals from each retailer to give you an idea of the deals you'll find across the border this Black Friday -- note that all prices reflect US dollars.
Best Buy -- stores open Thursday, November 28 at 5:00 PM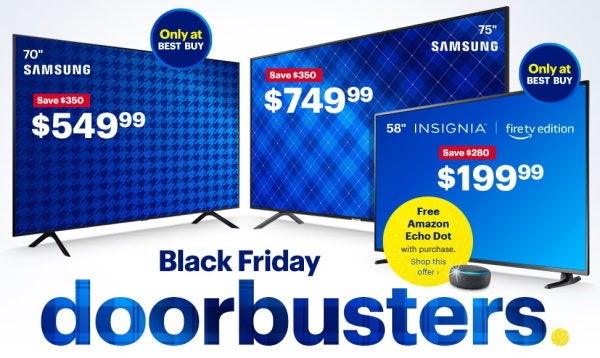 Amazon Fire TV Stick 4K - $24.99 (regularly $49.99)
Google Home Mini, 1st Generation - $19.99 (regularly $49.00)
Hisense 65" 4K HDR Android Smart TV - $299.99 (regularly $499.99)
Microsoft Xbox One X 1TB Star Wars Jedi: Fallen Order Bundle - $349.99 (regularly $499.99)
Sony WH-1000XM3 Wireless Noise-Cancelling Headphones - $279.99 (regularly $349.99)
Target -- stores open Thursday, November 28 at 5:00 PM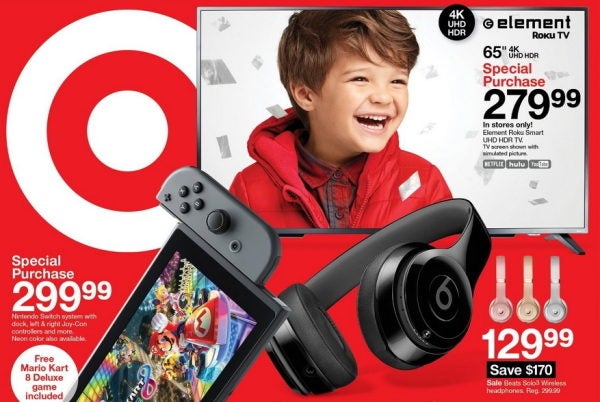 Amazon Echo Dot, 3rd Generation - $22.00 (regularly $49.99)
Apple iPad 10.2" with Wi-Fi, 32GB - $249.99 (regularly $329.99)
Element 65" 4K HDR Roku Smart TV - $279.99
Google Nest Hub - $79.00 (regularly $129.00)
Samsung 65" NU6900 4K HDR Smart TV - $479.99 (regularly $699.99)
Walmart -- stores open Thursday, November 28 at 6:00 PM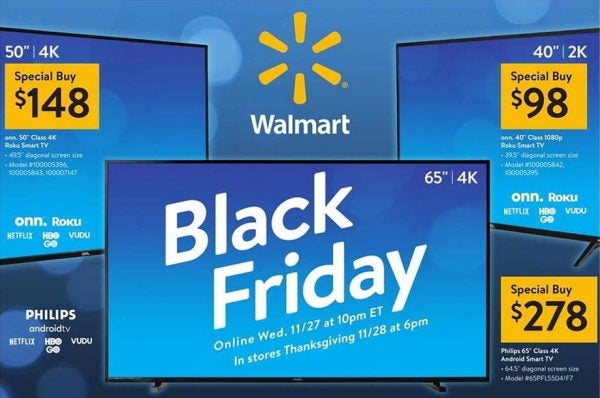 Apple Watch Series 3 with GPS, 38mm - $129.00 (regularly $199.00)
Instant Pot Duo 6-Quart 7-in-1 Cooker - $49.00 (regularly $79.00)
Nintendo Switch games including Super Mario Odyssey, Super Mario Party and The Legend of Zelda: Breath of the Wild - $30.00 (regularly up to $59.99)
Philips 65" 4K Android Smart TV - $278.00
PlayStation 4 1TB Only on PlayStation Bundle - $199.99 (regularly $299.99)
There are several excellent deals on smaller items like standalone Nintendo Switch games and smart speakers with prices at under $30.00 USD, but as with most previous years, televisions dominate the Black Friday ads for all three American stores, with prices starting at under $280.00 USD for some 65" 4K sets -- for reference, the lowest-priced 65" television with Black Friday pricing at Best Buy Canada is $599.99, though that may be subject to change as more Canadian Black Friday deals are released.
Remember to visit the RedFlagDeals Black Friday page over the next week to see the latest Black Friday 2019 news, tips and first-looks at Canadian Black Friday flyers as they're released!