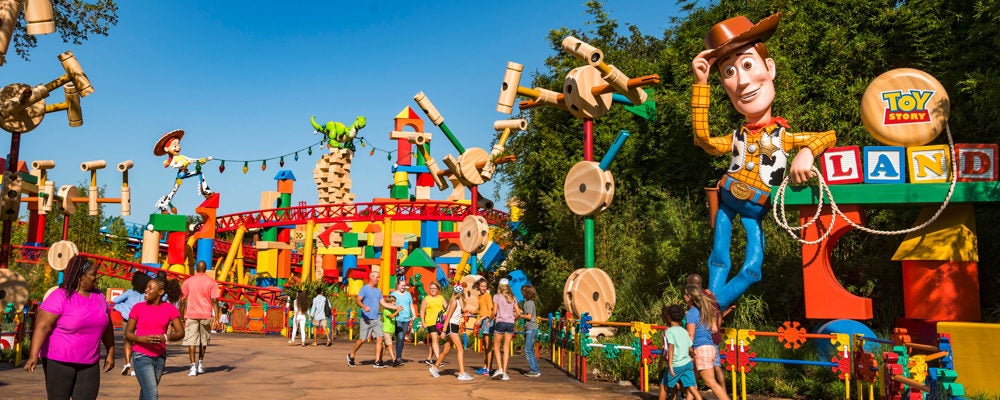 Toy Story Land Is Now Open At Walt Disney World
By
Thomas Kenzaki
June 30, 2018
In case you haven't seen the commercials on TV, giant billboards or subway ads, Toy Story Land is the next big thing at Walt Disney World. It's Disney's latest major theme park creation, which is entirely themed on one of their biggest movie franchises. Here's everything you need to know about Toy Story Land and what to expect when you visit.
Background

Toy Story is a computer-animated buddy comedy adventure film which was originally released in 1995. It tells the story of a child named Andy whose toys come to life when he isn't around and introduced the beloved characters Woody and Buzz Lightyear.
The movie went on to huge box office success and gave way to 2 sequels with Toy Story 4 coming in 2019. Being one of Disney's biggest movie franchises, it was only a matter of time until Walt Disney World opened a new land dedicated to Toy Story.
Overview
As of June 30, 2018 Toy Story Land is now open at Disney's Hollywood Studios. It was first announced back in August of 2015 at Disney's biennial expo, D23. Fast forward 3 years and this new 11 acre expansion has finally opened for all to enjoy.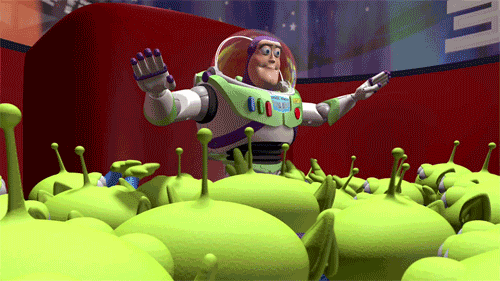 Relax! Toy Story Land is now open!
This new land is designed to shrink you down to the size of a toy and places you in Andy's backyard. As you step foot into Toy Story Land you'll be completely immersed in the Toy Story world. You'll see favourite characters and elements from the film throughout and truly believe you're a part of the story.
A new land at a theme park wouldn't be complete without new rides and Toy Story Land introduces 2 brand new rides and an updated family favourite!
New Rides

Slinky Dog Dash
is a brand new family friendly roller coaster and one of the first things you'll notice when you step into Toy Story Land. It's based on Slinky Dog from the Toy Story movies and puts you on a Slinky Dog themed car that'll take you on a fun filled adventure around the new land.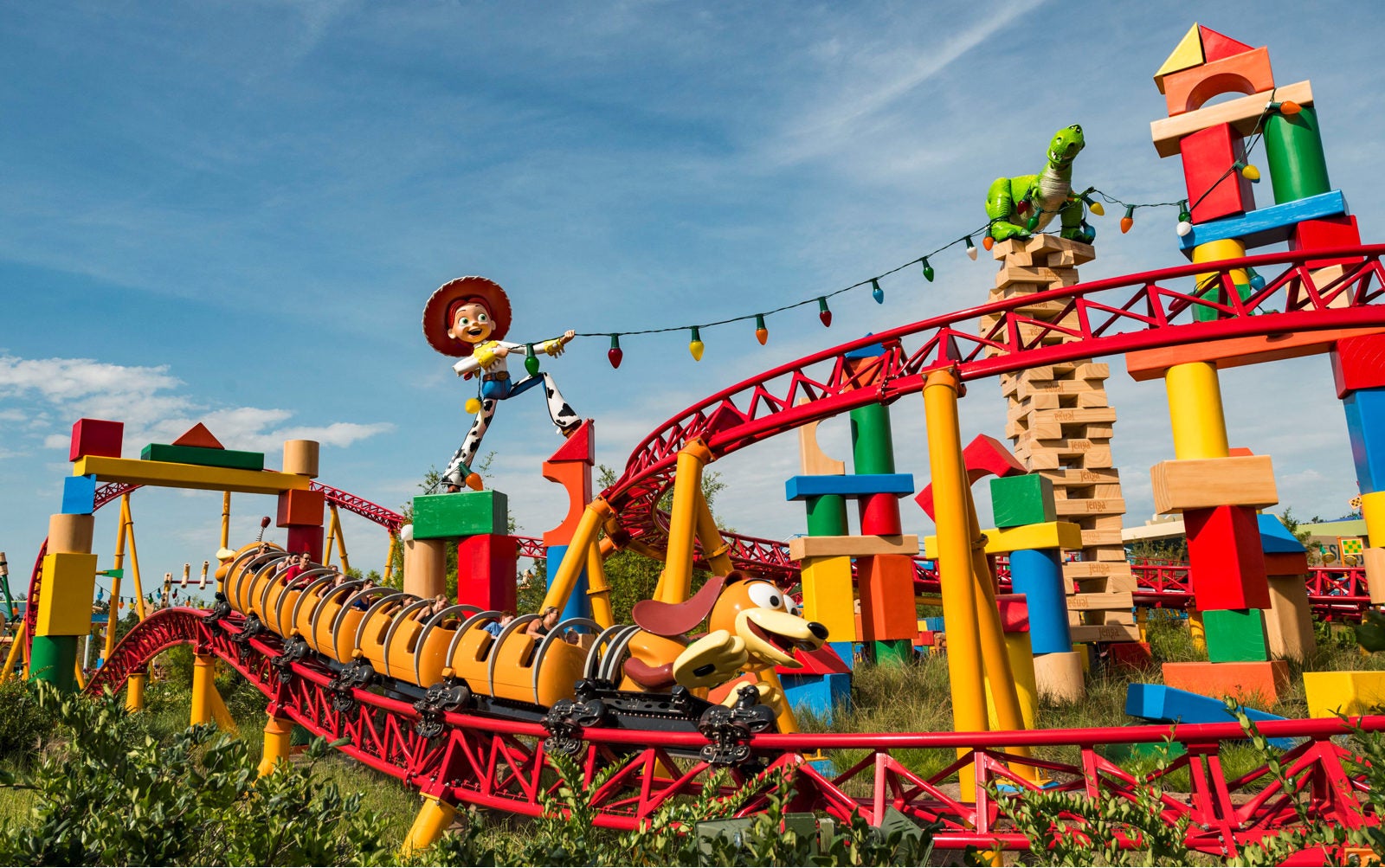 Slinky Dog bends and twists his coils around curves, hills, bridges and drops.
Slinky Dog Dash has a height requirement of 38" so make sure your kids are tall enough before promising them a ride!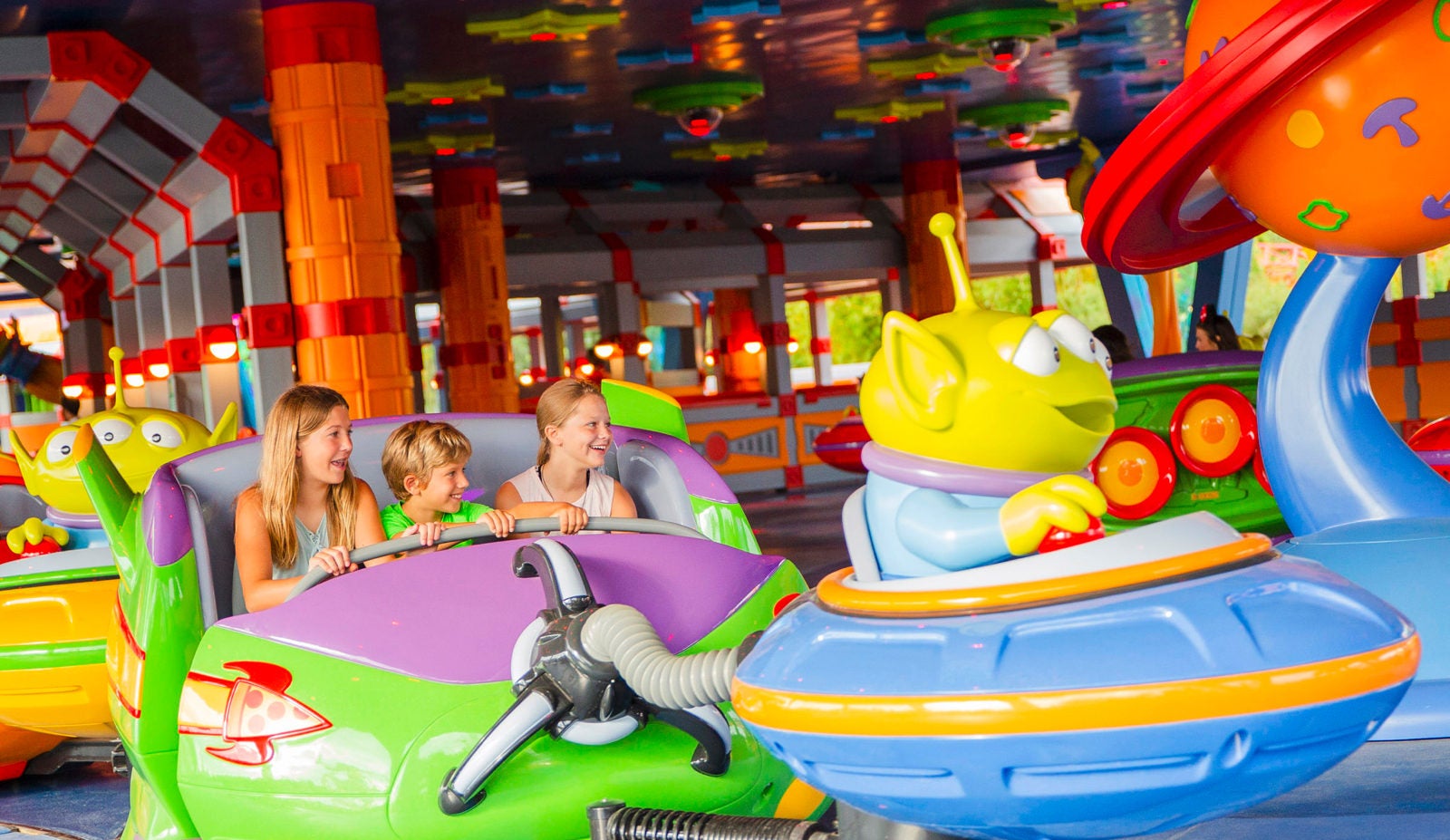 Make sure to avoid "The Claw" as you spin around!
Alien Swirling Saucers puts the lovable green characters from Pizza Planet front and centre by giving them their own ride! The Alien's swirl around in their flying saucers with you being towed behind in toy rocket ships all while trying to avoid "The Claw" from above. The ride has a 32" height requirement so some of your younger kids will be able to take a spin.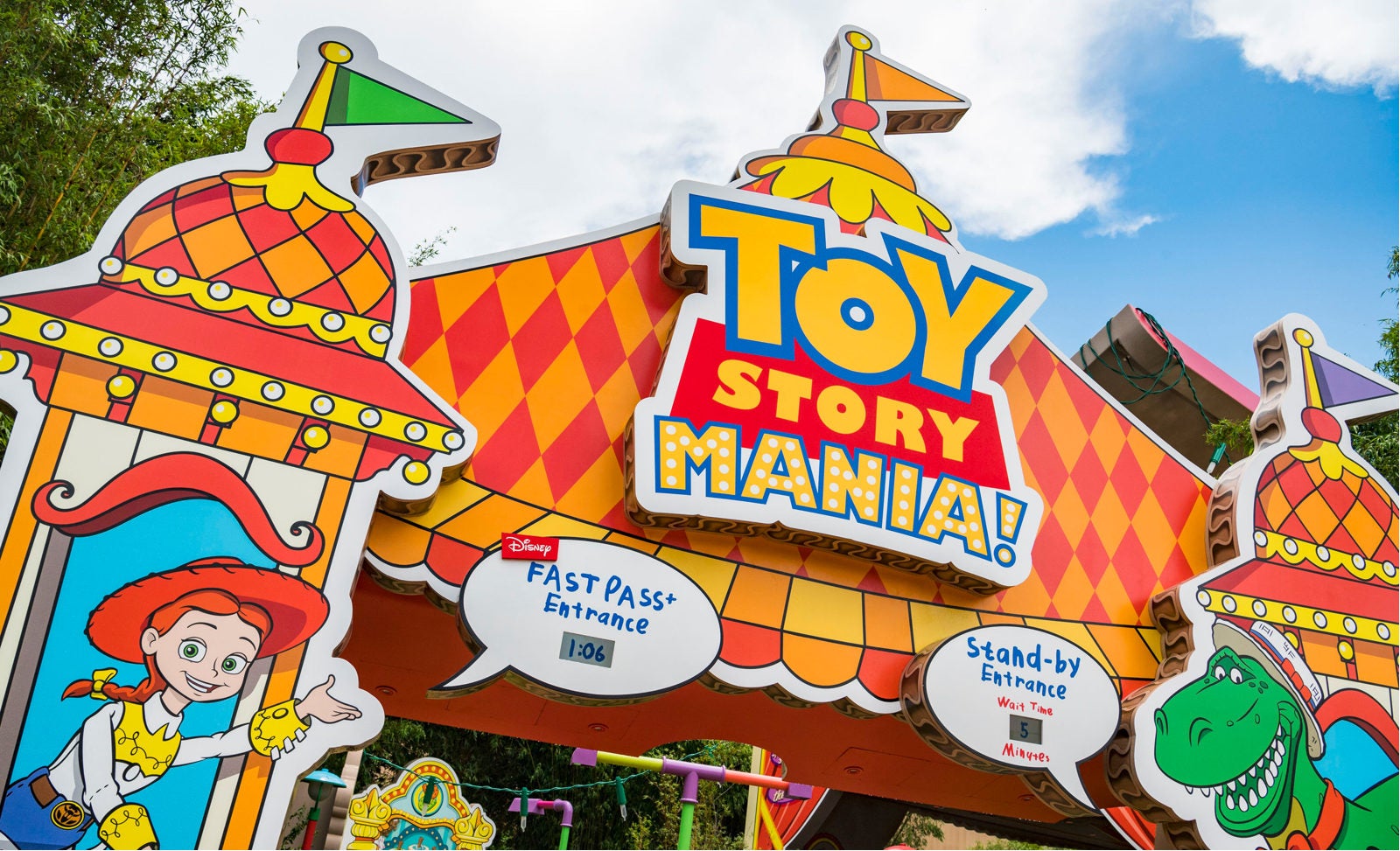 The brand new entrance to Toy Story Mania!
Toy Story Mania! isn't a new ride but is included as a part of Toy Story Land. On this 3D adventure ride, you jump in your cart and stop at different carnival game attractions while throwing or shooting at targets to try to get the highest score!
You'll now enter the ride from from a brand new colorful toy carnival game box entrance. It was also recently updated to include a 3rd track to handle more riders which is good because this is one of the most popular rides at Hollywood Studios. This ride has no height requirement so everyone can enjoy a ride.
New Foods
In Toy Story Land you'll be able to grab a bite at Woody's Lunch Box. It's a new quick service restaurant where you order from a walk-up window in a setting surrounded by Andy's favourite toys and a giant vintage thermos.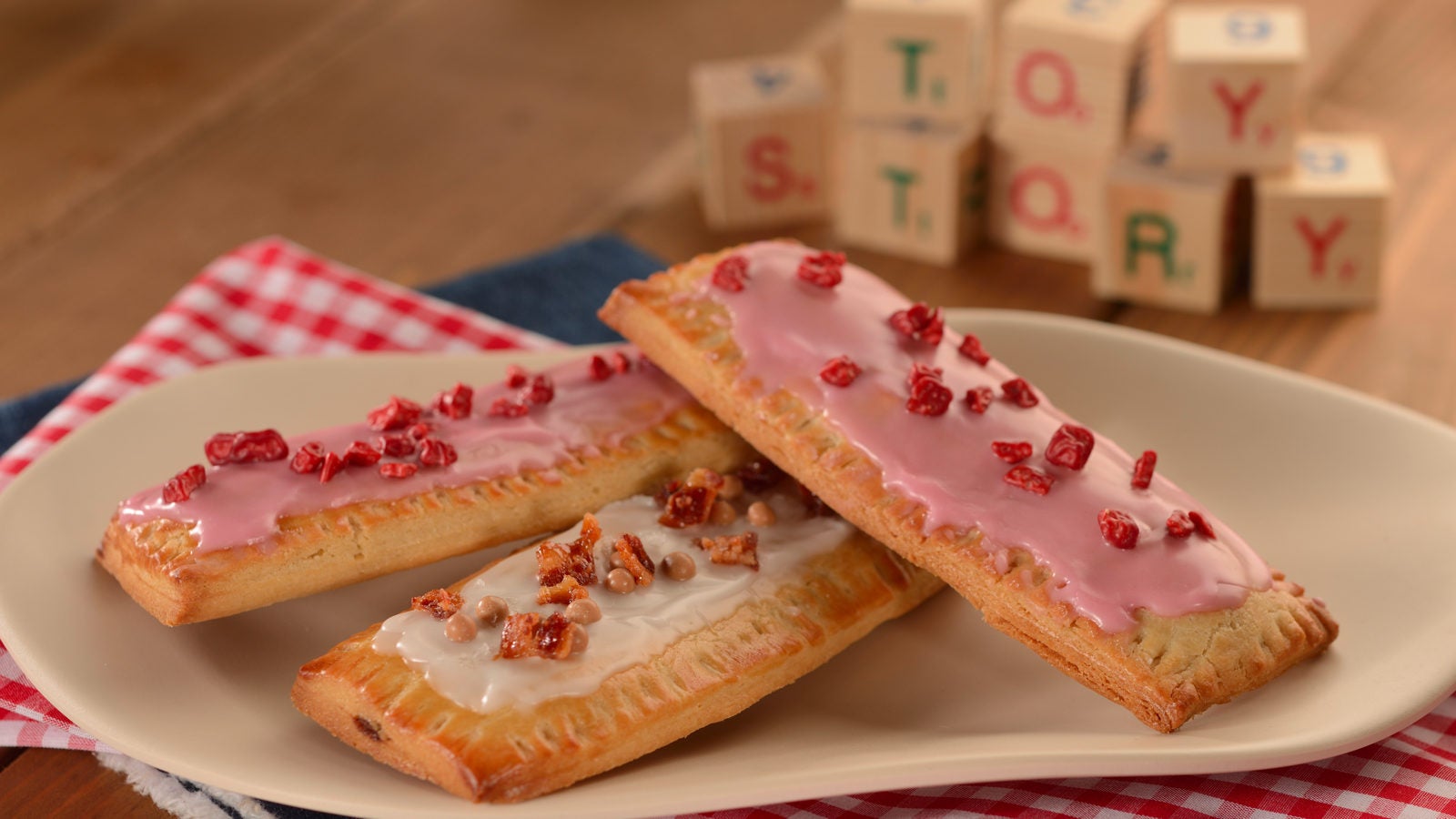 Lunch Box Tart's from Woody's Lunch Box
Woody's Lunch Box serves up breakfast and lunch/dinner with foods both kids and adults will love to eat. Try a S'more French Toast Sandwich, Grilled Three-Cheese Sandwich, Raspberry Lunch Box Tart or one of their signature old-fashioned soda floats. See the full menu here and remember you can save time be placing a Mobile Order through the My Disney Experience app!
Final Thoughts
I could not be more excited about Toy Story Land! It brings my favourite Disney movie to life and the Imagineer's at Disney have done an amazing job putting it all together. From the rides, to the food, to the general design of the land, no detail was too small and you'll be completely immersed in the story of Toy Story and feel like you're a part of it.
The opening should provide a huge boost to Hollywood Studio's as they continue to work on their multi-year plan to update the park which includes the opening of Mickey and Minnie's Runaway Railway ride (opening 2019) and the massive new project, Star Wars: Galaxy's Edge (opening fall 2019). Expect higher crowds and longer ride wait times so try to score yourself a Fastpass to bypass the regular line!
Whether you drive, fly or "fall with style" to Walt Disney World one thing is for certain, you're in for a great time when you visit Toy Story Land! Make sure to setup a RedFlagDeals Deal Alert for "Disney World" to make sure you don't miss out on any future promotions such as the Free Dining Offer (expires July 7, 2018).