Black Friday Bingo: A Love/Hate Relationship with One of Canada's Biggest Shopping Days
By
Simon Hung
November 10, 2015
Chances are you're really looking forward to Black Friday -- over 65% of users who voted on our poll expect better deals on Black Friday than Boxing Day, unequivocally the two biggest shopping days of the year.
While most RFDers are eagerly counting down the seconds until the big day on November 27, hoping to score an amazing deal on a television or get incredible savings on socks, I have a confession to make -- one that may very well alienate my colleagues, who will likely revoke my 24-karat gold, diamond-encrusted RFD staff badge before hurling me out of the window of our second-floor offices -- I hate Black Friday.
Okay, that may be a little harsh. I don't entirely hate the occasion, it's more of a very bitter dislike. I know what it's like to wake up early, eagerly browse RFD and tactically plan routes to stores for maximum efficiency. It was fun, but as the years passed, that fun led to anger, that anger led to hate and that hate led to suffering.
It seems as though Murphy's Law always manifests itself during massive shopping events and it eventually took a toll on my sanity. In fact, it inspired this bingo board, complete with just a few of the things that have went wrong during my Black Friday and Boxing Day shopping experiences.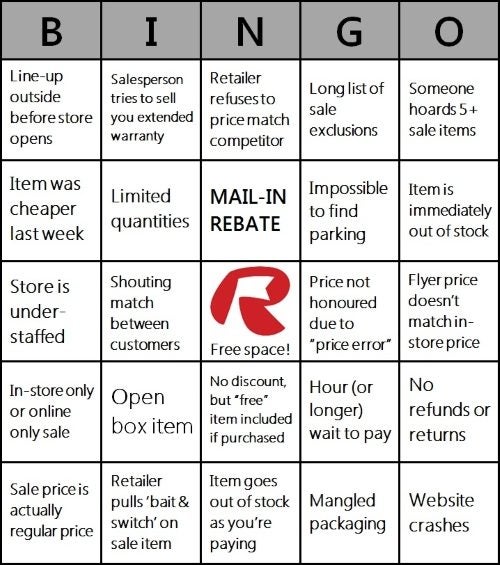 Don't get me wrong, the notion of enormous sales and an overwhelming amount of deals is awesome, though there are some parts of Black Friday and Boxing Day that are not fun.
What I Love
The thrill of the chase: seeing a product you want and hunting it as if it were your prey. It's you against the world and it's exhilarating.
The reward: there's no better feeling than actually getting that product you were pursuing -- victory is sweet.
The end: Black Friday and Boxing Day have become national events. Once the day is over, there's a unique feeling of relief and calmness.
What I Hate
The chaos: the craziness and irrational behaviour from shoppers is understandable, but very unsettling.
The compulsion: I like buying stuff as much as the next person, but having that feeling that I need to buy something gives a feeling of uneasiness.
The end: the buyer's remorse, the second-guessing, the feeling that your bank account has been mercilessly ripped to shreds.
The irony is, this is probably all a moot point, since it's nearly guaranteed that I'll buy something anyways, whether it be a life-sized cutout of the world's greatest actor or something a little less fun.
This is RFD, after all, where the phrase "buy now, think later" is unofficially written into our constitution. I may hate what Black Friday has become, but I can respect what it offers. Maybe they won't take away my golden RFD badge after all.
Do you have any unique shopping experiences that you want to tell us about? Are you planning to brave the crowds on Black Friday or play it safe and shop online? Do you think I'm a bitter fool who just needs to lighten up? Let us know in the comments and remember to visit us early and often when Black Friday approaches -- we'll be here to help you find the best deals across Canada.