Oh, Christmas Tree. What Kind Do You Buy?
By
Amanda Aikman
December 4, 2012
Which do you prefer, real or fake? And no, we aren't talking plastic surgery; we're talking Christmas trees!
While there's some debate surrounding which is more environmentally friendly, artificial tree-huggers may be surprised to learn that many experts believe real trees are actually easier on the Earth (due to greenhouse gas emissions and landfill-space requirements). But eco-concerns aside, there's still the matter of aesthetic preference and practicality. Shedding needles, allergies, hassle of disposal…these are some of the issues of the fresh-cut trees. Tradition, limited storage space, and lack of that "Christmassy-fresh-tree scent" plague the artificial tree folks.
And then there's cost. You can pay anywhere from $10-$1000 for an artificial tree. But, theoretically, once you've paid that price you won't have to pay it again. While with a real tree you're looking at an annual investment of $20-$100. Or if you go for a "living" planted tree from a nursery, at least triple that price! Of course, there are deals to be had, as any good RFD'er knows. There's the IKEA real-tree option – buy a $20 tree, get a coupon for $20 off $75. The Home Depot runs a similar program, with a $25 coupon offer, but trees need to be purchased by the first week in December. Grocery stores, tree farms, your neighbour's back yard, these are all places you might find your tree for less. Though if your neighbour asks, we'll deny everything.
Artificial trees can be found at reasonable prices as well, like this 6.5-foot pre-lit tree from Walmart.ca ($49, available in green, white, purple, or black). Or this American Slim Pine Tree from JYSK.ca ($16.99-$39.99 sale, $24.99-$49.99 regular price).
Personally, I've had both my whole life. Growing up, my mother would have her immaculate artificial tree with white lights and Victorian pink ornaments upstairs, and downstairs my dad would have a giant real tree with blinking lights and enough tinsel to throw Rudolph the Red Nosed Reindeer off course. And now we go chop down our own 9-foot Fraser Fir at a Christmas tree farm in BC each year, but my son has a $10 3-foot artificial tree of his own that we picked up at XS Cargo—I got tired of his "help" decorating the main tree by cramming 30 ornaments on to one bottom bough. So where do you stand – real, fake, both, none?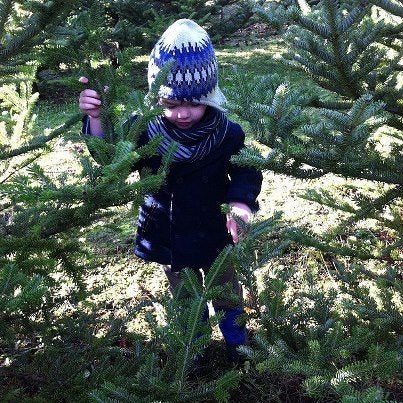 Hunting for real trees in Langley, BC