Best Buy is Offering a Sale on LG TVs
By
Jordan Maxwell
September 25, 2020
Looking to upgrade your TV? Best Buy is having a sale on LG TVs. Whether you're looking for a 4K TV with NanoCell Display or an CX OLED model with Dolby Vision™ IQ and Dolby Atmos®, LG has you covered. If you're watching content in 4K through a connected Blu-ray player; you're watching a TV series through streaming service and similar subscription; or, you're watching TV using a cable/satellite TV set-top box: it's hard to beat the real-world quality these TVs have to offer.
We've highlighted a couple models to show you to get you started. Check out the full list of LG TVs available for sale here. You can also compare models to see how they stack up against each other in terms of features, picture and sound. Click here.
LG 77" 4K UHD HDR OLED webOS Smart TV
You can bring the theatre right to your living room with this 77" 4K TV from LG. Equipped with AI Picture Pro and AI Sound Pro, it's also got Dolby Vision™ IQ for adjustable TV video settings and Dolby Atmos® to deliver exceptional surround sound. Basically, stunning picture quality is what you can expect from this TV and its response time, design and colour accuracy is solid. This is the perfect TV for gamers, live sports and action-movie lovers.
LG NanoCell 65" 4K UHD HDR LED webOS Smart TV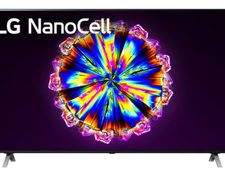 The LG NanoCell 65" is also a solid TV that has wide viewing angles, which is ideal for watching TV shows and sports. It's also good when you're working from home and want to use it for Zoom calls. With an impressive LED display, 4K Ultra HD, 8.3 million active pixels, and 3840 x 2160 resolution, the AI-enabled processor upscales content to 4K and offers high-quality audio, too.
LG NanoCell 55" 4K UHD HDR LED webOS Smart TV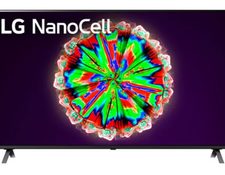 The LG NanoCell 55" delivers quality colour display and its HDR screen allows you to watch your favourite movies, sports and TV series with complete clarity. The LG Magic Remote, included in the box, allows for both voice and motion control. If you have an external speaker system, you can really bring this TV to life.
LG TV and Home Theatre Accessories
Whether you're looking to enhance your audio experience or add some smart features to TV setup, Best Buy is also offering TV and audio accessories from your home theatre.
LG SN4 300-Watt 2.1 Channel Sound Bar with Wireless Subwoofer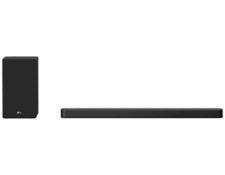 The LG SN4 sound bar will deliver an incredible sound experience for your newly designed home theatre entertainment system. It has 300W of output to produce powerful audio and its AI Sound Pro feature uses adaptive sound control to automatically adjust its sound levels. This is a great accessory for movies and gaming.
LG SN8YG 440-Watt 3.1.2 Channel Sound Bar
This model is similar to the one above, however its elevated features will give your new LG TV even more of a boost. It has a 3.1.2-channel design with Dolby Atmos® compatibility to bring a multi-dimensional sound experience. It also has a 24-bit/192kHz audio resolution, delivering optimized treble and bass based on content.
Start Shopping for an LG TV Today!
Improve your TV experience through Best Buy's sale on LG 4K, NanoCell and OLED TVs. Using an Android device can allow you cast content to Android TVs from a mobile device. This includes smartphones, tablets, or laptop computers. You can also use Google Chromecast to cast content or use AirPlay 2 support to share content from your Apple Device. The possibilities are endless. Check out the full list of LG 4K, NanoCell and OLED TVs. Start shopping today!