Best Buy is Offering a Sale on Samsung TVs
By
Jordan Maxwell
September 11, 2020
Watch all of your favourite TV shows and cheer for your favourite sports teams on a brand-new Samsung TV from Best Buy. The retailer is having a sale on all Samsung Smart TVs and other Samsung accessories. Most of the TV models feature Smart Home Assistants, which allows you to control it without a remote. At the same time, you can also pair it with other smart devices in your home for the ultimate user experience.
Whether you're watching content in 4K through a connected Blu-ray player; you're watching a TV series through streaming service and similar subscription; or, you're watching TV using a cable/satellite TV set-top box: it's hard to beat the real-world quality these TVs have to offer.
We've highlighted a couple models to get you started. Check out the full list of Samsung TVs and sound accessories available for sale here.
Samsung 75" 4K UHD HDR QLED Tizen Smart TV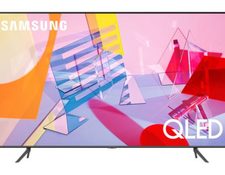 If you've been stuck in the 40" zone for a while, it's time to upgrade to a bigger unit. With LED backlighting, you can enjoy the finer details of your favourite shows in a number of different modes on its 75" surface. It has a QLED display with 3840 x 2160 resolution and a 4K UHD processor to match. It also comes with apps, including: Apple TV, Google Play, Netflix, Prime, Cineplex, Crave, UFC, DAZN, and TVA Sports.
Samsung 55" 4K UHD HDR QLED Tizen Smart TV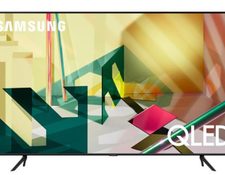 If a 75" screen isn't your speed, this 55" inch might work better for you. With the ability to put it in your living room or add it in your bedroom, Its AI-like capability allows you to watch all your favourite movies and TV shows in 4K Ultra HD resolution. Powered by Tizen OS, you can use built-in apps such as Netflix, Youtube and Spotify to search and view content from a wide range of sources.
Samsung The Frame 65" 4K UHD HDR QLED Tizen Smart TV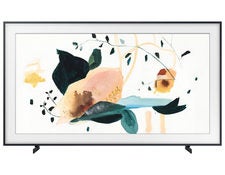 Looking for something unique? What's cool about this model is that it has an "Art Mode" that will turn your TV into a sleek frame for exhibiting artwork and photographs on its screen. The 65" Samsung Frame Smart TV uses Quantum Dot technology to deliver crisp and quality picture and sound. It's preloaded with Tizen's OS and includes Apple TV, Google Play, Netflix, Prime, Cineplex, Crave, UFC, DAZN, TVA Sports apps for access to online streaming content. All will look great on its 4K Ultra HD QLED display with 3840 x 2160 native resolution.
Samsung TV and Home Theatre Accessories
Whether you're looking to enhance your audio experience or you're trying to improve your smart home connectivity, Best Buy is also offering TV and audio accessories from your home theatre.
Samsung HW-T550 320-Watt 2.1 Channel Sound Bar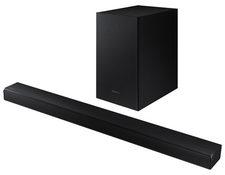 Enjoy 3D surround sound in your home with this Samsung HW-T550 2.1 channel sound bar. It has a wireless subwoofer and use a 320-watt power to deliver powerful sound from its base. The sound bar also has a Smart-Sound feature that optimizes audio and video content. It also has a game-mode with cross-talk cancellation technology for exceptional gaming audio quality as well.
Start Shopping for a Samsung TV Today!
Improve your TV experience through Best Buy's sale on Samsung 4K and 8K TVs. Using an Android device can allow you cast content to Android TVs from a mobile device. This includes smartphones, tablets, or laptop computers. You can also use Google Chromecast to cast content or use AirPlay 2 support to share content from your Apple Device. The possibilities are endless. Check out the full list of Samsung 4K and 8K TVs here.