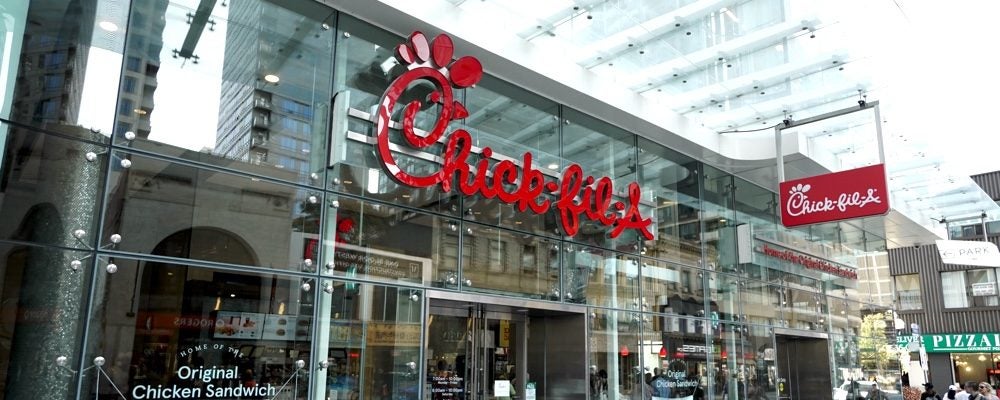 We Visited Chick-fil-A's First Toronto Location and Here's What You Need to Know
By
Thomas Kenzaki
September 6, 2019
Chick-fil-A officially opens the doors to its first Canadian franchised restaurant location in Toronto today and I got a sneak peek inside. Here's what I learned and also what you can expect when you drop by for a visit.
The announcement of Chick-fil-A's international expansion into Canada first broke the news in July of last year and we recently learned details about their Canadian menu and pricing.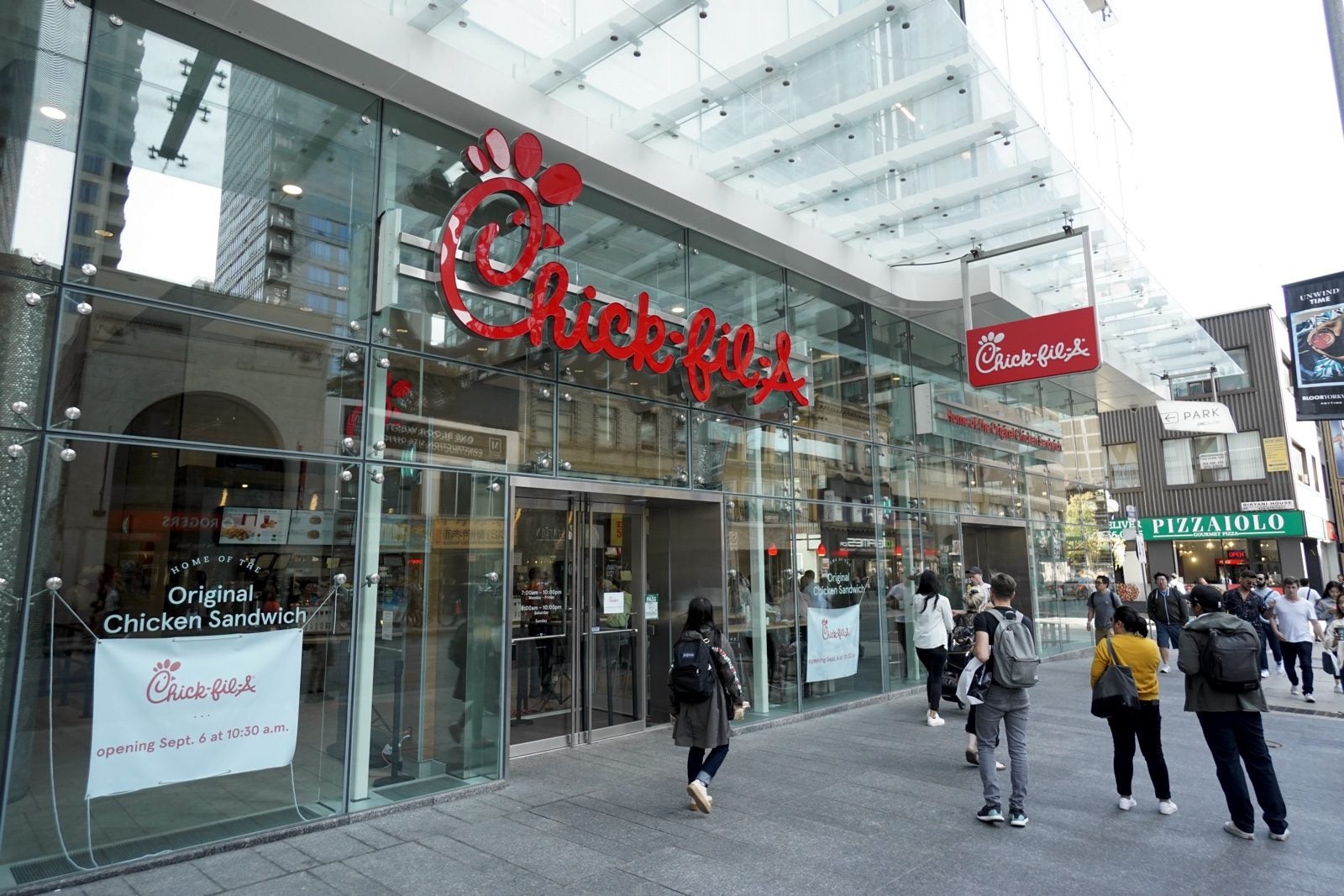 The only thing left was to wait until the restaurant officially opened and find out what Canadians thought of the popular US quick-service chain.
The restaurant is located at the prime downtown Toronto intersection of Yonge and Bloor. The storefront features floor to ceiling glass windows which bring a lot of natural light into the restaurant.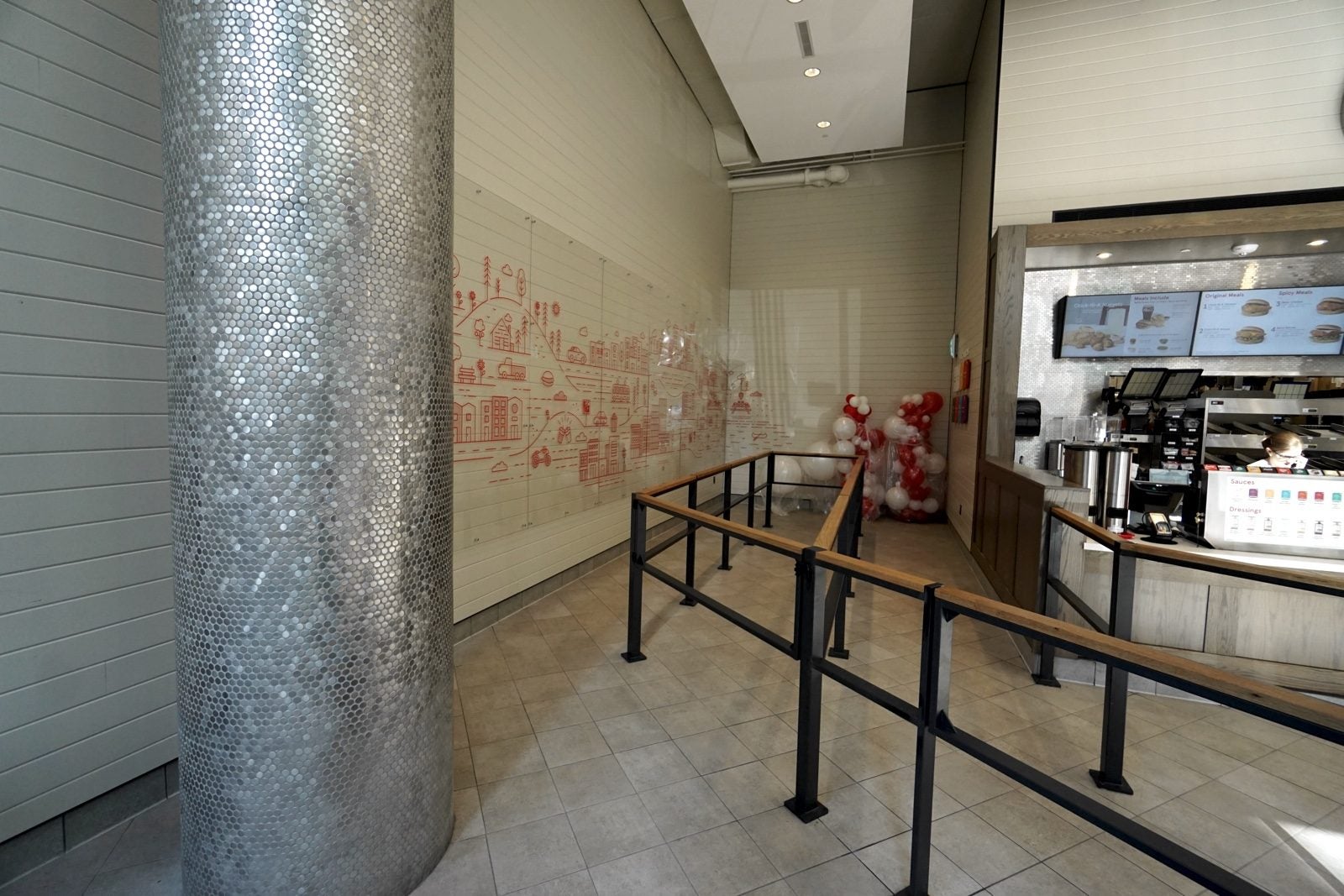 Upon entering, there are doors to your left and right. Guests will be directed in through the left door as this is where the queue to the counter is located.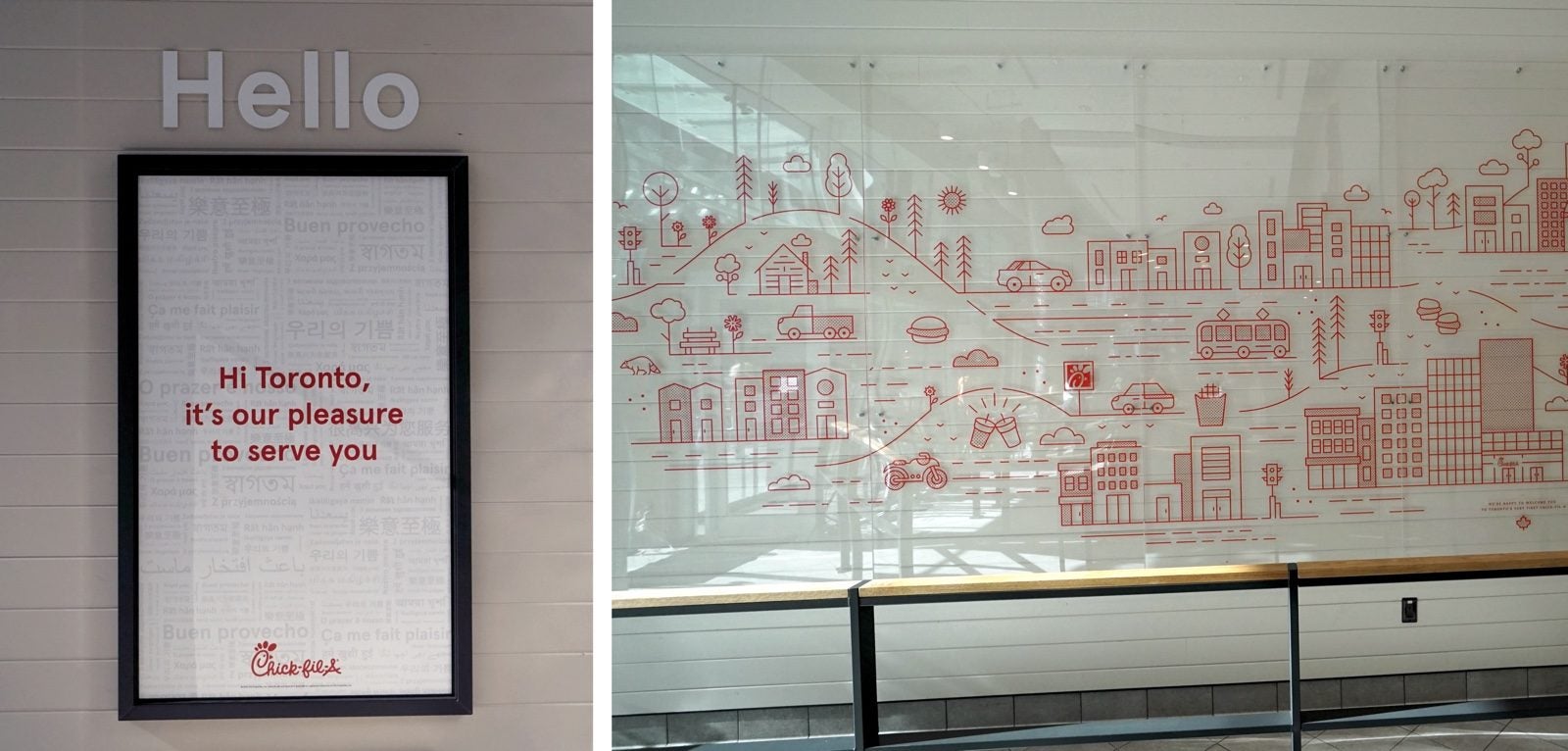 The queue features some fun art including a sign welcoming guests to Toronto in multiple languages. Towards the back you'll find huge tile blocks on the wall featuring their 7 signature sauces (obviously not to scale) which is unique to this location.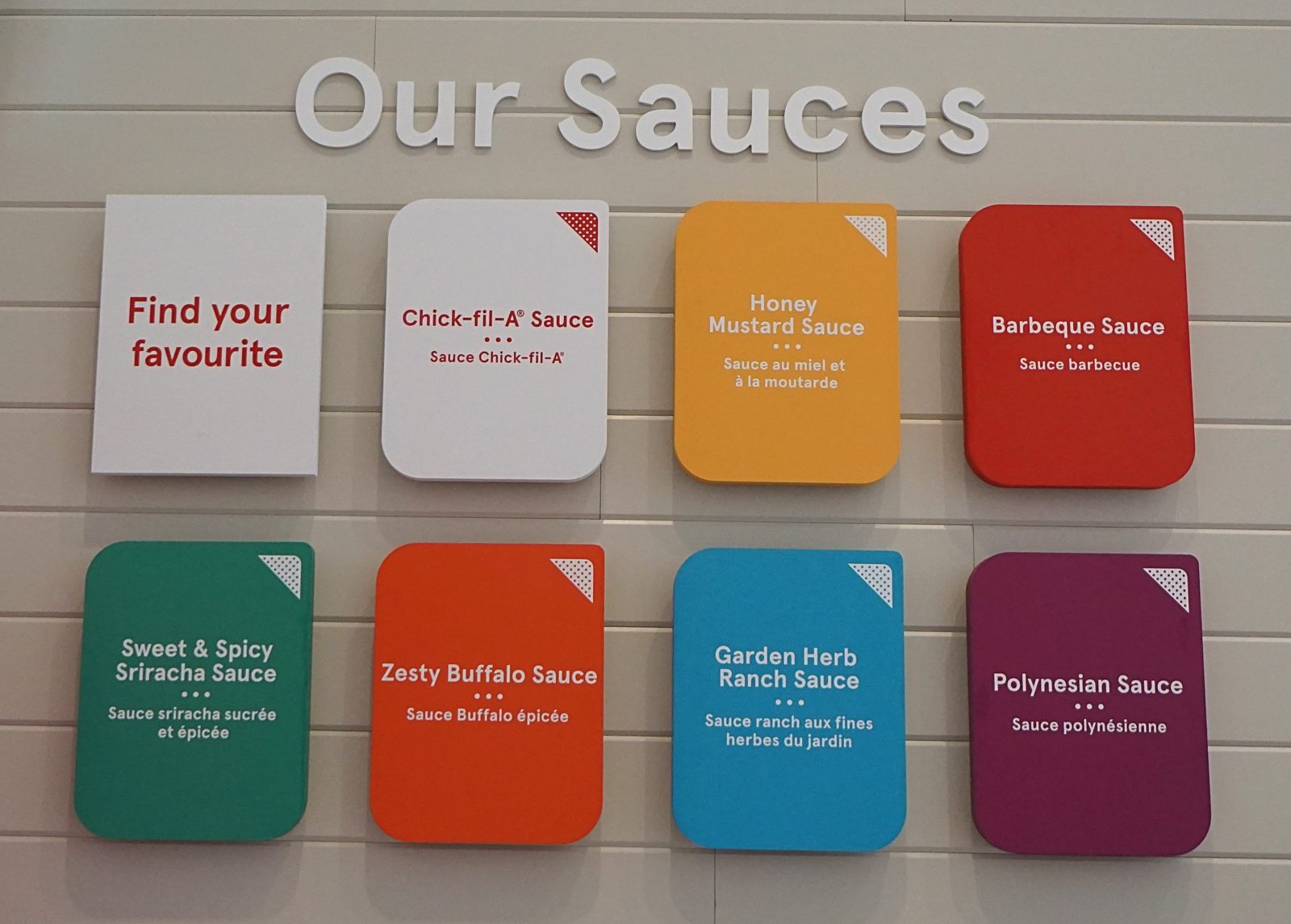 During busier periods (assume this to be all opening hours for the first few months), Chick-fil-A employees will be greeting guests in line and taking their orders on tablets to help speed up the time it takes to get orders out.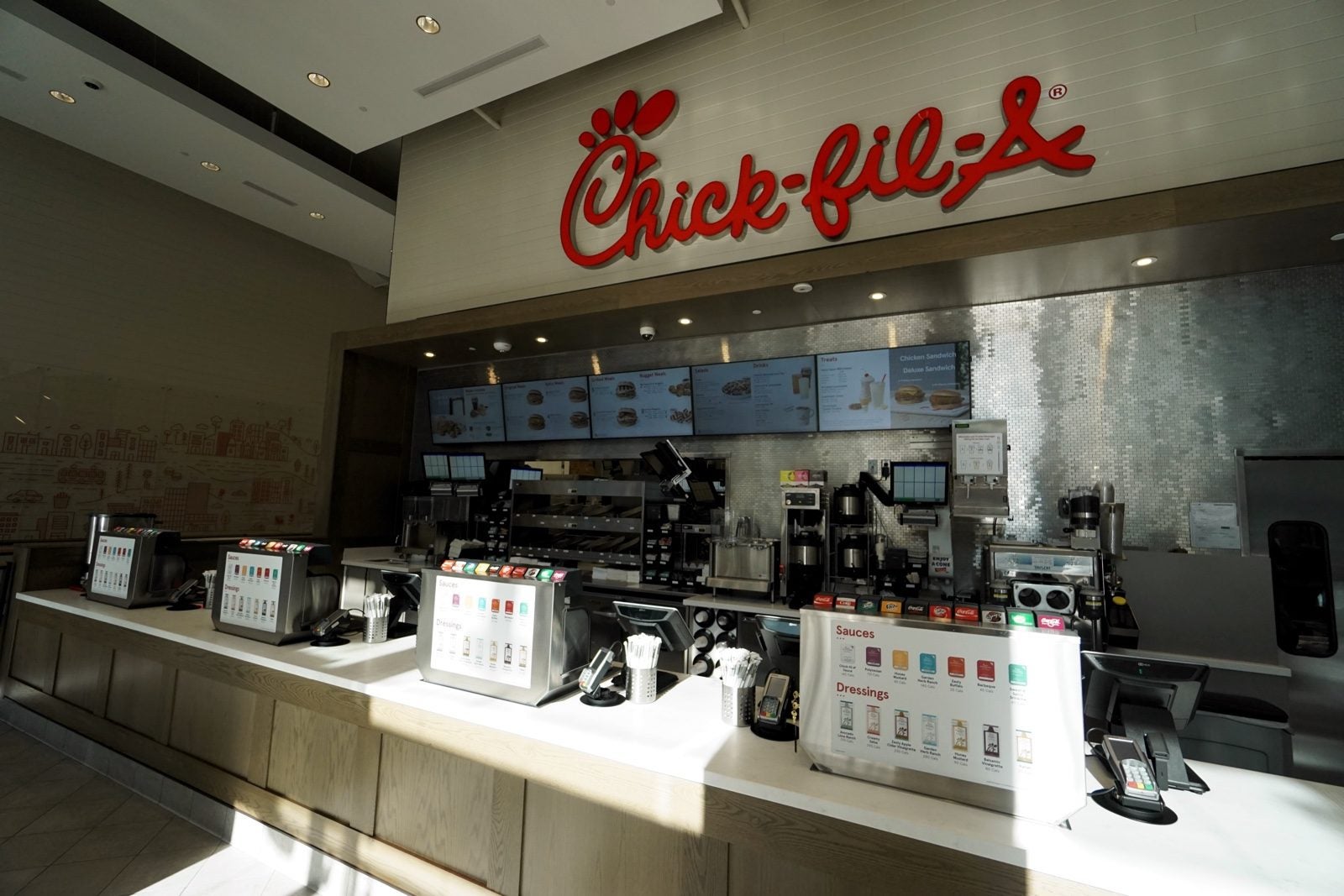 The counter area has multiple registers, each beside a soft drink dispenser. On the front of each dispenser is another guide to their sauces plus their salad dressings.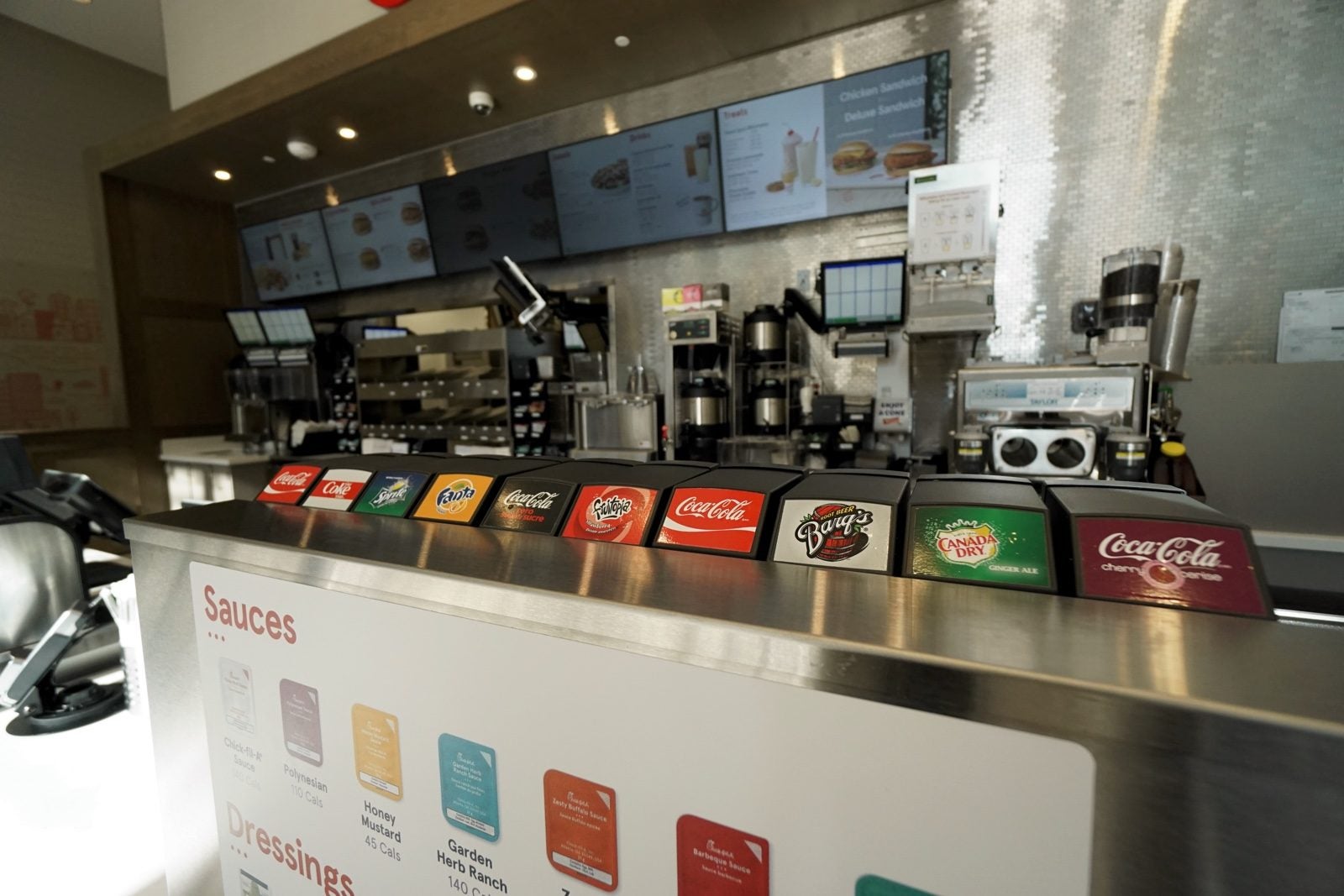 Like in the US, Chick-fil-A serves up Coca-Cola soft drinks (sorry Pepsi fans). A pleasant surprise was that Canada Dry is available which often isn't an option at quick-service restaurants.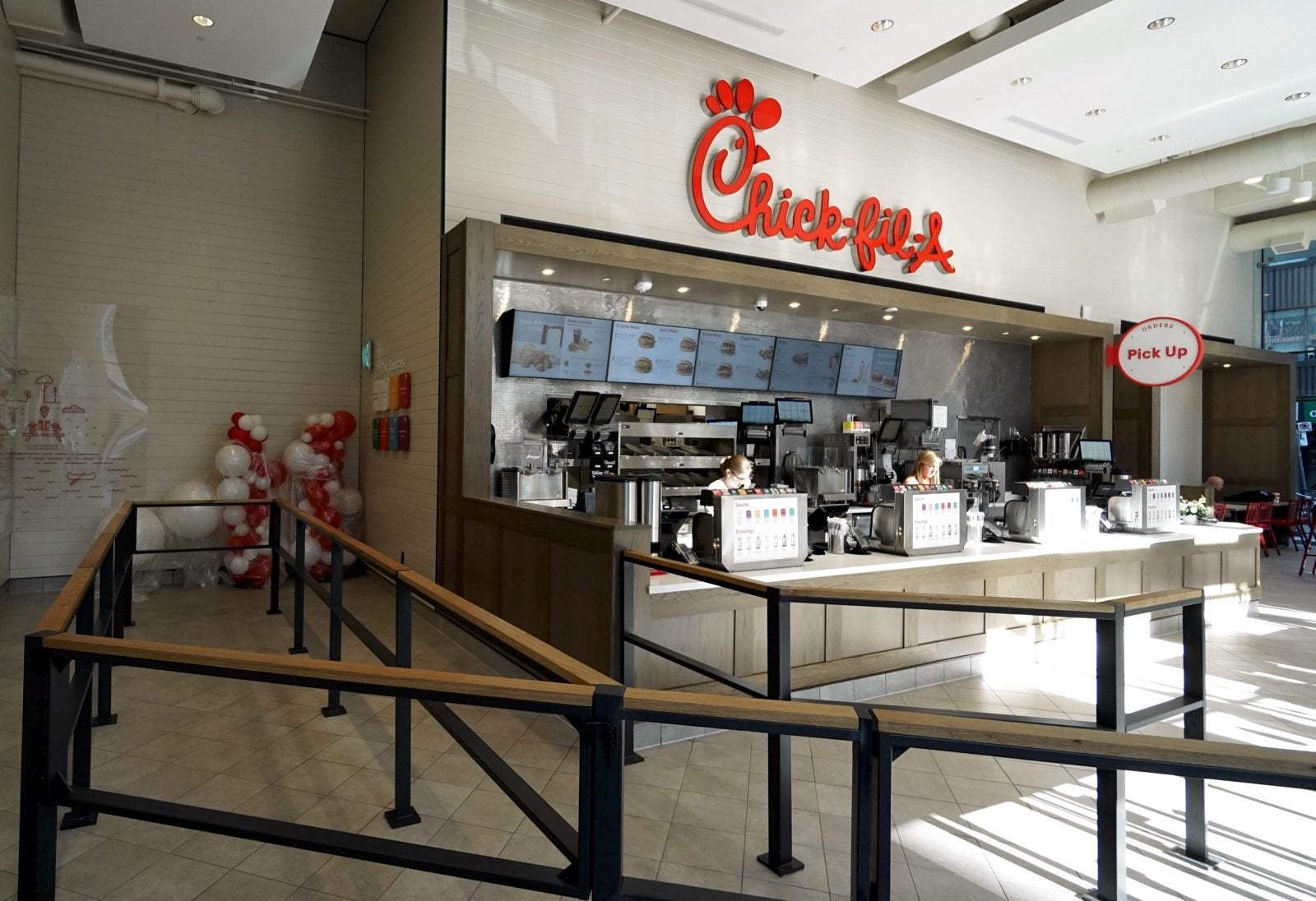 Just to the right of the registers you'll find the clearly marked order pickup area. This area isn't that big so hopefully their staff can keep up with the large crowds that they'll be seeing.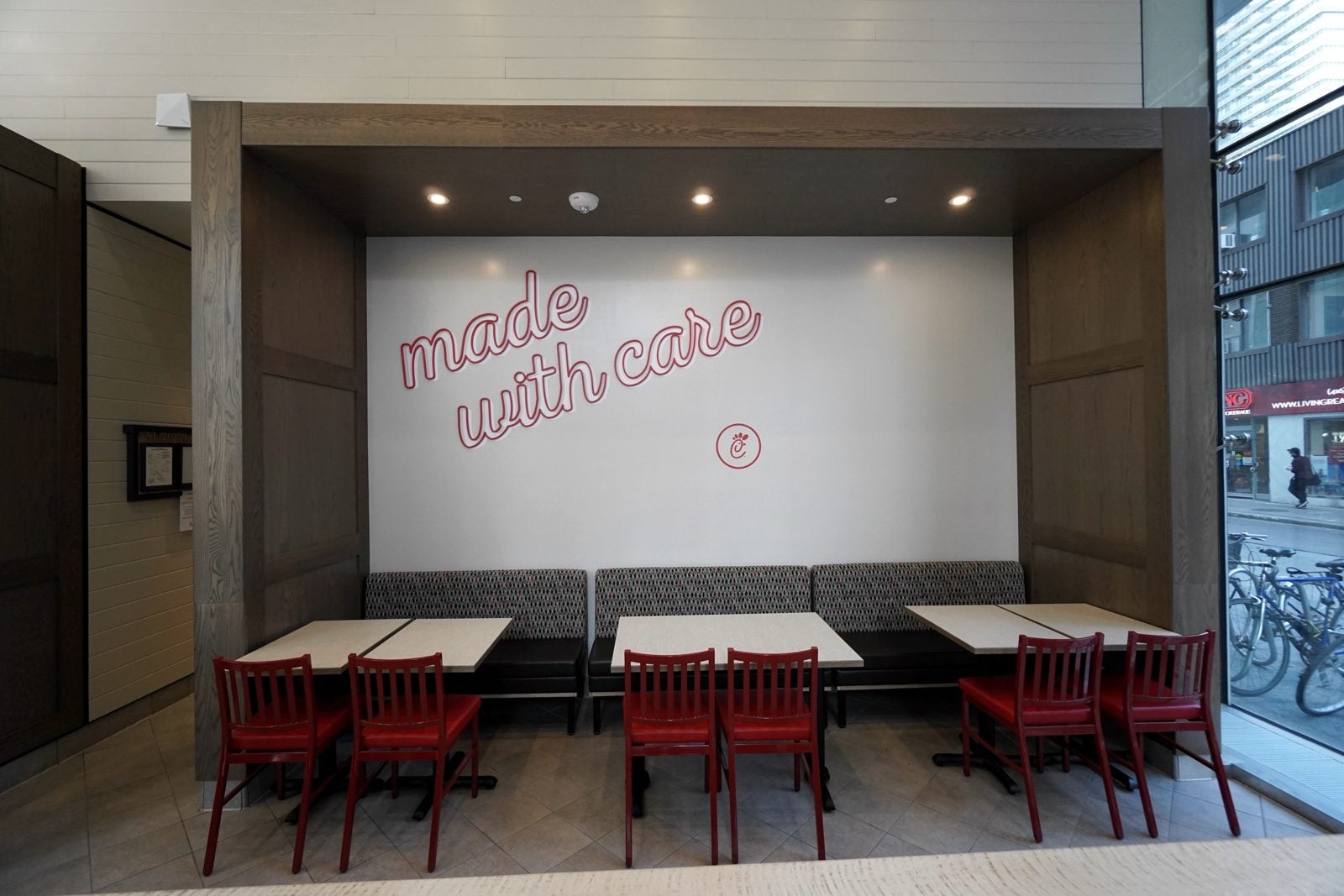 The restaurant is setup to seat 70 guests through a mix of bar stool style seats, high top tables, standard tables, and a large community style table.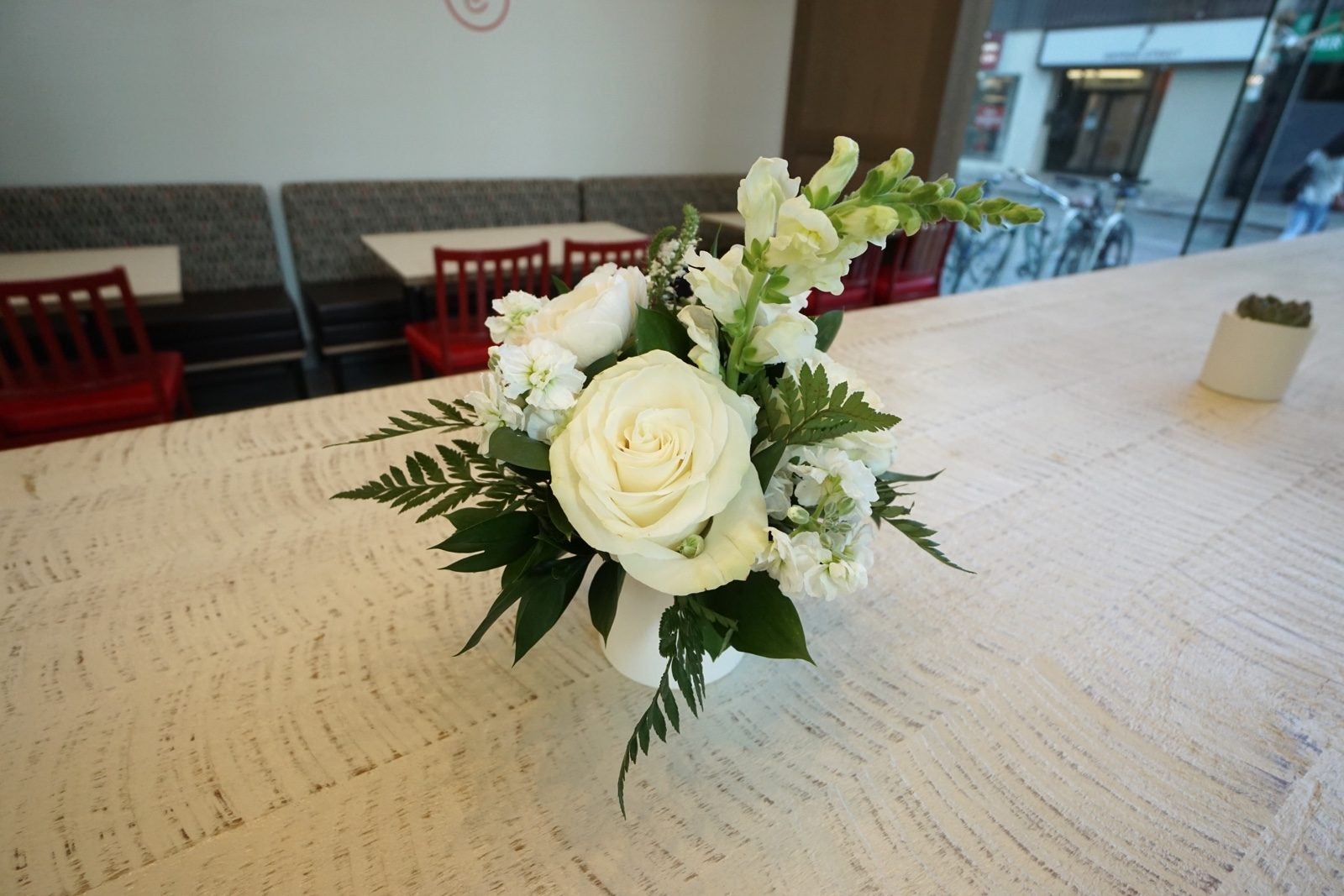 Fresh cut flowers seen decorating a table.
Chick-fil-A is known for their exceptional customer service, which includes their dining room hosts who not only refresh drinks, but also help those dining-in find tables. Even so, you might have a hard time finding a place to sit (especially for larger groups) during busier times.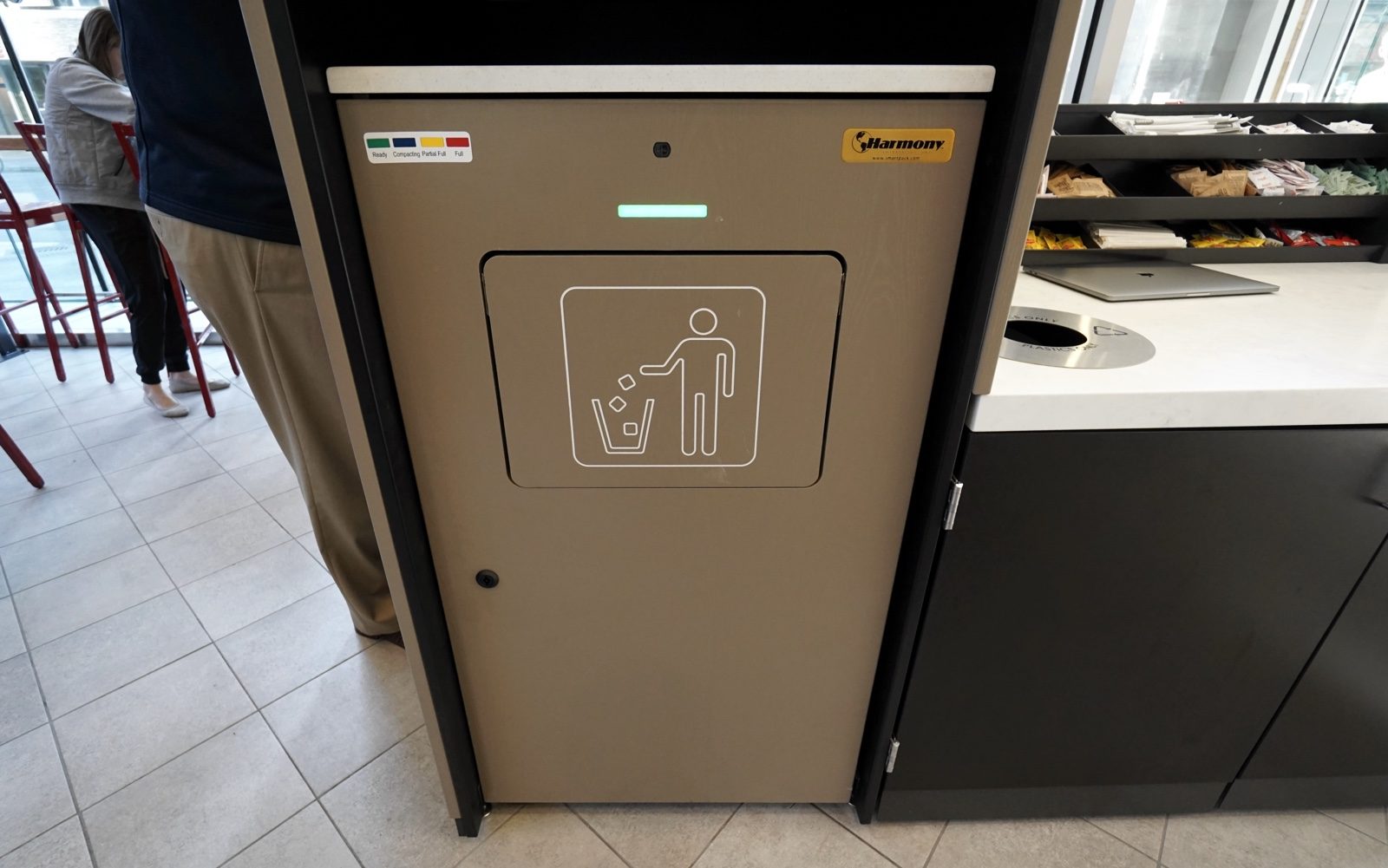 Germaphobes will appreciate the hands-free automatic trash compactors.
The bathrooms are located at the back of the restaurant and were as clean as you'd expect from a place that wasn't yet open to the public. From personal experience, Chick-fil-A bathrooms are typically very well maintained so these may just be the nicest restrooms to use in the area.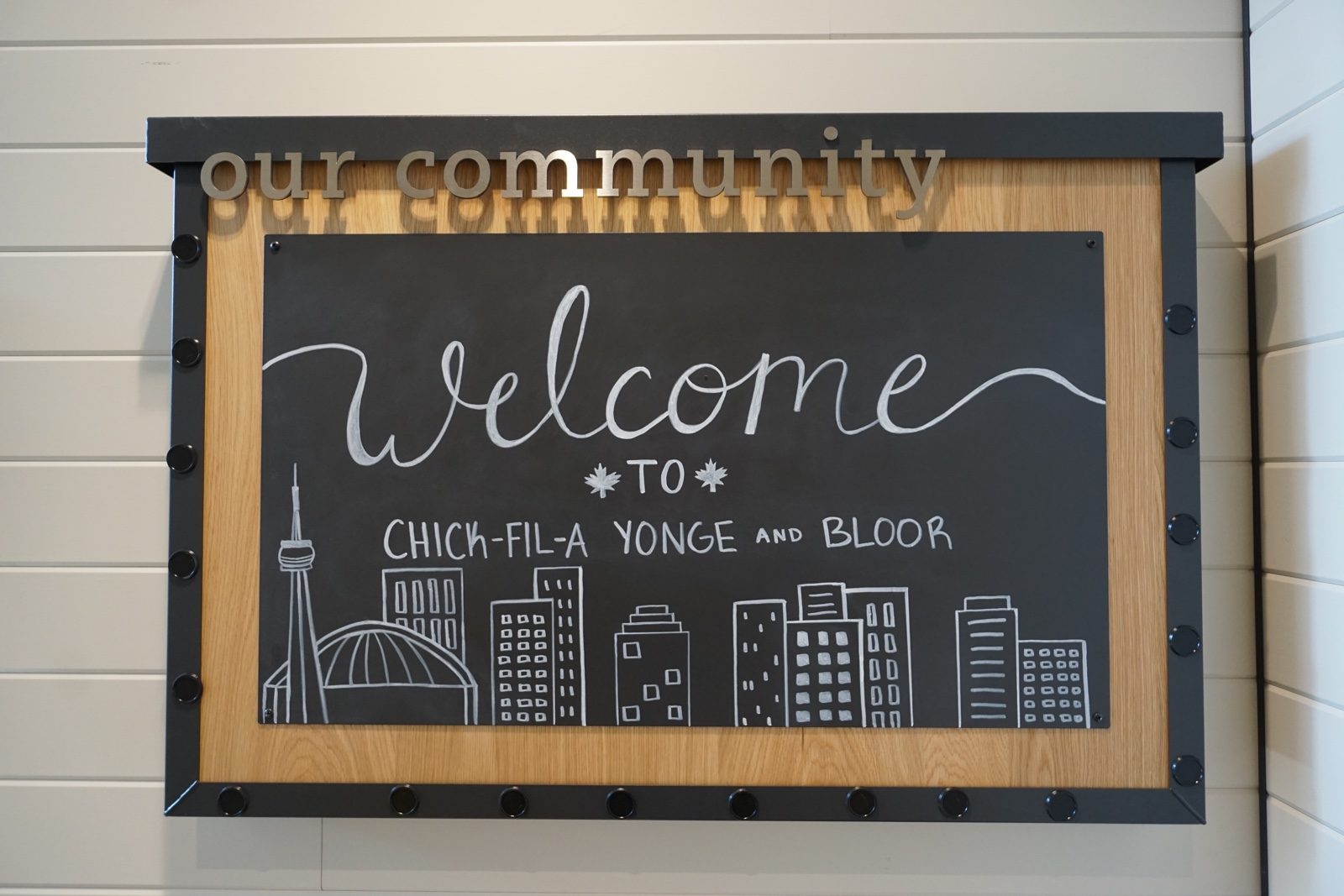 After taking a tour of the new restaurant, I'd have to say that it's a very modern and well designed space. The layout and features of the restaurant makes me believe that they'll be able to push orders out fast and keep the lines moving.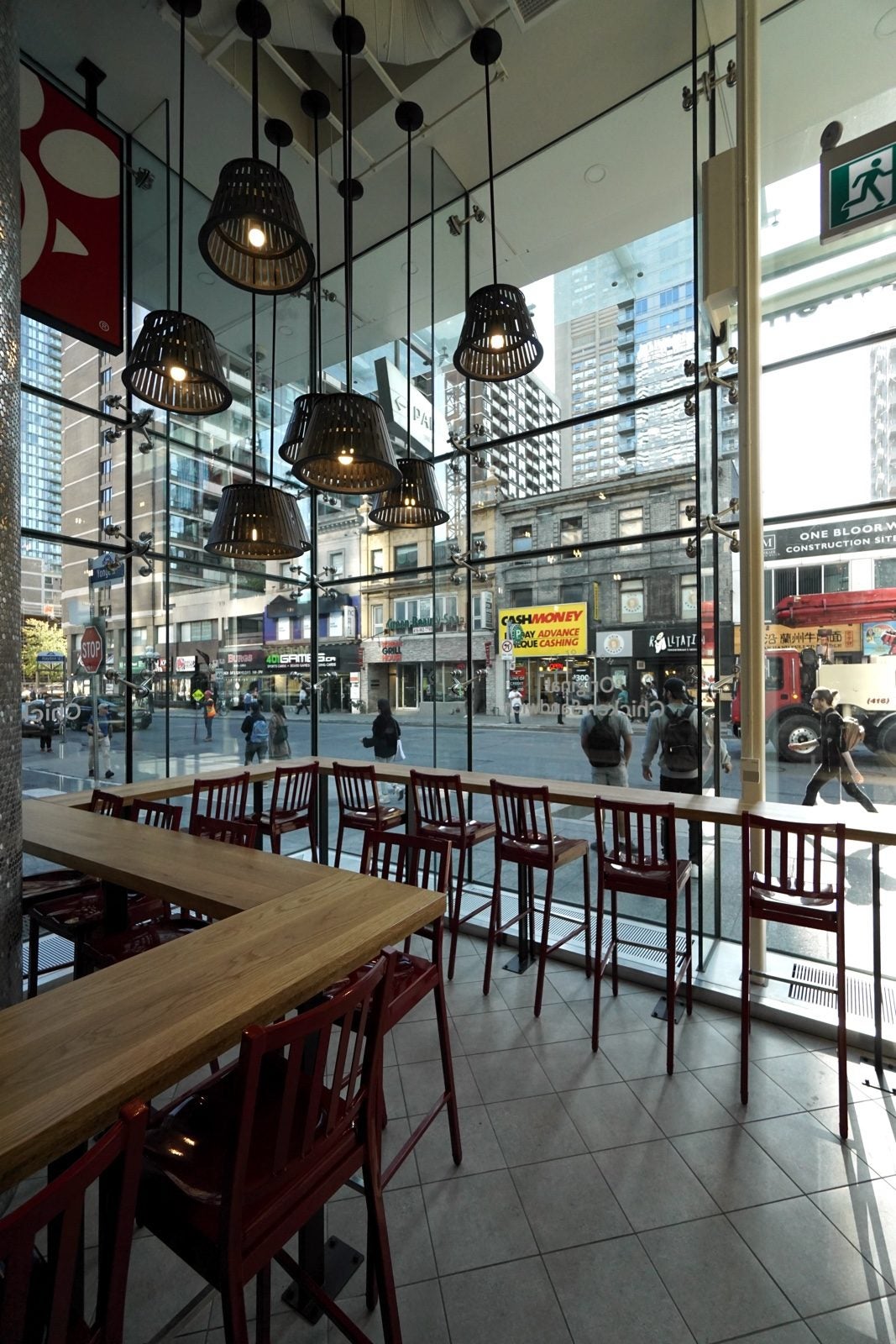 Overhead lights feature peach baskets to pay homage to Chick-fil-A's Georgia roots.
I do wish they would've launched their popular Chick-fil-A mobile app in Canada, which includes mobile ordering and a rewards system, but hopefully that's something they're already working on.
Whether you're a fan of Chick-fil-A or not, they're now open for business here in Canada with plans to keep expanding across the GTA (15 stores within 5 years). If they can keep up the same high quality of food and exceptional customer service as in the US, they'll likely see a lot of success here.
Will you be stopping by the new Yonge and Bloor location? Let us know in the comments below.