McDonald's Revamps Beef Burgers in Canada, Including the Big Mac and Quarter Pounder
By
Simon Hung
August 6, 2019
Tinkering with a widely-adored recipe can be disastrous (see New Coke), but McDonald's is hoping that won't be the case with their newest endeavour, as they're revamping their entire lineup of classic beef burgers in Canada.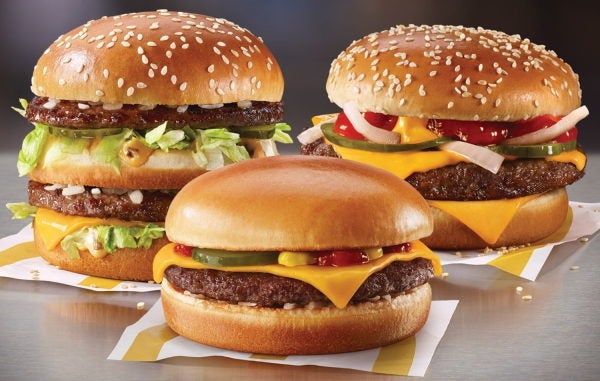 "Remastered" Big Macs, Cheeseburgers and Quarter Pounders are coming to McDonald's.
The new changes are not drastic, as most adjustments involve minor tweaks during preparation to help create what McDonald's hopes are more delicious burgers. According to Nicola Pitman, McDonald's Director of Menu Innovation and Management, the changes come after years of development and will not be "hugely noticeable" to guests who regularly enjoy iconic menu staples like the Big Mac and Quarter Pounder with Cheese.
There are five improvements highlighted by the fast food giant and we've listed each of them along with a short rundown of their impact.
1. Beef patties will be cooked in smaller batches
McDonald's will reduce the maximum number of patties on a grill at a time to six standard patties or four Quarter Pounder patties (previously eight and six, respectively). Cutting the maximum capacity means less overcrowding, better heat distribution and fresher burgers, as cooks will have to grill more frequently to compensate. Cooking time will also be shortened slightly to ensure burgers remain juicy without drying out when resting in warming trays.
2. New produce storage for fresher and crispier lettuce
Lettuce trays will be reduced on the prep table, which will result in more frequent trips to the fridge to replenish supply and ultimately lead to crispier lettuce on your burger.
3. Onions will be added directly to patties on the grill
Onions will now be cooked on top of patties while they're on the grill to intensify their flavour, rather than adding them raw during the assembly process. Pitman mentions that the process also allows onions to absorb juices and adds a caramelized flavour to burgers. In their press material, McDonald's notes that this process will not be used for Quarter Pounders.
4. More Mac Sauce will be applied to Big Macs
An additional 10 millilitres of Mac Sauce will be added to Big Macs after customer complaints of too little sauce per bite in Big Macs. During our (very unscientific) taste-tests of store-bought McDonald's sauces in 2017, one discovery we made was that more sauce resulted in more flavour and this change should be well-received by Big Mac fans. A slight buttery flavour will also be added to Big Mac buns to counter the increased acidity from the extra sauce.
5. New bun recipes to create warmer buns
The enemy of any burger is a cold bun, so McDonald's is using a new bun recipe that includes a higher moisture content to retain more heat. As a result, the tops of the new buns will be slightly shorter than previous buns by three millilitres, while the bottoms will be slightly thicker to increase heat retention. In addition, the new buns will have a glaze to help seal in heat and add a hint of flavour, while improving the appearance of the final product.
All beef used by McDonald's will continue to be sourced from Canadian farmers with no artificial colours, flavours or preservatives.
These new changes will be rolled-out across all McDonald's restaurants in Canada and only affect their classic beef burgers, including the Big Mac, Cheeseburger, Hamburger and Quarter Pounder -- you can try these new "Remastered" McDonald's burgers now and McDonald's will also have a one-week promotion to celebrate the changes, as Big Macs will be $3.00 at all restaurants from coast-to-coast between August 13 and 19.
____________________
Source: McDonald's Canada, with reports from the Financial Post