Star Wars Galaxy's Edge Opens at Disneyland. Walt Disney World to Follow in August
By
Thomas Kenzaki
May 31, 2019
Today Disneyland in Anaheim, California officially opened up the blast doors to the most epic land expansion in the history of the theme park. The brand new Star Wars themed land, Galaxy's Edge, is now open for business!
It was just 4 years ago that Disney announced that both Disneyland and Walt Disney World would be opening up massive new lands based on the popular Star Wars franchise. Never before has Disney added a project to this scale, yet alone constructing both simultaneously so they'd both open the same year.
Guests visiting Galaxy's Edge will be transported to the remote planet of Batuu. Here you'll be fully immersed in the Star Wars universe with familiar sites, sounds and characters that you've come to love.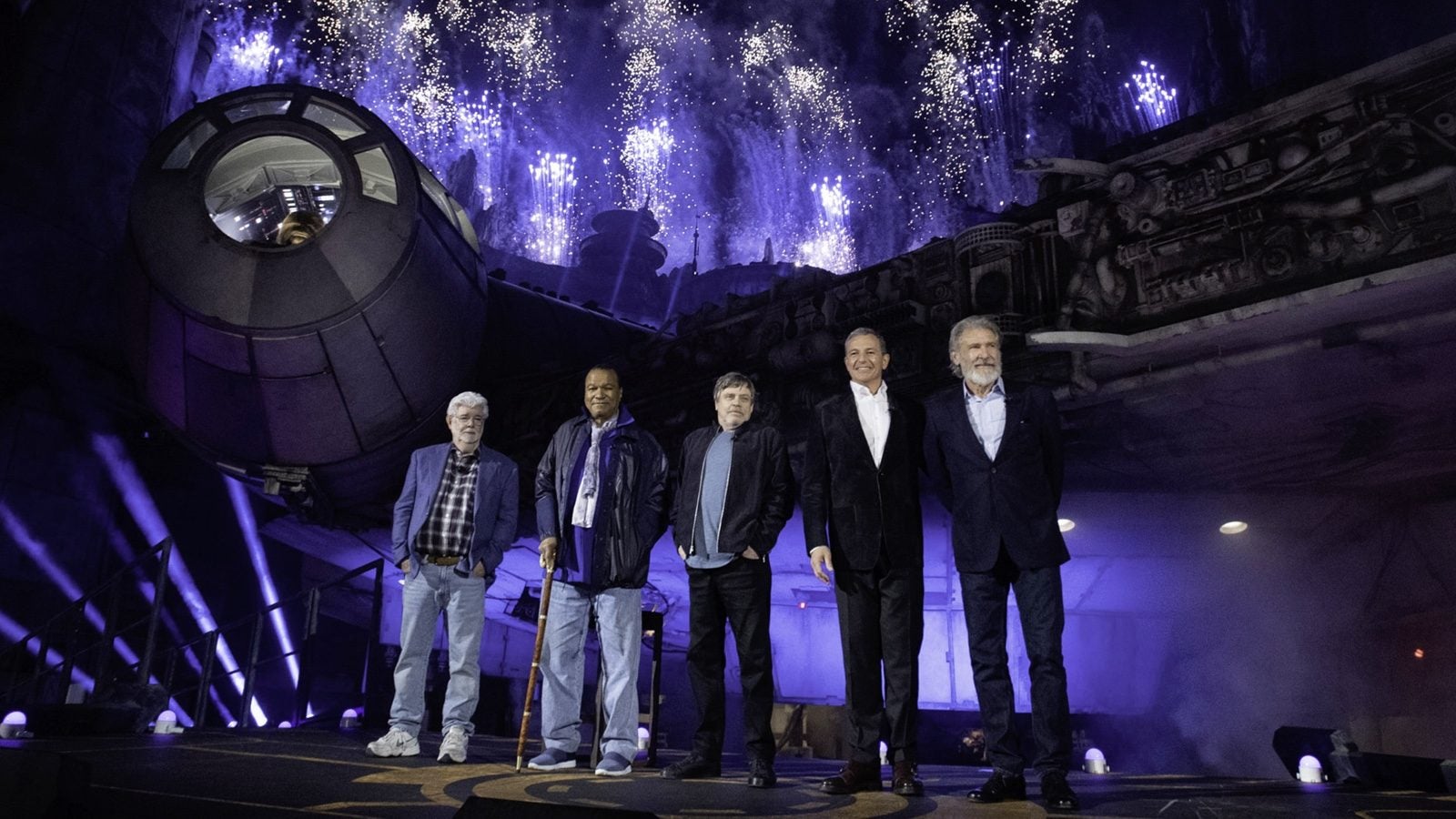 During Galaxy's Edge's grand opening ceremony on May 30th, Disney chairman and CEO Bob Iger welcomed guests in front of the most iconic ships in the Star Wars universe, the Millennium Falcon. He was joined on stage by Star Wars icons George Lucas, Harrison Ford, Mark Hamill and Billy Dee Williams.
Iger was quoted saying, "Now, for the first time, fans will be able to immerse themselves in the iconic stories that have captured audiences' imaginations for decades and live their own Star Wars adventures in the most creative, innovative and ambitious land we've ever built."
Was Iger and co. able to pull it off? Well I think this quote from the creator of Star Wars, George Lucas, speaks for itself.
"It could have gone very bad. But it didn't." - George Lucas at the #GalaxysEdge dedication ceremony

— Amy Ratcliffe (@amy_geek) May 30, 2019
Galaxy's Edge features 2 brand new rides (Millennium Falcon: Smugglers Run which is open now and Star Wars: Rise of the Resistance which opens later this year), as much intergalactic fare as you could ever hope to eat, and so much Star Wars merchandise that you'll need to bring extra luggage to get it all home.
Galaxy's Edge at Disneyland will surely attract millions of guests from all over the planet and likely set new attendance records for the popular theme park. Guests visiting between May 31 and June 23 will require a reservation to enter Galaxy's Edge (to help keep crowds manageable) so make sure to keep that in mind if you plan on visiting soon.
Galaxy's Edge at Walt Disney World opens on August 29th at Disney's Hollywood Studios theme park. No information on that opening is available yet but we will be sharing that information and a review of the new land later this year.
Are you thinking about taking a vacation to visit Galaxy's Edge? Let us know what you think in the comments below.