The Surprising Savings on Video Games & Consoles at Shoppers Drug Mart
By
Thomas Kenzaki
March 5, 2019
If you time travelled to 2019 from 5 or even 10 years ago, you probably wouldn't think of buying video games or consoles at Shoppers Drug Mart. Instead you'd head to Best Buy, Walmart, Future Shop, or EB Games because well, that's where you usually went for these things.
Those who sleep on Shoppers Drug Mart for their video game purchases today are not doing themselves any favours because they offer some of the best deals around. Here's a few reasons why you shouldn't ignore Shoppers Drug Mart when it comes to your video game & console purchases.
Earning PC Optimum Points
Everyone's heard of it, not nearly enough are signed up for or use it. If you actually did time travel here from the past and are still carrying around your Club Z card, let me fill you in on what this is.
PC Optimum is the loyalty rewards program for Loblaw Company Ltd. stores. This includes Loblaws, Real Canadian Superstore, Zehrs, and of course Shoppers Drug Mart (just to name a few).
You sign up and then earn points for every dollar spent which can be used towards future purchases. Sounds simple enough right?
When to Buy Video Games & Consoles
Ok good, so you're now signed up for the PC Optimum program! Now you need to know how to use it to your advantage when buying video games & consoles.
20x the Points Events
Every dollar you spend (before taxes) normally gets you 15 PC Optimum points. The default accumulation rate is not very good, but still better than nothing. Good thing for you is that they regularly run 20x the points events which mean you'll receive 300 points per dollar spent. Much better!

Every 1,000 points is worth $1 and sometimes even more (we'll get into that later) which means you're earning 30% back in points.
It doesn't take a genius to see that buying video games and consoles during these 20x the points promotions will lead to a lot of points. Here's a few examples:
| Item | Cost | Reg. Points | 20x the Points | Points in $ |
| --- | --- | --- | --- | --- |
| Nintendo Switch | $379.99 | 5,685 | 113,700 | $113 |
| PS4 Pro | $499.99 | 7,485 | 149,700 | $149 |
| Super Smash Bros Deluxe | $79.99 | 1,185 | 23,700 | $23 |
You can usually find 20x the points events on weekends and random days throughout the week. Most require a minimum spend of at least $50 but that shouldn't be an issue with most video game titles being priced at $79.99 these days. Make sure you download their mobile app (iOS, Android) and also sign up for Mobile Text Offers to receive exclusive points and personalized points offers.
Friends and Family & Seniors Day Savings
20x the points events are arguably the best time to purchase video games and consoles at Shoppers Drug Mart. This of course requires you to pay full price for your item upfront with the savings coming later as you spend your points.
Friends and Family and Seniors Day sales offer 20% discounts on almost everything, including video games & consoles. The discount is supposed to be capped at $50 but you'll often not be limited to that. You'll also receive PC Optimum points on the discounted, pre-tax amount as a bonus.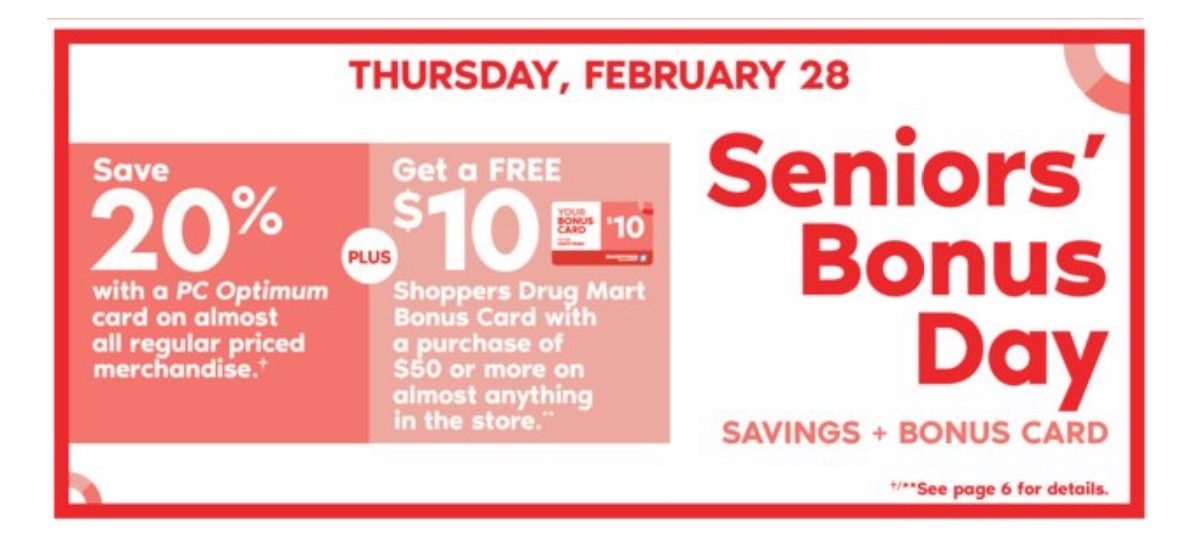 Seniors Day is every Thursday and someone in your group needs to be 65 years of age or older to qualify. Select Seniors Day's are Super Seniors Day's and you'll receive either 10,000 bonus points or a free $10 savings card when you spend $50 or more. That $79.99 hot new AAA video game will cost you $63.99 + tax AND you'll have $10 to apply to your next purchase.
Friends and Family sales are more rare in occurrence and don't usually come with any points multiplier or free gift card bonus. If the stars align (they usually don't) and you have a personal points multiplier offer during a Friends and Family sale, it'll make it an even sweeter deal.
Advertised Sales
Shoppers Drug Mart doesn't often mark down their video games and consoles. However, every now and then you'll find a good advertised deal. Around Black Friday and Boxing Day of 2018 there were some pretty great promotions.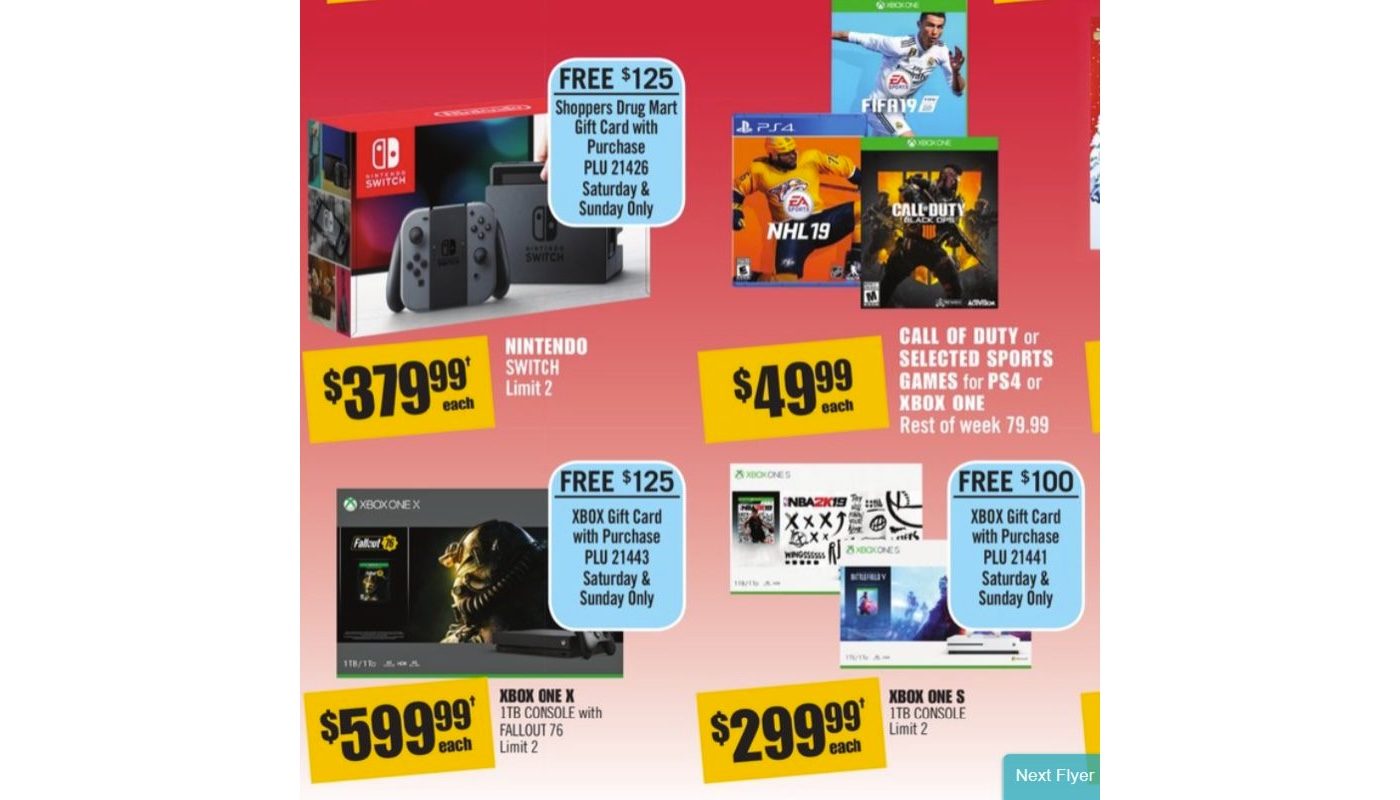 During the Black Friday Super Sale in 2018 you could receive bonus gift cards with select console purchases while still earning PC Optimum points on top.
Nintendo Switch + $125.00 Shoppers Gift Card: $379.99
Xbox One X 1TB Fallout 76 Bundle + $125.00 Xbox Gift Card: $599.99
Xbox One S 1TB Console + $100.00 Xbox Gift Card: $299.99

Every so often Shoppers Drug Mart will also give away free gift cards when you spend a certain amount of money (see above photo). The free gift card amount is usually in the $10-20 range and is more often than not for Shoppers Drug Mart itself. This is a good time to buy newer video games as they're often priced just over the $75 threshold at $79.99.
Spending Your Points
So you've wracked up hundreds of thousands of points, fantastic! It's time to put them to good use.
Since this article is all about video games, let's stick to looking at using our points here. As mentioned earlier, 1,000 points equals $1. Spend 100,000 points and you can save $100 off almost anything.
Bonus Redemption Days / Spend Your Points Events
The absolute best time to spend your points during special "Spend Your Points" events. You'll receive extra savings when you redeem specific amounts of points during these promotions.
A Super Spend Your Points Event from November 2018:
Spend 70,000 points get $95 off (extra $25)
Spend 140,000 points get $200 off (extra $60)
Spend 300,000 points get $450 off (extra $150)
In this example, those spending 70,000 points received 35.7% more savings. If you spent 300,000 you would have received a whopping 50% extra savings!
While events like these don't happen that often, it's always the best time to put those points to use, especially for higher priced items like consoles.
----
So in closing, buying video games, consoles, and electronics at Shoppers Drug Mart may not always net the most immediate savings, but it has the potential to save you a lot over time. If you have the patience, then there are few other stores who can compete with Shoppers Drug Mart.
It isn't all rainbows and unicorns though. The availability of video games and consoles at Shoppers Drug Mart stores is hit-or-miss, with some stores not stocking any at all. Those near major city centres shouldn't have a problem finding the game or console you want but it might take a bit of calling/driving around.
You'll also have to compete with others savvy shoppers because people are starting to realize the great video game savings at Shoppers Drug Mart. During their promo days stores will often get cleared out of popular items like Nintendo Switch consoles.
If you keep up with the deals and have a reasonably well stocked Shoppers Drug Mart selling video games near you, it's a great idea to consider shopping there anytime there's a new video game release or console you want to buy.