Oreo's The Most Stuf Cookies Are Now Available in Canada
By
Simon Hung
March 5, 2019
One photograph with six words that ultimately sparked a frenetic month-long quest to find what could be considered the Holy Grail of cookies -- The Most Stuf Oreo.
Self-described as containing the most creme ever in an Oreo cookie, photos of the sweet treat began circulating in December 2018 on American junk food blogs, with an estimated release date of early 2019 in the United States, but it was a mystery if they'd ever make their way to Canada.
The initial outlook was bleak, as the limited-edition product wasn't (and still isn't) listed on Oreo's Canadian website or major grocery stores including Amazon.ca, Loblaws and Walmart. We contacted Mondelez International (Oreo's parent company) for help, but a spokesperson claimed that they were "not available in Canada." Fortunately, they were wrong.

We gathered four members of the Oreo family to conduct a few unscientific experiments.
The Most Stuf Oreos are available in Canada, but they're not exactly easy-to-find. The official list of retailers is unknown, but you'll likely have the most luck at Loblaw-banner stores, as there have been confirmed sightings from as early as January at some Loblaws, No Frills and Co-op locations. On a fateful afternoon in late-February, we eventually found a small stash tucked away at Loblaws.1
When it comes to Oreo, there are two schools of thought -- either you believe the classic Oreo is the best, or you're wrong. The beauty of The Most Stuf is that they're fundamentally the same 107-year-old Oreo we know and love, except the best part has been dialed up to 11 to create the pinnacle Oreo-eating experience. No gimmicky flavours, no tacky colour combinations, no miniaturization -- just an over-the-top dollop of icing between two chocolate wafers.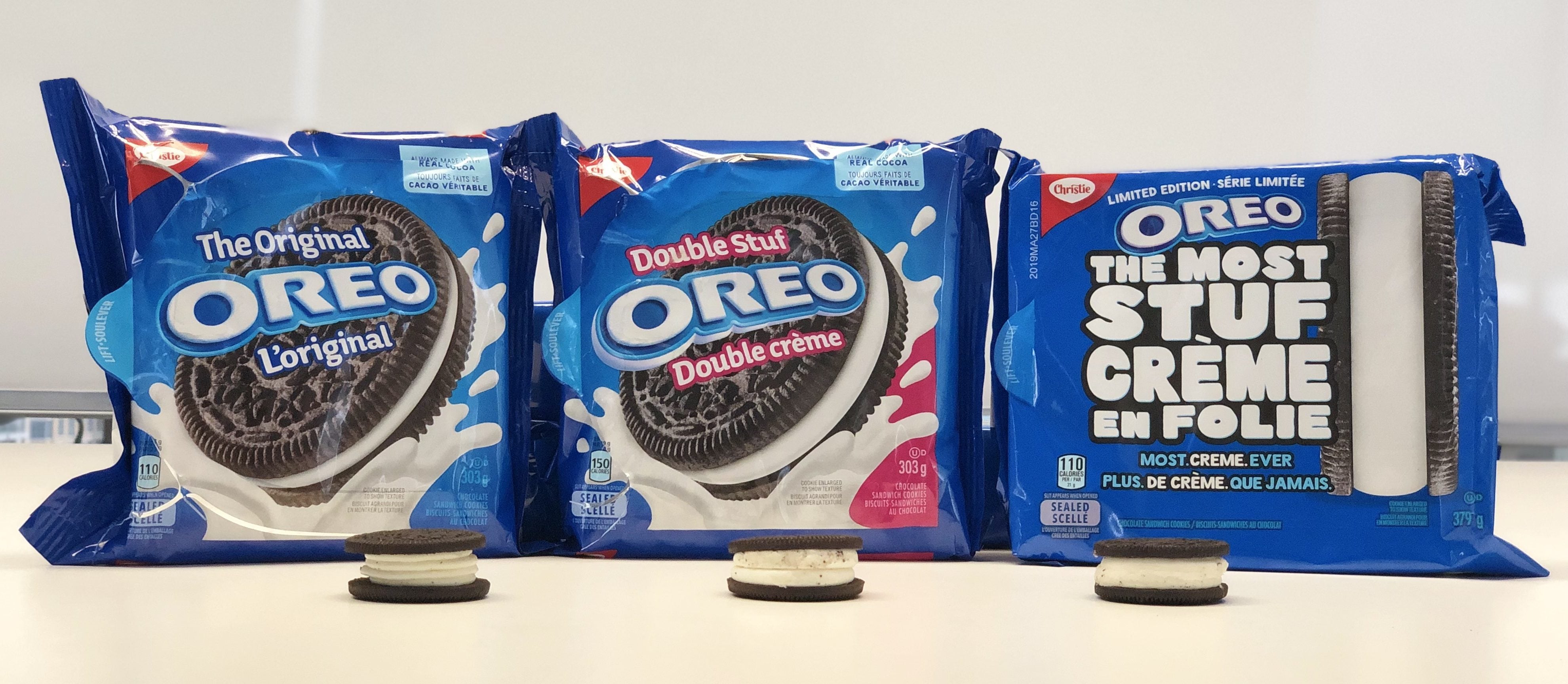 Four Original and two Double Stuf Oreos were used to re-create one Most Stuf (Oreo Thins proved too difficult to dissect).
Oreo claims that each cookie contains four times the creme as an Original Oreo, so we did what any sane junk food connoisseur would do -- we measured. Using high school math, a set of calipers and a tiny scale, we set out to discover just how much more "stuf" you should expect in The Most Stuf compared to Oreo Thins, Original and Double Stuf varieties.2
Thins

Original

Double Stuf

The Most Stuf

Pack Size

287g
40 cookies per pack

303g
27 cookies per pack

303g
21 cookies per pack

379g
18 cookies per pack

Creme Thickness

1.6mm

2.6mm

4.7mm

9.3mm

Creme Weight

1g

3g

6g

13g

Wafer Weight

3g

4g

4g

4g

Total Cookie Weight

7g

11g

14g

21g

Calories Per Cookie

7.25

55

75

110

Creme per package
(Percentage)

14%

27%

42%

62%
After a battery of tests, we found Oreo's claim to be accurate in both volume and weight, as there is (approximately) quadruple the creme in The Most Stuf compared to Original Oreos, or twice as much as Double Stuf Oreos -- in our Frankenstein test, we were able to re-create a single Most Stuf Oreo by dissecting four discs of icing from Original Oreos, or two discs from Double Stuf Oreos.
In terms of value, a single package of The Most Stuf consists of 62% creme, making it the only variety we tested to score more than 50%, but you'll likely pay a premium for the luxury, as the limited-edition cookies are priced higher than conventional Oreos. For reference, they were priced at $5.29 each at Loblaws (compared to $3.69 for other varieties), but they have been seen at No Frills for $3.79 each.
On the opposite end of the spectrum, Oreo Thins are a borderline scam, as each package contains a measly 14% creme -- in fact, four standalone Most Stuf Oreos contain more creme than an entire package of Oreo Thins.
Has food science gone too far? No, absolutely not. Not until Oreo moves onto the next logical step in the Oreo evolution and releases the mythical All Stuf Oreo.
---
1Pro-tip -- we found the cookies alone in the seasonal section and not the cookie aisle with the other Oreo varieties.
2All figures are approximate, averaged across five cookies per variety. Several Oreos were harmed in the making of this piece.