Anki Overdrive: Fast & Furious Edition Kit Review
By
Thomas Kenzaki
November 8, 2018
Playing with toy cars has been a favourite activity of both kids and adults alike for as long as I can remember. What do you get when you add a bunch of high tech gadgetry into the mix? You get Overdrive by Anki, which is the most advanced toy racing system I've ever seen.
Not Your Average Toy Racing Kit
For starters, the Anki Overdrive: Fast & Furious Edition Kit costs $239.99 (the non-Fast & Furious kit is $199.99). That's a decent amount of cheddar for a category of toy that typically costs between $50-100.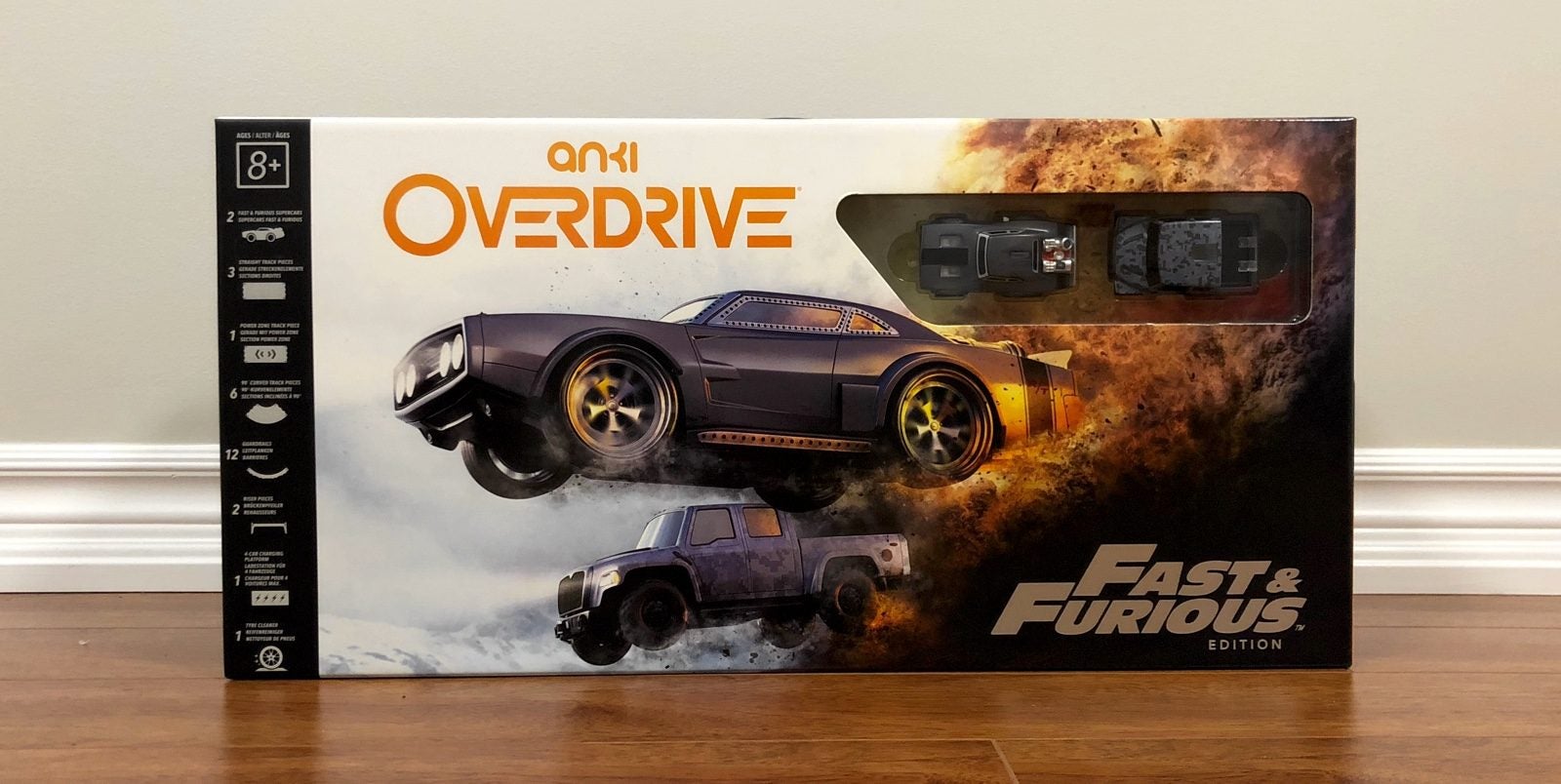 You're not going to find things like self-aware A.I.-powered race cars that you control via your mobile device anywhere else though. The Fast & Furious Edition Kit comes with Dom's Ice Charger and Hobbs' MXT which alone is worth the premium over the standard kit in my opinion.
Getting Started
Starting with the packaging, the entire kit is beautifully designed and each piece comes neatly organized in its own compartment. The instructions are just a small booklet but it gives you all the information you need and you'll be ready to race in mere minutes.

There are no included controllers with Overdrive as your smartphone or tablet is the controller. Given most people have an abundance of devices these days this shouldn't be a problem, but make sure you can download the Overdrive app to your devices first to ensure compatibility. If you don't see the app available, your device likely isn't compatible.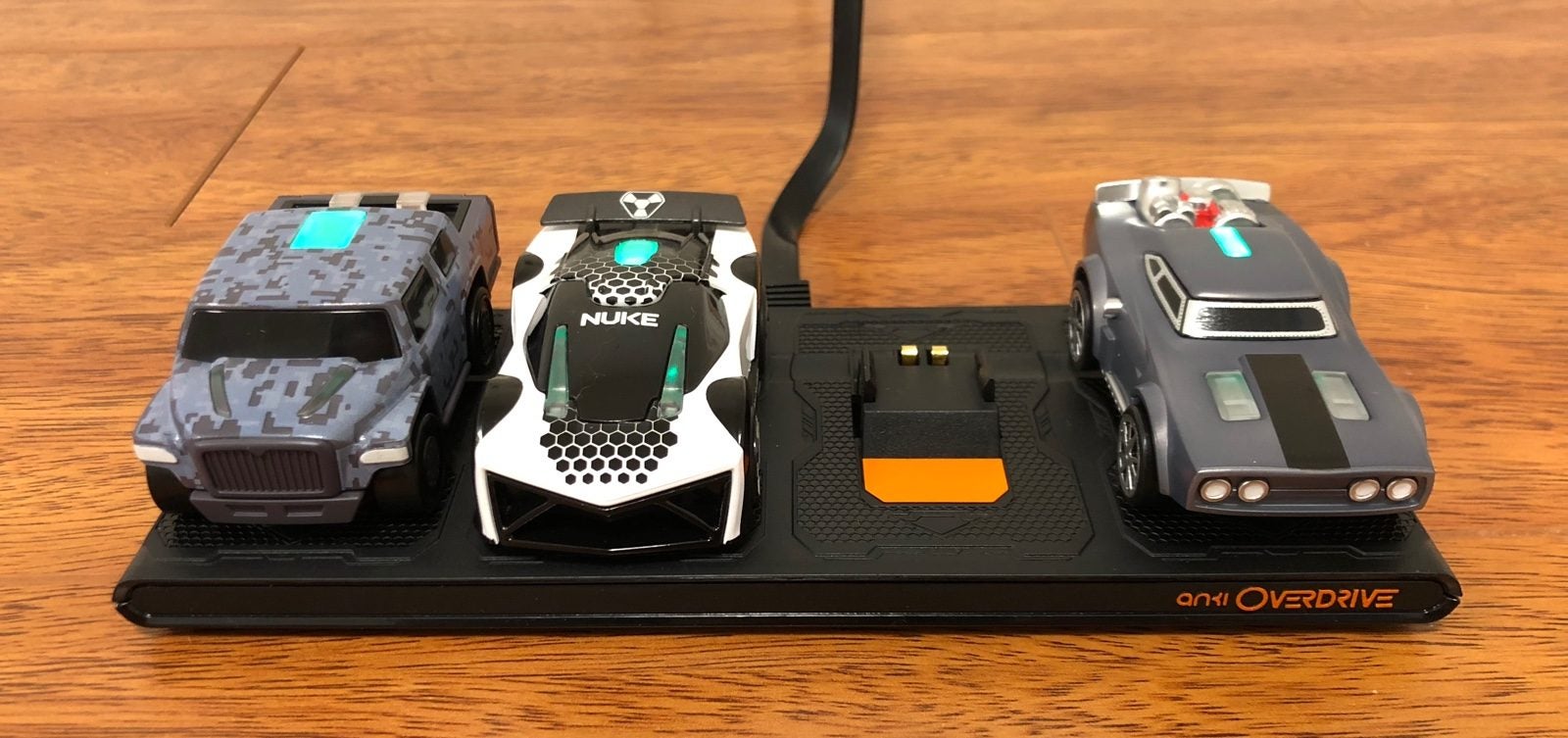 After you've set all your devices with the Overdrive app, you charge the vehicles (2 are included with each kit) in the 4-slot charger. Typical charge times are 8-10 minutes so you'll never have to wait too long in-between races.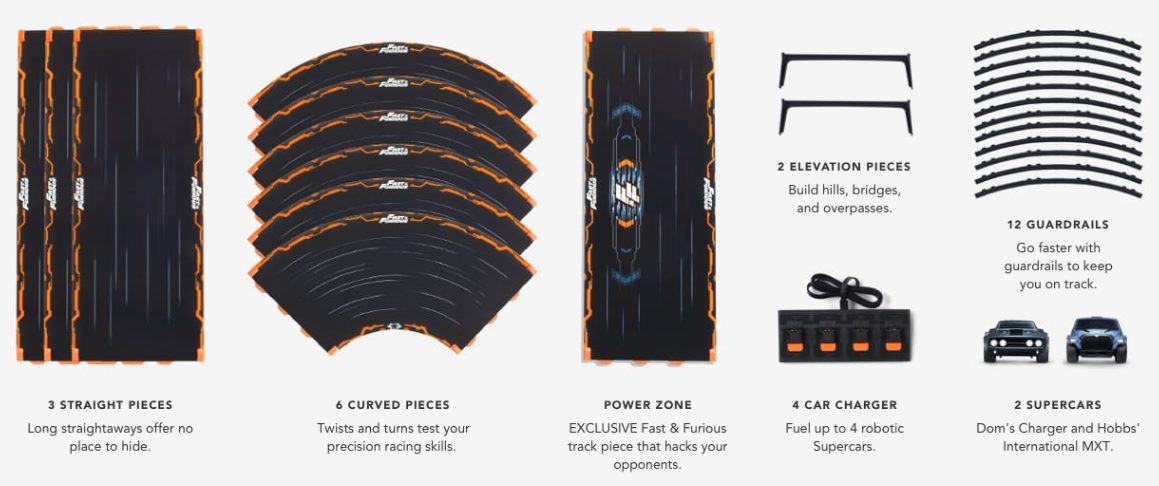 Included with this kit are 10 track pieces (6 curved, 4 straight). This allows you to build 8 different track configurations out of the box and track assembly couldn't be easier. The track pieces easily snap together with their magnetic edges which makes changing your course layout a breeze. Also included are 12 guardrails to keep you on the track and 2 elevation pieces so you can create cool overpasses.
Start Your Engines
You'd expect nothing less than an amazing racing experience coming from a toy at this price point and that's exactly what you get.
The cars magically stay on the track all by themselves and you control the acceleration and lane changes through the Overdrive app. Before starting each race the cars automatically map out the track layout you created by doing test laps. Using this data they manage to stay on the track most of the time even at top speeds.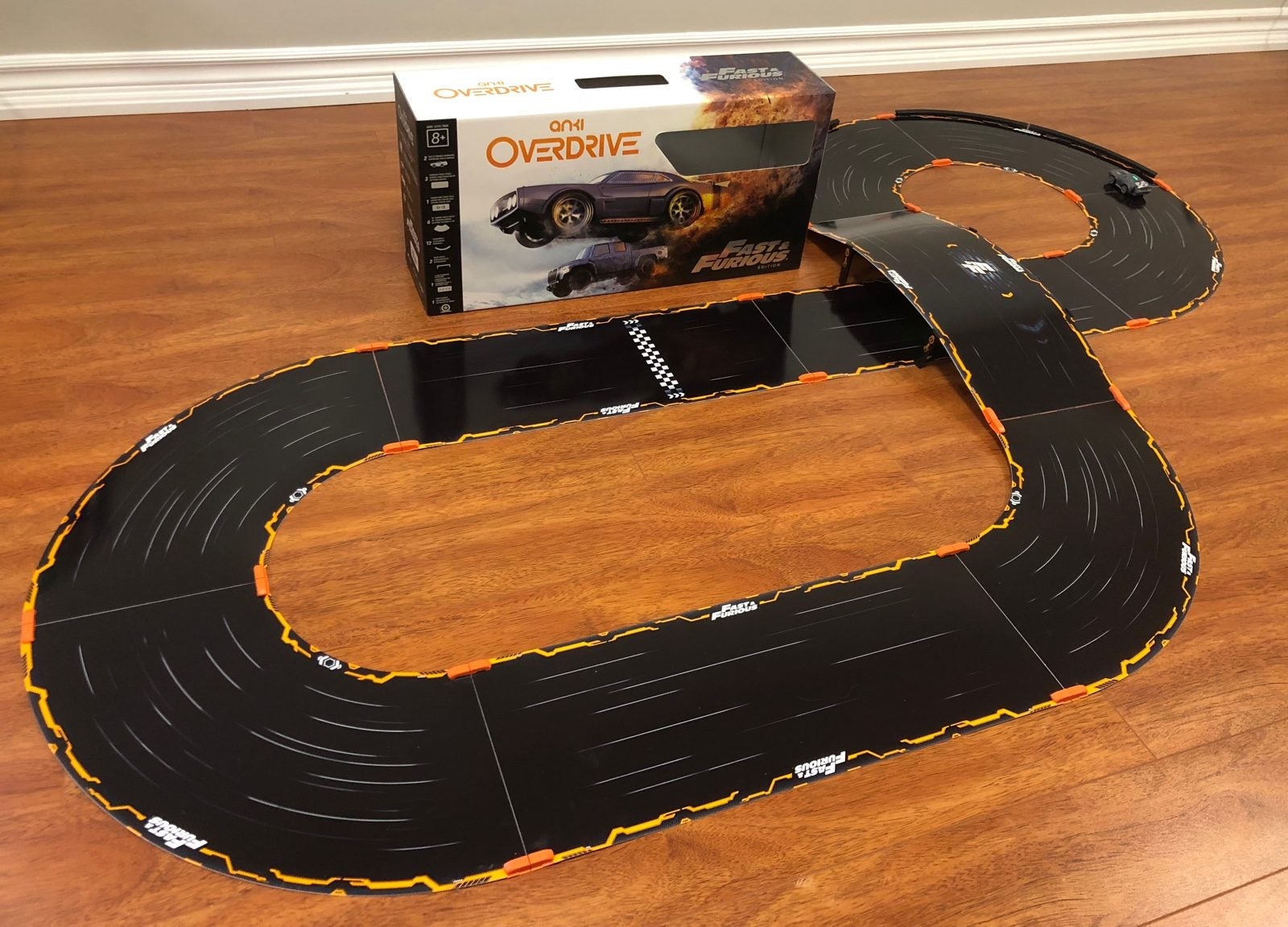 I say most of the time because they may fly off for two main reasons. 1: This is a battle system so you can bump into other vehicles (rubbing is racing right?) and 2: The track and car wheels can become dirty through play which makes them have less grip and fly off the track.
Anki knows about this second issue and includes a tire cleaner (a tacky compound in a flip case) which does a great job of cleaning dust and dirt off the wheels. Every few races you'll probably want to have a quick pit stop to clean your car's wheels. The track itself can be wiped down with a standard microfiber cloth (not included).
Six Game Modes To Play
Just racing around the track is fun but that might get a little tiring after a while. With the Anki Overcharged app you'll have access to 6 different game modes to help keep things interesting.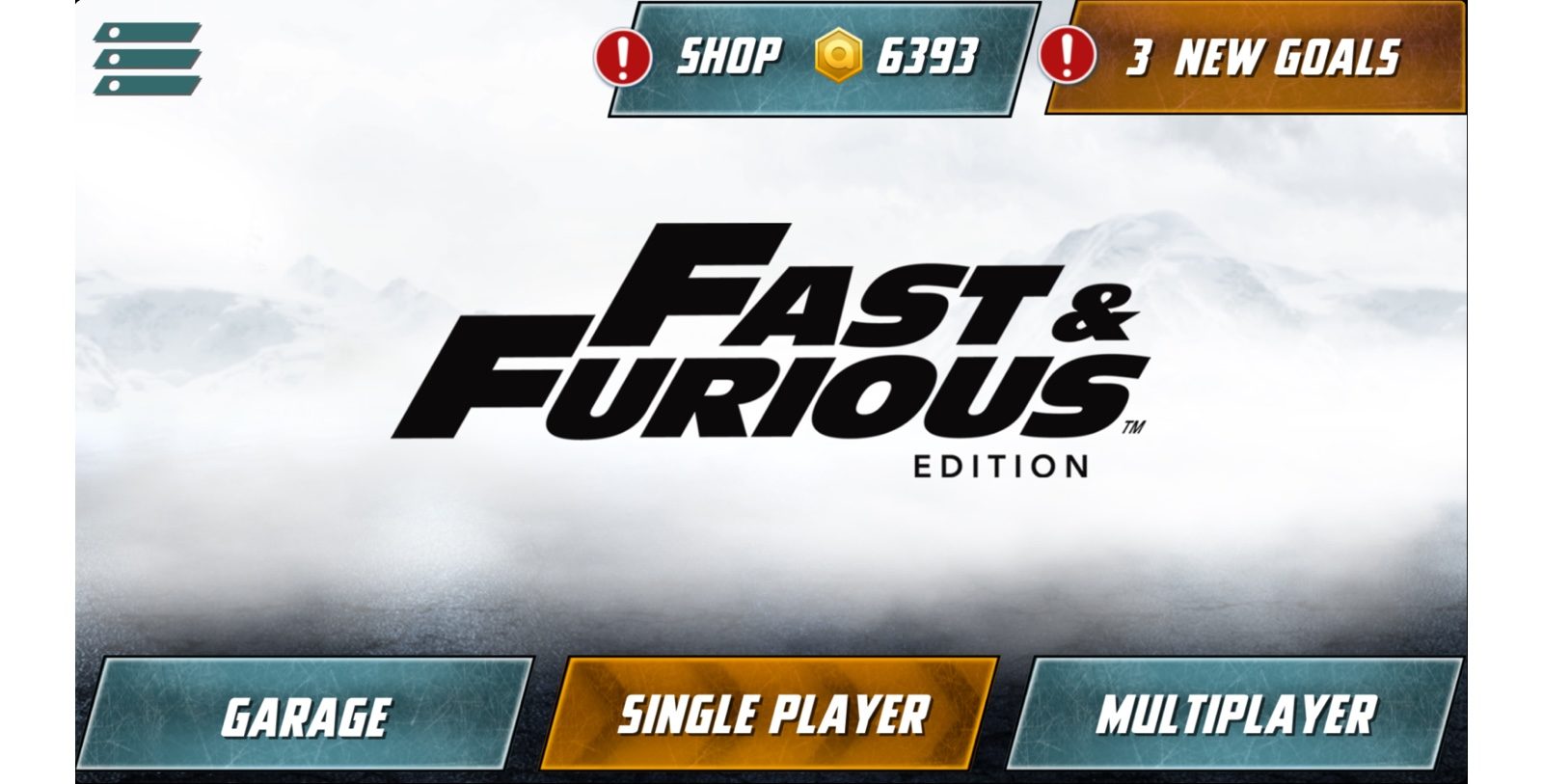 Race: Be the first commander to complete all the laps and cross the finish line!
Battle: Use your Weapons to drain opponent's Health and score Points. The first Commander to score a set number of Points wins.
Battle-Race: Speed is essential in Battle Race, but Weapons can help level the playing field. Be the first Commander to complete all the laps and cross the finish line in one piece!
King Of The Hill: Take out the King to steal the Crown. The longer you have the Crown, the more points you earn. The first Commander to reach the Point limit wins.
Time Trial: In Time Trial, It's about speed, it's about control, and it's you against the clock. Compete for the fastest time in a 1:1 match.
Takeover: In Takeover, it's an all-out brawl for control of the Supertruck. Be the first to break through its defenses and unleash your RAGE.
The Fast & Furious Edition Kit Overdrive app includes many of Dom's friends from the movie series which is a nice touch on top of the included vehicles from the franchise.
Final Thoughts
If you're looking for one of the best toy car racing experiences available on the market today and love to have the latest gadgets and technology, there's no better kit out there than the Anki Overdrive: Fast & Furious Edition Kit.
You can purchase the Anki Overdrive: Fast & Furious Edition Kit at Best Buy Canada as well as additional track pieces and vehicles.