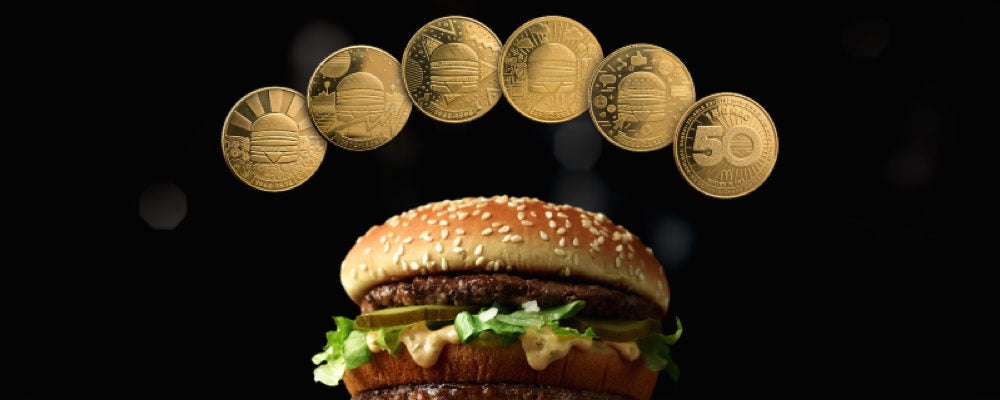 McDonald's Canada Launches MacCoin Currency to Celebrate the Big Mac's 50th Anniversary
By
Thomas Kenzaki
July 30, 2018
McDonald's most iconic burger, the Big Mac, is turning 50 and they're celebrating in a big way by launching their own food-backed global currency. Starting on August 2nd, MacCoins will launch here in Canada along with more than 50 other countries across the globe.
A unique design can be found on each decades coin
There are 5 unique designs with each representing 1 of the 5 decades the Big Mac has been available. Each MacCoin will be redeemable for a Big Mac sandwich at participating restaurants around the world (should you actually want to let go of it).
If you're an avid follower of McDonald's, you'll know that the company loves celebrating special occasions. The past few years have seen McDonald's give away free fries for National French Fry Day and even have $0.67 throwback pricing on hamburgers to celebrate their 67 years in Canada.
How to get a MacCoin in Canada
In some countries you'll be able to get a coin by ordering a Big Mac. Here in Canada it's being done a little differently. There are 50,000 coins in total being made available here and you'll need to win a contest to get your hands on one.
From August 2nd to August 8th, McDonald's Canada will be running a contest on Twitter through their official account @McDonaldsCanada. Tweet why you love the Big Mac using the hashtag #BigMac50 and you may just score your very own MacCoin!
McDonald's also said there will be other chances to win a MacCoin through local radio station giveaways so make sure to check your local stations website and/or social media accounts for more information.
MacCoin/Big Mac Fun Facts
Over 6.2 million MacCoins are being distributed in more than 50 countries around the globe
These commemorative coins feature five unique designs, each representing a decade of the Big Mac. Each MacCoin design pulls in elements from that time in history, nodding to art, music and pop culture, while the front-side of the MacCoin celebrates the 50th anniversary of the Big Mac.
The seven languages featured on the front-side of the MacCoin represent many of the countries participating: Arabic, English, Indonesian, Mandarin, Portuguese, French and Spanish
The Big Mac sandwich was invented in Uniontown, Pennsylvania in 1967 by Jim Delligatti, one of McDonald's founder Ray Kroc's earliest franchisees, and was introduced on the national menu in the United States in 1968.
In 1968 Canada became the first country outside the United States to offer the Big Mac to guests.
The sandwich was originally sold for 45 cents.
The Big Mac is sold in more than 100 countries.
If you're a fan of McDonald's or just love collecting coins, you won't want to miss out on the unique chance to own a limited edition MacCoin. Let us know in the comments below if you'll be trying to score your own and if you'll be keeping it or redeeming it.