How to Get a Massive Canadian Flag from Parliament Hill for Free
By
Simon Hung
June 15, 2018
Canada's National Flag is one of the most iconic pieces of Canadian heritage, with the red maple leaf serving as a symbol of Canadian pride around the globe.
You'll find hundreds of Canadian flags in any city, but the most recognizable one may be the one flown above the Peace Tower on Parliament Hill in Ottawa. There are actually five flags flown on Parliament Hill -- one above the Peace Tower, one over the West Block, another over the East Block and one on either side of the Centre Block.
Parliament Hill goes through a lot of flags every year, as the Peace Tower flag is replaced every weekday (excluding statutory holidays), while the other four are changed weekly. They aren't swapped with old flags either, as every flag from each site is replaced with a brand new one.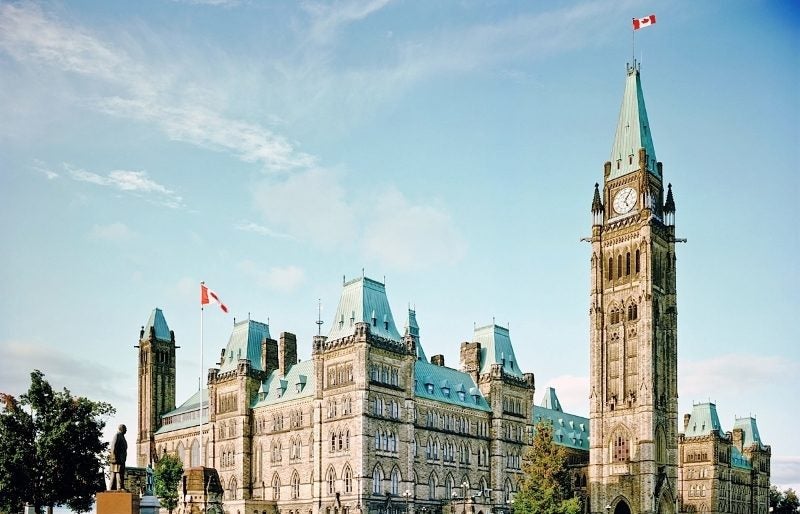 You can request to own a Canadian flag previously flown on Parliament Hill for free, but you'll have to wait.
In 2018, 250 pristine Canadian flags will fly over the Peace Tower, while another 208 will fly over the West, East and Centre Blocks, for a grand total of at least 458 flags (the same procedure is also done when flags are set at half-mast). These flags don't go to waste, as the Government of Canada donates used flags to Canadian residents and you can get one for free...if you're willing to wait.
The Peace Tower flag, which measures 4.6m wide and 2.3m tall, currently has an estimated waiting time of 99 years, while flags from the other four sites measure 2.7m by 1.35m and have a slightly less protracted waiting time of 86 years.
To request a flag, visit the Government of Canada Public Services and Procurement website and fill out your information, along with which flag you'd like to have. Parents can request one on behalf of their children, but there is a limit of one flag per household. You can also update your information on an existing request, should you ever decide to move in the next 99 years.
Once it's your turn in the queue, you'll be sent your selected flag along with a signed letter from the Minister of Public Services and Procurement with details of where and when your flag was flown.
This tradition originally started in the mid-1990s and the practice of changing the Peace Tower flag daily was adopted in 1998 to keep up with demand. The wait time has also ballooned since then -- for reference, the wait time in 2007 was a modest 11 years, according to a Reddit user who received their flag in January. Nevertheless, this is a very unique way to own a small piece of Canadian history, even if it takes up to a century to get it.
---
Revisions: this article was updated June 19 to reflect updated wait times, as the waiting period for a Peace Tower flag grew to 99 years (previously 97), while other flags are now 86 years (previously 85).