Nintendo Announces Re-Release of Popular NES Classic Edition
By
Thomas Kenzaki
May 14, 2018
Originally released in November of 2016, the NES Classic Edition was a big hit for Nintendo. It featured 30 classic NES games in a miniatured version of the original console. Many were left empty handed or forced to pay inflated prices on eBay and Kijiji though as the console had a very limited sales run and would sell out as quickly as retailers put them up for sale. Luckily for those who didn't originally get one, Nintendo has just announced that they're bringing it back!
On June 29th, 2018 the hit retro console will go on sale again in Canada. It maintains its original pricing of $79.99 and will be available at most retailers that sell video games. A tweet from Nintendo Canada shared that it should be available for sale until the end of the year.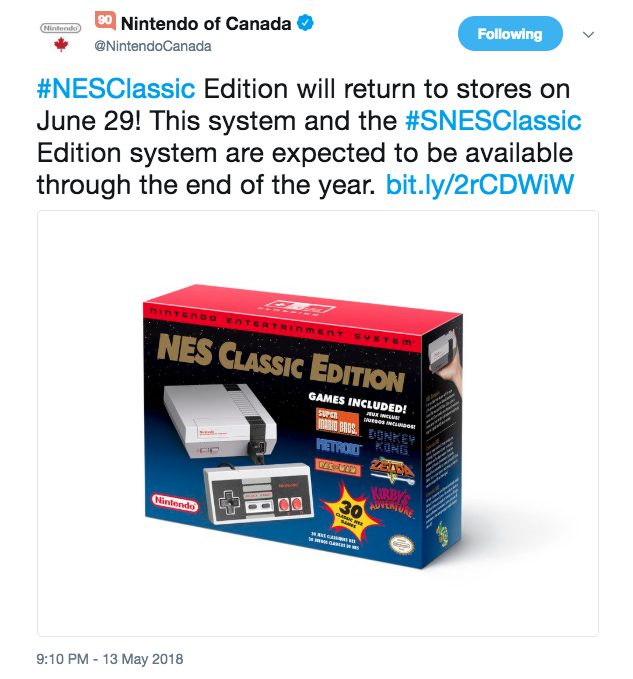 Everything else about the console remains the same as when we first reported on it. There's no word yet if you'll be able to purchase additional controllers. The NES Classic ships with only 1 included controller which turned out to be a problem for some buyers as stock for the additional controller was also extremely limited. The SNES Classic solved this problem when it was released in 2017 by including 2 controllers albeit at a higher MSRP ($99.99).
Are you going to buy a NES Classic when it goes on sale again this June? Let us know in the comments below!