Canada's Wonderland Is Now Open - See What's New For 2018
By
Thomas Kenzaki
April 30, 2018
The true sign that our 6-months of winter is finally ending is when Canada's Wonderland finally opens up for the season. Yes, we just had a huge ice storm and it's not exactly warm out yet but Wonderland's opening has always been the unofficial start to summer fun. With each new year also comes fun and exciting changes. Here's a look at what's new this year at Canada's Wonderland.
New Rides
Lumberjack will take guests for a thrilling ride on two swinging axe pendulums, propelling them into the sky with their feet dangling through 360 degree loops. With inversions reaching up to 75 feet (22m) high, Lumberjack will give riders the sensation of an inverted coaster loop!
Flying Canoes is an interactive family ride that will allow riders to control their journey of flight in two-person canoes.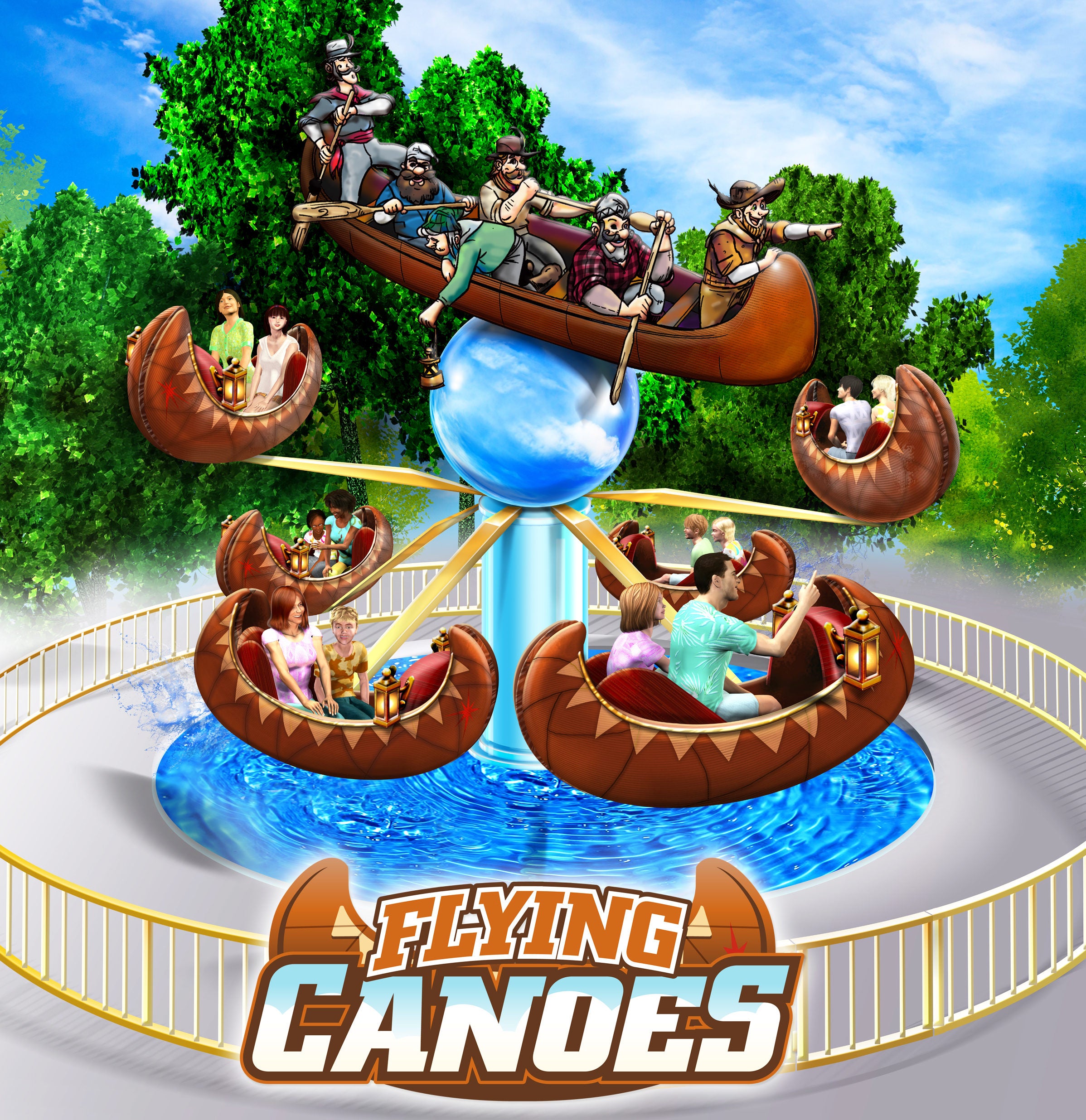 In addition to Lumberjack and Flying Canoes, Splash Island's children's pool in Splash Works will transform into Lakeside Lagoon! It will be double its current size and will feature all-new interactive spray features that everyone will enjoy.
New Foods
While living entirely off of funnel cake might sound good, it's probably not the best idea. Luckily Wonderland has a bunch of new foods this year as well as returning favourites!
New in 2018 are signature poutines! Stop by Apres Poutinerie or Action Zone Poutinerie and grab the award winning "The Kicker", which is topped with topped with BBQ-chipotle sauce, cheese, tomatoes, green onions and fried chicken. Also available are Butter Chicken Poutine, Peameal Bacon Poutine and traditional poutines.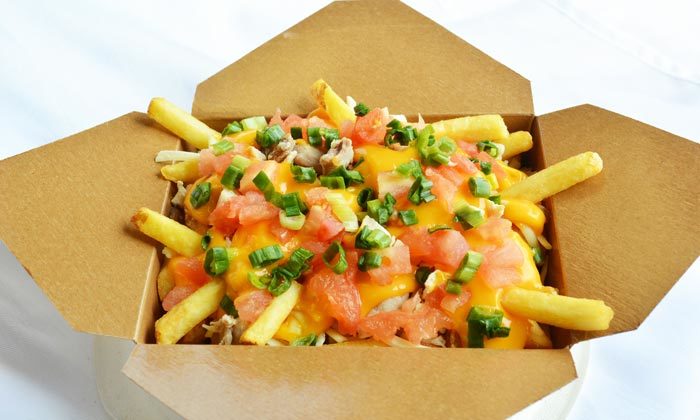 The Kicker Poutine
Into craft beers? You'll want to try the parks 2 new beers named Leviathan Lager and Behemoth Blonde Ale. Wonderland partnered with Great Lakes Brewery to come up with these new brews which can be found all of the bar locations throughout the park.
What better way to celebrate the opening of the new Lumberjack ride than by creating the Loaded Lumberjack 24" Homemade Sausage! This two-foot long sausage is topped with chilli and cheese sauce and will surely satisfy even the hungriest of park guest. We highly recommended you eat it after you ride the Lumberjack rather than before.
As always you'll be able to pick up a funnel cake throughout the park which features house-made strawberry sauce and ice cream. Traditional funnel cake not your thing? How about a Funnel Cake Frappuccino from Starbucks which is exclusive to Wonderland instead! If pop is more your thing try the park-exclusive Purple Splash which is a mix of grape flavours from Fanta and Sprite.
Money Saving Tips and Deals
Season Pass Benefits:
One of the best values in south-western Ontario remains the Canada's Wonderland season pass. It costs just $71.99 (prices go up May 21) and allows you to visit the park as often as you want during its operating season. By comparison a single-day ticket is $64.99 at the gate (or $39.99 when purchased online).
A season pass also gives you additional perks such as early ride times, early entry into splash works, a 15% discount on food and merchandise, and more. We highly recommended adding All Season Parking to your season pass for $50. Daily parking is $22 and parking on the adjacent streets will likely land you a parking ticket!
A newer season pass add-on is All Season Dining ($89.99) and All Season Drink Refills ($29.99). All Season Dining lets you get a meal every 4-hours up until 1-hour before park closing at participating locations. All Season Drink Refills will let you get unlimited fountain drinks every 15-minutes. Theme park concessions aren't cheap so if you plan to visit often and stay for 4 or more hours, these can pay for themselves quickly.
Fast Lane/Fast Lane Plus:
If you've ever said the phrase "time is money" or just hate waiting in long times, the Fast Lane system might be of interest to you. It allows you to bypass the regular line queue and use the much shorter Fast Lane line instead. Being able to do a lot more during your visit makes this a worthwhile purchase on busier days.
Fast Lane allows you to skip the regular line on 21 rides and attractions while Fast Lane Plus adds onto that by also allowing skips on Behemoth, Leviathan and Lumberjack.
A limited amount per day are sold to prevent the Fast Lane lines from getting too long. Fast Lane is $45 while Fast Lane Plus is $55. For the hardcore thrill seekers you can add-on Fast Pass Plus to your season pass for $499 and skip the lines everyday.
Discount Tickets:
Canada's Wonderland will run special promotions throughout the season. The discounts will vary but will always be better than regular rack rates. Follow them on social media or sign up for their newsletter so you don't miss the deals. You can also setup a Deal Alert on RedFlagDeals so you don't miss any Wonderland deals shared here.
Air Miles:
If you're an Air Miles collector you'll be able to redeem your reward points for Canada's Wonderland tickets. A 1-day ticket will cost you 475 reward miles.
Corporate Discounts:
Many companies offer a discount for Canada's Wonderland tickets. If you haven't looked into what discounts your company offers recently, it might be worth taking a peak.
Avoid 3rd Party Resellers:
In recent years various 3rd party deal websites have popped up which offer Wonderland tickets for too good to be true discounts. These websites are NOT authorized to sell Wonderland tickets and should be avoided. They show up in Google search results and appear as sponsored (paid) advertisements at the top of the page. For more information on how to spot a scam read this article.
Final Thoughts:
Canada's Wonderland continues to be one of the most popular tourist destinations in the Greater Toronto Area. It offers exceptional value and since their purchase by Cedar Fair back in 2006, have done a great job at regularly adding new rides and attractions.
When was the last time you visited Canada's Wonderland? Let us know in the comments below.