Doritos is Launching a Line of Ketchup-Inspired Clothing
By
Simon Hung
January 23, 2018
Ketchup chips are a quintessential Canadian snack and Doritos is taking ketchup chips to another level, because they're releasing a line of limited-edition clothing inspired by the return of Doritos Ketchup Chips.
Doritos is the third food company to make a foray into apparel in Canada this past year, as McDonald's dropped the McDelivery Collection in July that featured five items including a Big Mac onesie and KFC opened the Colonel & Co. store in November with KFC-inspired merchandise and oddities like a bucket of chicken you can buy with Bitcoin.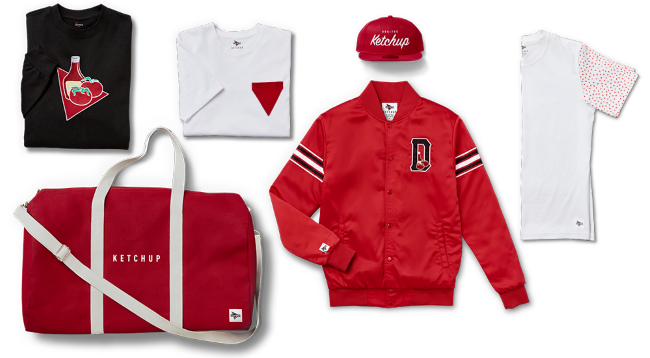 The Doritos Ketchup Collection includes six items, with one product being released for sale every week starting January 31.
The Doritos Ketchup Collection features six stylish streetwear pieces and the fashion snack company will be releasing items for sale every Wednesday at 11:00 AM EST starting January 31. We've listed the release schedule for each item below.
January 31, Doritos Ketchup Snapback -- an authentic New Era 59FIFTY snapback in a bold red colour emblazoned with the Doritos Ketchup wordmark, $30.00
February 7, Doritos Ketchup Crewneck -- a fitted sweater in black with the Doritos Ketchup logo embroidered on the chest, $65.00
February 14, Doritos Ketchup Jacket -- a varsity-style jacket in red with the Doritos Ketchup logo adorned on the front and "KETCHUP" across the back, $145.00
February 21, Doritos Ketchup Triangle Pocket Tee -- a white Supima cotton t-shirt with a red chest pocket in the shape of a Doritos chip, $35.00
February 21, Doritos Ketchup Micro Print Tee -- a white t-shirt with tiny red Doritos triangles decorated on both sleeves, $35.00
February 28, Doritos Ketchup Duffle Bag -- a red duffle bag with white straps to carry your gym gear or stockpile of Doritos, $50.00
Limited quantities will be available to purchase each week and prices do not include taxes or shipping fees. Doritos is also bringing back ketchup chips for a limited time and you can find them on grocery store shelves starting today.
If you aren't interested in paying for majestic Doritos merchandise, Doritos will also be holding a contest until March 6 where you can win the entire Doritos Ketchup Collection -- click here for details on how to enter.