Toronto Among 20 Finalists for Amazon's HQ2 Headquarters
By
Simon Hung
January 18, 2018
Amazon has announced 20 finalists for their second North American headquarters and Toronto is the only Canadian candidate to make the list.
In September 2017, the e-commerce giant announced plans to open a second headquarters called HQ2 and invited prospective cities to submit proposals for consideration. The new headquarters will serve as an equivalent base of operations to their main Seattle campus and the company is expected to invest over $5 billion USD into the project and create upwards of 50,000 jobs.
Amazon received a total of 238 applications, including proposals from 12 Canadian cities (along with a letter from Justin Trudeau to Jeff Bezos) -- Calgary, Edmonton, Halifax, Hamilton, Langford, Montreal, Ottawa, Sault Ste. Marie, Toronto, Vancouver, Windsor (in a joint bid with Detroit) and Winnipeg.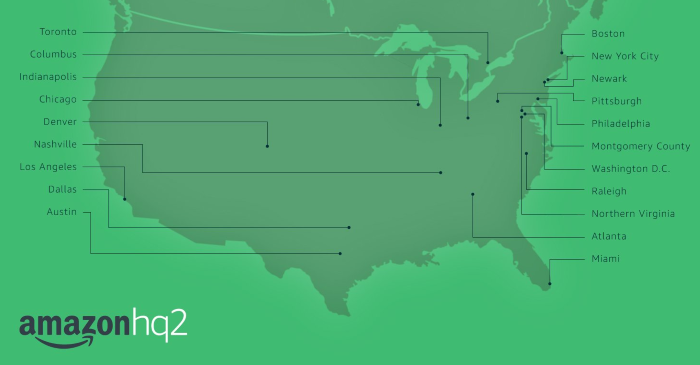 Toronto, along with 19 American cities, are finalists for Amazon's second headquarters.
Toronto is the only Canadian city to move onto the next stage of the selection process, where Amazon will further evaluate each finalist to determine the feasibility of their proposals. The company is expected to announce their final selection later in 2018.
While Toronto is considered an underdog in this process, Amazon could potentially save upwards of $1.5 billion per year by investing in a Toronto-based headquarters. According to the Canadian Press, a combination of lower corporate taxes, the Canadian dollar and social programs like universal health care may give Toronto an edge over the other 19 American finalists, which include:
Atlanta, Georgia
Austin, Texas
Boston, Massachusetts
Chicago, Illinois
Columbus, Ohio
Dallas, Texas
Denver, Colorado
Indianapolis, Indiana
Los Angeles, California
Miami, Florida
Montgomery County, Maryland
Nashville, Tennessee
New York City, New York
Newark, New Jersey
Northern Virginia, Virginia
Philadelphia, Pennsylvania
Pittsburgh, Pennsylvania
Raleigh, North Carolina
Washington, D.C.
Visit Amazon's HQ2 page to learn more about their search for a second headquarters or the Toronto Global website to view Toronto's full 97-page HQ2 proposal.