McDonald's Delivery is Now Available in Vancouver
By
Simon Hung
January 15, 2018
Vancouverites no longer have to leave the house to satisfy their late-night McNugget cravings, because McDelivery is now available in the Vancouver area!
McDelivery -- McDonald's delivery service in partnership with UberEATS -- was initially launched in June 2017 in four cities across Canada and the service comes just two months after UberEATS was officially launched in Vancouver.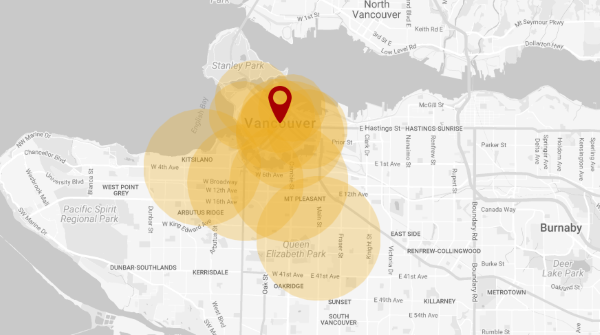 McDelivery is now available in Vancouver and some surrounding areas.
11 restaurants in the Vancouver region are currently eligible -- simply open the UberEATS app on Android or iOS and search for McDonald's to find eligible locations near you. The primary delivery zone is Downtown Vancouver, but also extends west to Kitsilano, east to Strathcona, north to Stanley Park and south to Queen Elizabeth Park.
The full McDonald's menu is available to order (excluding soft-serve ice cream) and app pricing is identical to restaurant pricing, though surge pricing may occur if it's busy.
While the service is convenient, you will have to pay full price, as coupons and mobile offers cannot be used and a flat-rate delivery fee is also applied to all McDelivery orders.
Vancouver now joins over 340 restaurants in Calgary, Edmonton, Hamilton, Kitchener-Waterloo, London, Montreal, Ottawa and Toronto as cities with McDelivery, with more cities planned in the future.