Apple Apologizes for Slowing Down iPhones, Offers Reduced Battery Replacement Fee
By
Simon Hung
December 29, 2017
After admitting to intentionally slowing down some older iPhones and garnering widespread criticism, Apple has issued an official apology for their handling of the situation and has reduced the fee of out-of-warranty battery replacements for all affected models.
In their statement, Apple also provided additional details about why the measures were implemented, explaining that as lithium-ion batteries age, they become less reliable to supply sufficient power for peak performance, which increases the chance of an unexpected shut down.
Last week, the company confirmed to The Verge that iOS 10.2.1 -- released in March 2017 -- included a feature that throttled the performance of iPhone SE, 6, 6 Plus, 6s and 6s Plus devices with older batteries to prolong their life and mitigate the chance of random shut downs. The feature was extended to iPhone 7 and 7 Plus with the release of iOS 11.2 earlier this month.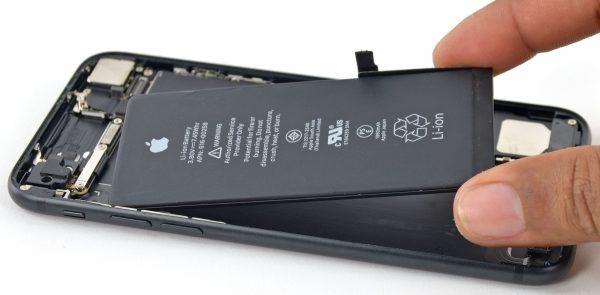 Owners of iPhone 6 or later can get a new battery for a reduced fee of $35.00 (image via iFixit).
From a technical perspective, the decision to limit performance does make sense -- given the choice between slower performance or unpredictable shut downs, most users would likely accept the trade-off, but the company has received harsh backlash for their lack of clarity regarding the matter, as release notes for iOS 10.2.1 do not explicitly mention the possibility of performance throttling.
Some critics saw it as a deliberate strategy to push customers towards purchasing a new iPhone and speculation grew after the measures were extended to iPhone 7 and 7 Plus, which were released in 2016 and would be the least likely to see significant battery degradation. However, the company addresses this notion directly, stating "we have never -- and would never -- do anything to intentionally shorten the life of any Apple product, or degrade the user experience to drive customer upgrades."
To address customer concerns, Apple has reduced the cost of out-of-warranty battery replacements, which will solve the problem for any affected iPhones. Owners of iPhone 6 or later can get an out-of-warranty battery replacement for $35.00 (previously $99.00) starting late-January 2018 through December 2018. Service information will be provided soon and in addition, an early-2018 iOS update will provide users with more thorough details about battery health.
Some iPhone 6s models manufactured between September and October 2015 may also be eligible for a free battery upgrade -- click here to check your serial number to see if your iPhone is eligible for the program.