Holiday
10 Places to Shop for Ugly Christmas Sweaters This Holiday Season
By
Ambia Staley
December 4, 2017
Whether you're wearing them ironically or not, ugly Christmas sweaters have become a staple of the holiday season. You can look all over Instagram to find various celebs donning them in their selfies, and you're sure to get at least one invitation to an ugly Christmas sweater party this season.
In addition to the ugly sweater theme, some parties also hold contests to find the ugliest sweaters imaginable, so you may be required to pull out all the stops if you plan to win. In order to help you win that coveted gift basket of nearly expired peppermint hot chocolate mix and candy, we've searched far and wide to bring you a list of places where you can find ugly sweaters this holiday season!
1. Hudson's Bay (Cost: $45.00 - $568.00)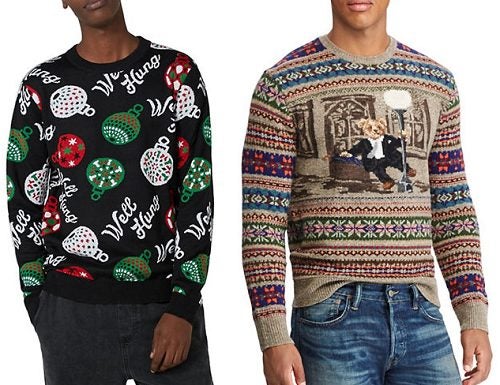 Hudson's Bay has a variety of knits from different brands that range from wearable, to downright tacky. The price range varies, but you can find sweaters starting from as low as $45.00. Some of the most noteable items The Bay carries are a selection of sports-themed sweaters for around $80.00 as well as the Polo Ralph Lauren Bear sweater for a whopping $568.00.
2. Urban Outfitters (Cost: $42.00 - $119.00)
Urban Outfitters has a few ugly Christmas sweaters available featuring beloved characters like Mickey Mouse and the Grinch, as well as sweaters with regular hideous holiday motifs. Most sweaters are offered for around $82.00, but if you get lucky, you may catch them on sale before the holidays.
3. Tipsy Elves (Cost: $69.95)
Tipsy Elves exists just to sell ugly (and often inappropriate) holiday sweaters. Their sweaters have been featured frequently in majazines, blogs, or even spotted on celebrities. Most sweaters cost $69.95, and sell out well before the holidays, so you may want to buy early if you're looking to get a sweater from them.
Don't celebrate Christmas? You can also find a selection of Hanukkah-themed sweaters on Tipsy Elves as well.
4. Forever 21 (Cost: $29.90 - $43.90)
Forever 21 is great option for those who are more concerned with looking cute rather than with finding the ugliest sweaters around. Most holiday sweaters are around the $30.00 mark and feature cute graphics with sequins, pom poms, or bows.
5. Party City (Cost: $29.99 - $51.99)
Most people need their ugly sweaters for parties, so why not head to a party supply store to pick one up? Party City offers a pretty good selection of sweaters and long sleeved shirts that are sure to at least get you an honourable mention during any ugly sweater contest.
6. Ardene (Cost: $29.50 - $39.50)
Ardene offers quite a few ugly Christmas sweater options for women that range from cute to downright weird. Sweaters start at $29.50, and the retailer is known for constantly holding sales on their apparel, such as buy one, get one for $5.00 -- so you can stock up, or split the costs with a friend.
7. H&M (Cost: $14.99 - $29.99)
Compared to last year, H&M has a little more to offer in terms of holiday apparel, so men, women, and even kids can find both cute and ugly options available at prices starting as low as $14.99.
8. Bluenotes (Cost: $24.99 - $34.99)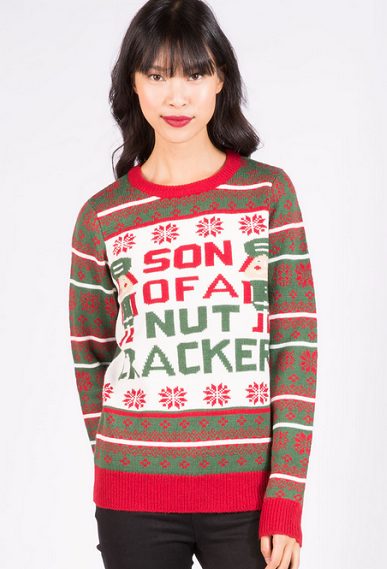 Bluenotes has dedicated pages on their website for both men and women's holiday themed clothing. Not only can you pick up ugly sweaters, but you can pick up ugly socks, tees, PJs and hats to go with it. The sweaters themselves start at $24.99 and come in various cuts and designs.
9. Amazon (Cost: $10.00 & Up)
Given the nature of Amazon, it should come as no surprise that it has the most variance in price range. Depending on your budget, you can find just about anything for men or women on Amazon, whether it be cheap $10.00 knits with reindeer and snowflakes, to knits with your favourite sports teams for over $200.00. If you do choose to order from Amazon, make sure to check where the item is shipping from as international orders might not get here in time for Christmas.
10. Dollarama DIY (Cost: $1.00 & Up)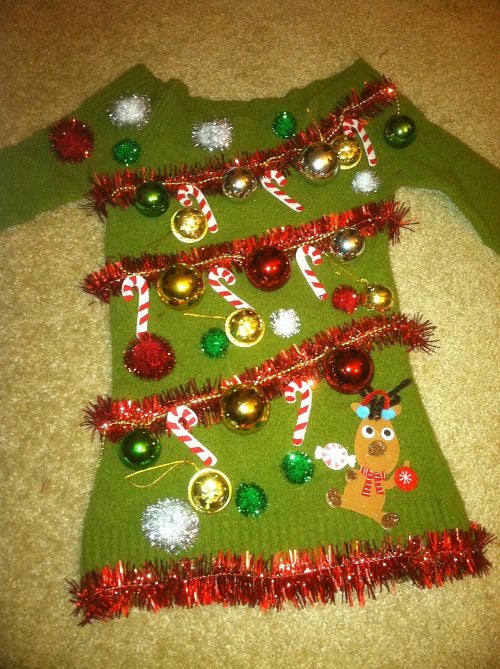 If you are looking for a budget-friendly option, or you want to guarantee that you have the ugliest Christmas sweater humanly possible, just make one yourself! Dollar stores such as Dollarama are stocked full of holiday craft items this time of year. Just take an old shirt or sweater you no longer wear and pick up some pom poms, ribbons, bows and glitter and go wild! Feel free to menacingly laugh as you're crafting together your hideous masterpiece and enjoy the priceless looks of horror you're bound to get once you step outside wearing it.
Have you, or will you be attending an event this holiday season that requires an ugly sweater? What are your go-to stores to find sweaters? Let us know in the comments!