Starbucks Quietly Raises Pricing on Some Menu Items
By
Simon Hung
November 6, 2017
Your morning cup of coffee at Starbucks may cost more than before, as the coffee giant has increased the pricing on a number of menu items in Canada.
According to a barista we spoke with, the price hike was implemented last week, with some customers voicing their displeasure through social media as early as November 2. Coincidentally, Starbucks held an earnings call that same day, where the Seattle-based company reported disappointing sales this past quarter amidst fierce competition from McDonald's and other coffee chains.
It's unknown which specific menu items were affected, but we have seen reports on Twitter of increased pricing on coffee, iced coffee and breakfast sandwiches. After some investigation and using previous order receipts as a reference, we found some popular menu items including regular brewed coffee and cold brew beverages now cost up to $0.20 more than before.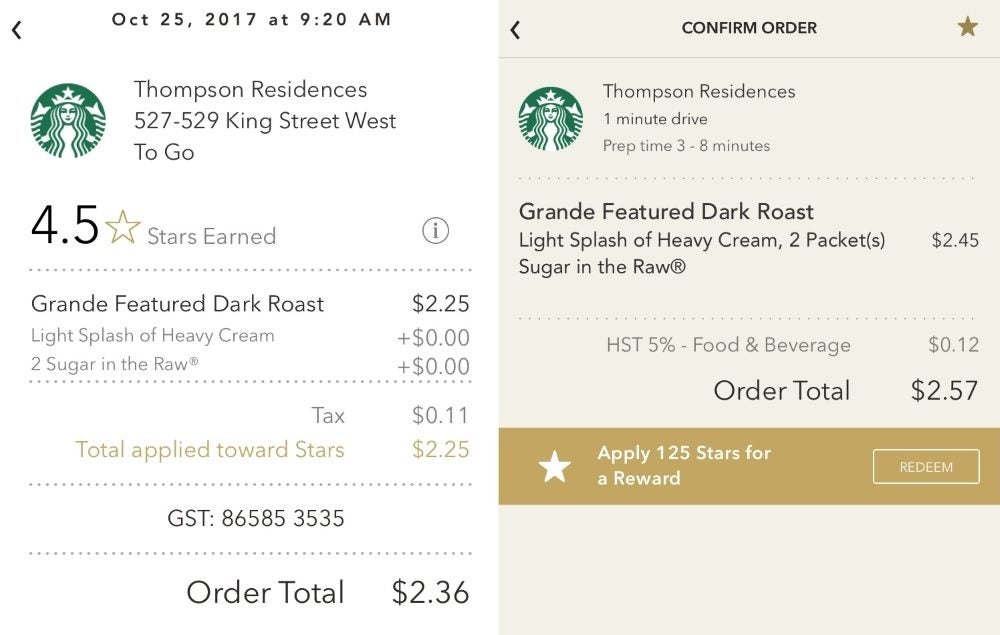 A grande brewed coffee is now $2.45 before tax (right), compared to $2.25 in October (left).
A grande brewed coffee now costs $2.45 before tax (previously $2.25), while a venti cold brew beverage is now $4.45 (previously $4.25). We used the Starbucks app to check pricing at over a dozen stores in the Greater Toronto Area and each location reflected the increased pricing for both items. The $0.20 increase is not insignificant, especially with a regular brewed coffee, which equates to an 8% price jump and an extra dollar per work week for daily Starbucks enthusiasts.
We've reached out to Starbucks to see if a list of affected items is available and to confirm if the change is regional or nationwide, but we have spotted reports of similar price hikes from customers in Alberta and Newfoundland, which indicates that the new pricing is effective across Canada.