How Competitive are Whole Foods' Lower Prices?
By
Simon Hung
September 15, 2017
It's likely you shop at Amazon often, but you've probably never shopped at Whole Foods.
The upscale grocer has a reputation for inflated pricing, but Amazon is looking to change that by investing in an Amazon-friendly ecosystem in order to woo new customers, including integrating Amazon Prime as the Whole Foods rewards program. Even so, price will determine whether it's worth it to shop there and Amazon's first step to shedding Whole Foods' premium reputation was by slashing prices starting August 28.
We wanted to see just how competitive some of their new lower prices are, so we visited Whole Foods and a few of their competitors in Toronto over the course of two weeks to see how they stacked up against one another.
Whole Foods

Loblaws

Sobeys

Walmart

Avocados (Single)

$1.49
(previously $2.25)

$2.19

$1.99

$1.27

Organic Avocados (Single)

$1.99
(previously $2.75)

$2.19*

$2.99

$1.27*

Bananas

$0.69/lb
(previously $0.79/lb)

$0.69/lb

$0.59/lb

$0.68/lb

Organic Bananas

$0.89/lb
(previously $1.09/lb)

$0.99/lb

$0.79/lb

$0.88/lb

Organic Almond Beverage (946ml)

$2.69
(previously $3.69)

$2.69

$3.29*

$1.97

Organic Apples (Gala and Fuji)

$2.49/lb
(previously $3.49/lb)

$2.99/lb

$2.99/lb

$1.67/lb*

Organic Baby Greens (142g)

$3.99
(previously $4.99)

$4.79

$4.99

$3.47*

Organic Coconut Milk (400ml)

$2.49
(previously $3.39)

$3.29

$4.59

$2.96

Organic Pasta Sauce (680ml)

$3.99
(previously $5.69)

$4.49

$5.69

$3.97

Organic Peanut Butter (454g)

$3.99
(previously $4.99)

$4.49

$4.59

$5.97

Responsibly-Farmed
Salmon Fillets

$2.49/100g
(previously $3.79/100g)

$3.96/100g

$4.19/100g

$2.42/100g*
Items with * indicate instances where no organic equivalent was available and a non-organic item was used for comparison.
Several items that saw price cuts at Whole Foods are competitive with the likes of Loblaws and Sobeys -- two stores that position themselves on the higher-end in terms of product pricing. In some cases, organic prices at Whole Foods were even cheaper than non-organic equivalents.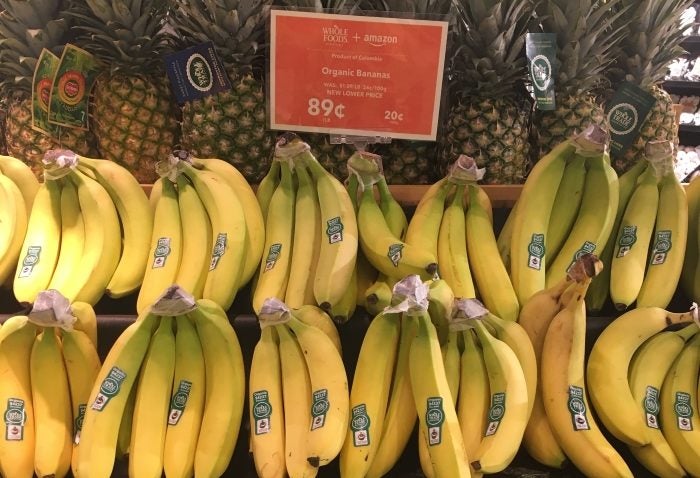 Products with new lower prices are marked with Whole Foods + Amazon signage.
However, it's important to remember that the price cuts only impact a small percentage of Whole Foods products. Most are staples or frequent-sellers that are unlikely to create shrink like bananas and avocados, but everything else in Whole Foods is priced the same as before.
It's likely a strategy by Amazon to increase the chances of new shoppers entering Whole Foods and it's worked -- Bloomberg estimates that the price cuts have led to a 25% increase in customer traffic. Once you're in a store, it's likely that you'll shop for more groceries during that visit instead of specifically for the cheaper products.
Amazon has promised more price cuts in the future, but industry experts have stated that it's unlikely to create a grocery price war. Even if Amazon's future price cuts are aggressive, shoppers are unlikely to change their shopping routines -- it may be beneficial for shoppers who value organic or natural foods, but the benefits are minimal for most residents in regions with a Whole Foods.
Organic avocados saw a price cut of $0.76 after the Amazon acquisition.
That may change once Amazon finalizes their Amazon Prime integration and announce details of exclusive membership offers -- possible perks like online order and pickup, bonus savings on select brands, Prime Day-like shopping events or even a blanket discount across the store may be game-changers that make it worthwhile to subscribe to Prime and shop at Whole Foods.
Ultimately, Amazon's acquisition of Whole Foods is more than just stores. They acquired access to a supply chain capable of rapid grocery procurement; they acquired over 400 brick and mortar locations that can be used has distribution hubs; they acquired a customer base that's willing to pay a premium when shopping; and they acquired the ability to test concepts like the Amazon Go self-serve store. The acquisition also puts them in a favourable position to bring Prime Now one-hour grocery delivery to Canada, which will reportedly launch first in Vancouver and Toronto -- two cities where Whole Foods has an established presence.
It's been less than a month since the acquisition was finalized and Whole Foods has our attention (and the attention of the grocery industry), but time will tell if they'll end up with our business as well.
Data was gathered over two weeks to account for competitor price adjustments and all pricing reflects regular price. Store-brand products or the least expensive equivalent were used for comparison. Pricing may vary by region.