Will the Slotdog Take Your Hot Dog to the Next Level?
By
Thomas Kenzaki
September 14, 2017
Every now and then we see a new product that makes us think: "did the world really need this?". Enter the Slotdog. An invention from a Canadian company based out of Ontario that promises to take your hot dog experience to the next level.
What is the Slot Dog you ask? In short it's a gadget that easily adds cross hatch cuts into your hot dog. Why would you want that? Here's a blurb straight from the Slotdog website that sums it up:
"Slotdog doesn't just make your SKINLESS hot dog look amazing, the slots created by the Stainless Steel Blades also help it cook quicker by allowing heat right in to the centre of your hot dog, and even taste better by creating crispy caramelized-edged squares which grab hold of your toppings with a Kung-Fu grip!"
Now this all sounds great in theory but we wanted to put it to the test! Our first impressions holding the Slotdog was that it was well built and a little larger than we expected. I doubt there's a standard grocery store hot dog too large for the Slotdog.
Using the device is simple. You just place your hot dog on a flat surface and then press the Slotdog down on it from above. There's a stopper behind the stainless steel blades so you don't have to worry about slicing your hot dog into tiny little bits. You then peel the hot dog off and repeat the process on the other side. Creating the cuts on both sides prevents curling while you grill it.
The next step was to grill them. We fired up our BBQ and threw the modified hot dogs on the fire. Hot dogs cook quickly and we're not sure if they cooked up any faster than regular hot dogs but they definitely looked cooler! The square edges did crisp up nicely and as advertised which you can see below in our real world test.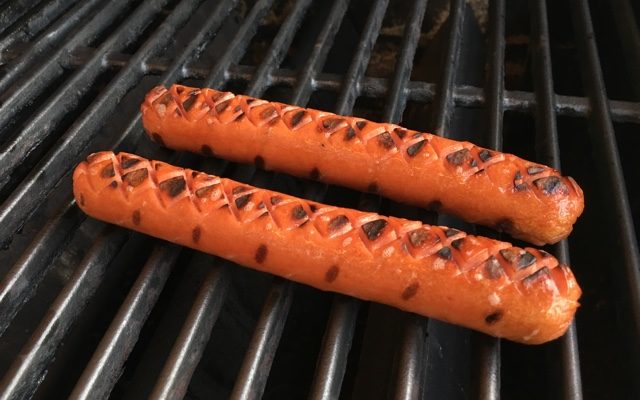 Our taste test group (my two kids) loved them. My 4 year old even calls all his hot dogs "Slotdogs" now. I found that the grooves do actually hold toppings better. In my completely non-scientific test I found 20-30% less toppings fell off my Slotdog hot dog while eating it versus a regular hot dog.
A few people that I've shown the Slotdog to have asked me: "why not just use a knife?" As a lazy person I can say that even trying to slice up one hot dog like this would A) be too much work and B) wouldn't come out nearly as nice. We regularly cook up 6-8 hot dogs at a time and in my testing it only took about 10 seconds to do each hot dog.
Did the world need the Slotdog? Probably not. This however is a neat gadget that I can see myself continuing to use in the future unlike many others which I have bought in the past (RIP Slap Chop). You can buy the Slotdog in Canada on Amazon.ca.