Money Saving Tips For Toronto Blue Jays Games in 2017
By
Thomas Kenzaki
May 6, 2017
While not off to the best start this season, the boys of summer are back! After back-to-back seasons making it to the American League Championship Series, the expectations surrounding the Toronto Blue Jays are high as they hope to make the postseason for a third year in a row.
As you could expect after a season that saw attendance reach new highs, things have gotten a little more expensive for fans this year. Luckily for you there are still many ways to save a few bucks if you're a fan.
While ticket prices have gone up this year you'll still be able to grab seats for as low as $13 each on Ticketmaster. As far as Toronto sports go it's still one of the cheapest tickets around. Ticket pricing is dynamic and based on game categories so expect to pay more for a nearly sold out Yankees game versus a Rays game with lots of tickets still available.
StubHub
New for 2017 is an official Blue Jays partnership with StubHub. StubHub is a ticket reseller website which gives buyers a safe way to buy and sell tickets to events. Ethics on scalping aside, there are usually great last minute deals for most Blue Jays games. If you don't mind sitting in the 500 section seats are often only $6USD and many seats are available under face value. A great new feature this year that came with the partnership is that you can scan your ticket for entry through the StubHub mobile app itself. Previously you were required to print your ticket which made buying last minute a bit more difficult of a process.
West Jet Flight Deck
Back again this year is the West Jet Flight Deck. This is a standing room only section located on level 200 under the jumbotron which allows anyone with a ticket to enter and get a better view. Get there early though because on busier days it fills up and you won't be able to get in. It's a great free upgrade for 500-level nosebleed seats.
Bring Your Own Food
Those not familiar with Blue Jays games at the Rogers Centre may not realize that you can bring in your own food and non-alcoholic beverages. Why pay $10 for a hot dog inside when you can buy one right outside for $4 and bring it in with you? You also won't be able to find charcuterie board anywhere inside the dome unless you bring it yourself.
Honestly, if you're not making a charcuterie board at a baseball game, what are you even doing with your life? pic.twitter.com/UjpVwDhXD2

— Jake Goldsbie (@JGoldsbie) August 12, 2016
Rogers GamePlus Experiences
If you're a Rogers customer you'll be able to upgrade your game day experience for free. GamePlus is available within the MLB Ballpark app and the MyRogers app. After logging into your MyRogers account you'll be able to see what experiences are available (typically only a few days ahead) and at what time you'll be able to get them. Each experience has a run value attached and you have 4-runs to use throughout the season. Typical offerings include autographed balls, hats and seat upgrades.
Giveaway Days
From replica jerseys to bobble heads, there's bound to be a giveaway day that interests you. A full list of the promotional items and schedule is available on the Blue Jays website. Typically there are 15-20k of each item available but people start lining up hours beforehand for popular giveaways so make sure you get there early! You'll be as fired up as Jason Grilli after a strikeout when you score your giveaway item.
Free Fountain Drink or Budweiser Prohibition Brew
With the Blue Jays' poor start to the season you'll probably want to drink but if you're okay sticking to pop or non-alcoholic beer, why not grab one for free? At the Budweiser Good Sport Designated Driver booths (sections 114 & 524) you can fill out a card pledging not to drink and drive and you'll receive a coupon for a 24oz fountain drink or Budweiser Prohibition Brew! You'll also be entered to win a gift card and the winner will be on the jumbotron for your 15 minutes of fame.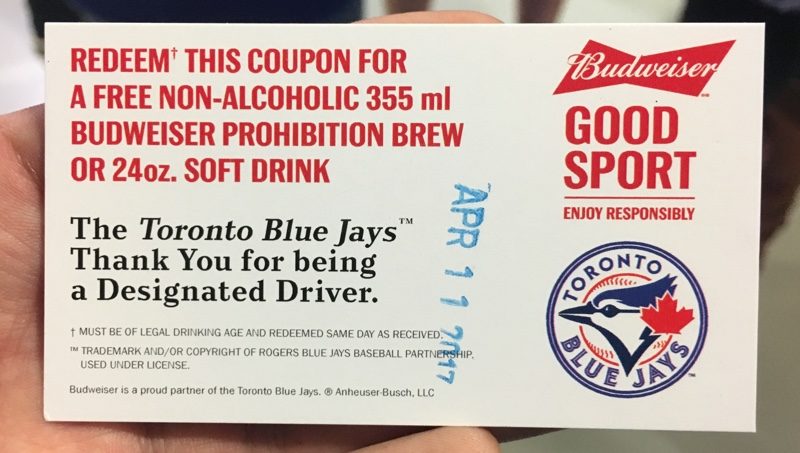 The 4K Experience
If going to the stadium isn't your thing, you can now watch every Blue Jays home game in crisp 4K resolution. You'll need a 4K compatible TV and receiver to watch the games in this higher resolution. Every home game is available in 4K (sorry, away game fans) and you can tune in on Sportsnet. Crank the volume up, have your loud drunk friend spill some beer on you and you'll swear you were at the game!
Contest
To help everyone get in the baseball spirit we're giving away a Sportsnet prize pack which consists of two t-shirts, a hat and a Sportsnet gym bag. To enter just reply to this article and tell us your favourite Blue Jays memory. Click here for a complete list of rules. Good luck!