A Visit to the 2017 Canadian International Autoshow
By
Paresh Pandya
March 9, 2017
February is typically met with a sense of malaise. The cold winter season is still in full force, the excitement of Christmas and New Years has worn off, and the dreaded tax season starts. But all is not doom and gloom! The Canadian International Autoshow also takes place in February. It's one of Toronto's most exciting family event and 2017 wasn't any different.
This year's event saw a record breaking attendance level of 20,218 on opening day. To tie in with our country's 150th birthday, the theme of the show was O'Canada and this was celebrated by a number of notables:
the North American debut of the audacious Aston Martin AM-RB 001 hypercar
the North American reveal of Jaguar's slinky F-type 400 Sport
CIAS's first Global vehicle debut of the 2018 Hyundai Accent, an event which was live streamed around the world
plus 16 other fabulous concept cars on display
With over 650,000 square feet of floor space, the show was packed with a wide array of vehicles, interactive exhibits (including virtual reality demos), guest speakers, and vendors. Another perennial favourite were the freebies some manufacturers gave away, including the ever-popular recycled shopping bags (Toyota's are my favourite).
With so many vehicles on display it's hard to choose a favourite. Here are a few that caught my eye that will be of interest to the average Canadian shopper:
2018 Toyota Camry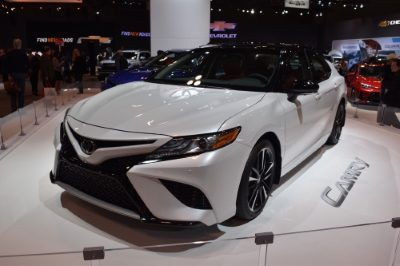 Canadians love their Toyotas as evidenced by their consistent leading sales figures each and every quarter. The Camry is no exception. With a reputation for reliability, comfort, and retained value (winner of the 2017 Canadian Black Book Best Retained Value award in the mid-size category) it's always big news when this staple under goes a model revision. Two models were on display, the sporty XSE and the eco-conscious Hybrid XLE. Unfortunately, they were not open to the media, however the models did a good indication of what to expect. Aggressive styling on the XSE not typically associated with the brand with large air scoops, blacked out grilles and pillars, a rear air diffuser, and a blacked out roof to complete the makeover. With a lower stance and wider track, the new car injects a sense of capability not found in the outgoing model. A new interior imparts upscale ambitions with a larger 10" colour display option, premium soft touch materials, and an available heads-up display. Expect to see this model hit Canadian markets later this summer.
2018 Hyundai Accent
Making its global debut (the first time this has happened at CIAS), the Accent represents Hyundai's relentless pursuit for providing value without sacrificing style or content. Borrowing styling elements from its bigger brothers Elantra and Sonata, the new Accent uses Hyundai's own high-strength steel to give the car a solid chassis and improved rigidity. This gives the car improved driving dynamics, reduces road noise, and should help with its crash test ratings. With a longer and wider footprint, the new Accent is larger than the outgoing car it replaces, and although it's classified as a sub-compact, it would be easy to mistake this for a compact sedan. Fuel economy has also improved by 7 percent through the use of lighter materials and a rethinking of how parts are engineered (the transmission was reduced by 2kg, a testament to how serious Hyundai takes fuel economy). With available options like a touchscreen with Android Auto and Apple CarPlay, and a segment-first available autonomous car braking system, the Accent will no doubt be a strong contender in the market place. The 4 door sedan will also be available in a Canadian exclusive 5 door model, giving consumers plenty of choice to meet their needs. Look for both models hitting showrooms later this year.
Cadillac Escala Concept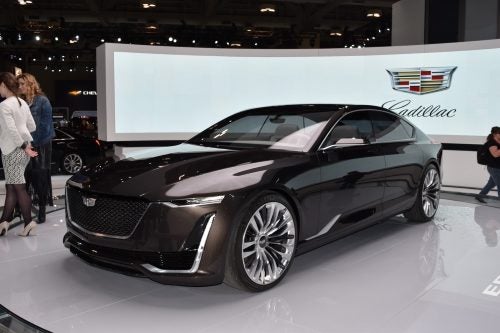 This stunning concept is an indication of what to expect from the brand in the coming years. The 4 door flagship sedan starts with a beautiful blacked out grille complemented by a monochrome badge and flows to the rear with strong shoulders and a fastback roof commonly found amongst German competitors. Recalling the large vertical tail lamps of yesteryear, the concept takes this detail and successfully integrates it into this thoroughly modern example of what it means to be a Cadillac. Under the hood a twin-turbo V8 ensures there will be plenty of power on-tap for the driver, while inside the cabin is outfitted with sensible cloth seats, wood trim, and a panoramic glass roof lending to a sense of openness. Some concept details will disappear if it moves to production, like the trick trunk floor which rises to help load and unload the matching custom designer luggage.
With so much going on at the show it's no wonder the Canadian International Autoshow continues to break attendance records. I can't wait to see what they have in store for 2018!