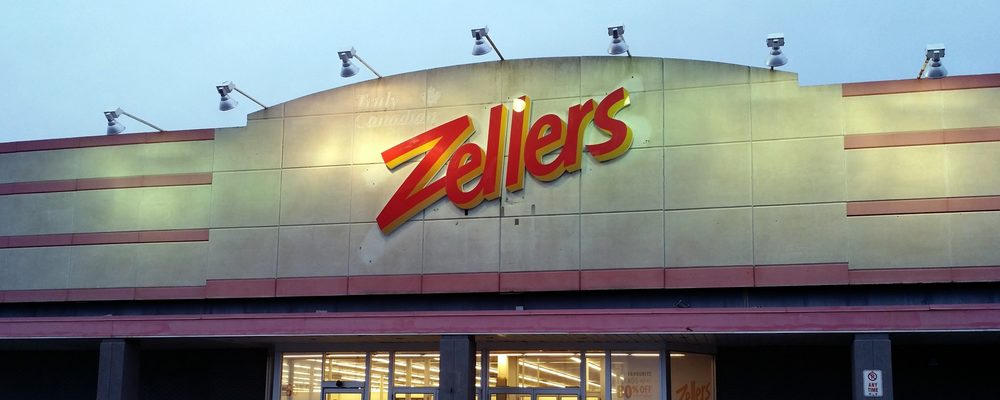 Zellers: They're Still Alive, If You Know Where to Look
By
Simon Hung
February 6, 2017
Tucked away in a nondescript mall in Toronto's west end and a shopping plaza in suburban Ottawa lie two remnants of a past era. Two relics from Canada's bargain shopping heyday of yesteryear -- the two sole survivors of a franchise that once numbered over 300 in the 1990s.
Zellers became effectively extinct in 2011 when parent company HBC sold the leases of all 220 locations to the Target Corporation for their ill-fated expansion into Canada. However, reports of their death were greatly exaggerated, as many didn't notice HBC's quiet revival of the Zellers brand two years later and there are two locations that remain open today -- one at 1255 The Queensway in Etobicoke, ON and another at 2065 Robertson Road in Nepean, ON.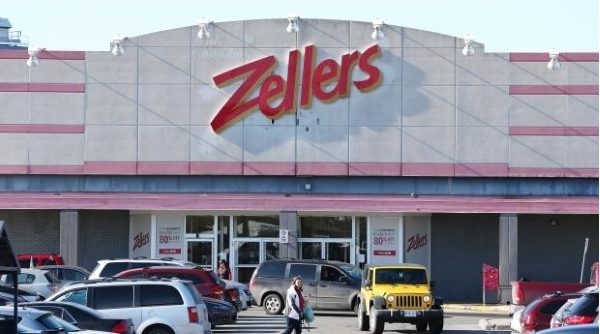 Zellers in Nepean, Ontario.
They've been open since 2013, but you won't find much advertising for these two stores. In fact, the stores aren't listed on the HBC store locator and you won't find any mention of them on the HBC corporate website -- it makes sense, given the stigma surrounding the Zellers brand after their sale and association with Target.
But these aren't your typical Zellers stores. Instead, they act as outlet centres, selling past-season, clearance and open-box merchandise from Hudson's Bay and Home Outfitters at a discount. Products are sold as-is with no returns or exchanges and selection typically varies depending on the season.
At over 95,000 square feet, the Zellers in Etobicoke acts as the surprising anchor store in an otherwise unremarkable Kipling Queensway Mall, with other tenants including Sobeys and a number of small businesses.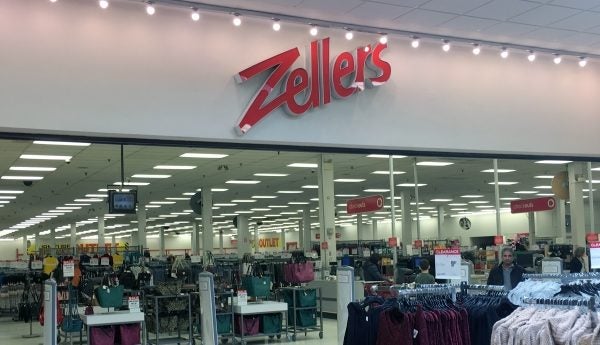 Zellers in Etobicoke, Ontario.
Those who remember Zellers will be hit with a sense of nostalgia upon walking into the store. It's an esoteric yet familiar feeling, as the massive store features drab lighting, crude organization and handwritten signs -- there's an organized chaos about everything that preserves that classic Zellers vibe.
Crowds were sparse and there was no music to keep your mind occupied, which meant you could easily hear patrons rummaging through stock or the pitter-patter of shoppers walking around the store. It's not the most ideal shopping environment, but you do feel a strange, almost tranquil sensation when perusing the store.
Apparel
At a glance, approximately 70% of the floor space was dedicated to apparel, with a bounty of clothes, shoes and accessories marked down by up to 70% off, some with extra savings on top of the label price. Most of the items seemed to be summer or fall fashions and included casual shirts, sweaters, pants and sleepwear from brands including Calvin Klein, Dockers, IZOD and more.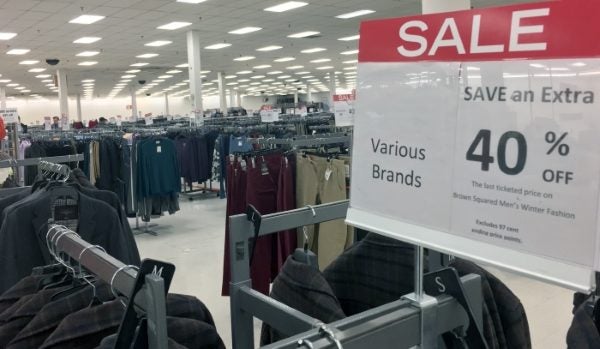 Apparel was the most prominent section in the store.
There was a notable lack of any outerwear (with the exception of HBC's iconic red Olympic mittens) and items were loosely arranged by brand, with sizing generally on the larger side across the board.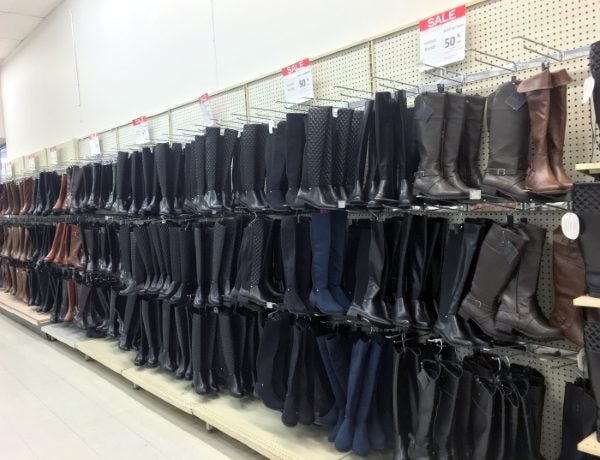 There was a plethora of shoes available, including this wall of boots.
The footwear section was the most chaotic area of the store, with many customers jockeying for space along the shelves and walls packed with various shoes -- from sandals to sneakers to boots -- all organized by size.
Appliances and Kitchen
Both major and small appliances were available in this store, with refrigerators, ovens and dishwashers among the most prominent major appliances. Most major appliances featured an extra 15% off the label price while small appliances were priced as-is.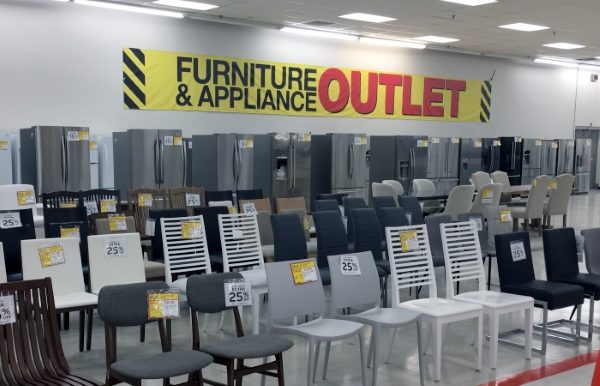 There were over 100 refrigerators lined along one side of the store.
There were a few notable small appliance deals including a Vitamix Pro Series 300 Blender for $487.99 (regularly $649.99) and a T-fal OptiGrill for $155.99 (regularly $249.99), but almost all small appliance products were open-box (the Vitamix blender included no box at all), indicating that these may have been product returns at one point. While the savings were significant, purchasing an open-box product would be a gamble, as all sales are final and there's no method to thoroughly test items in-store.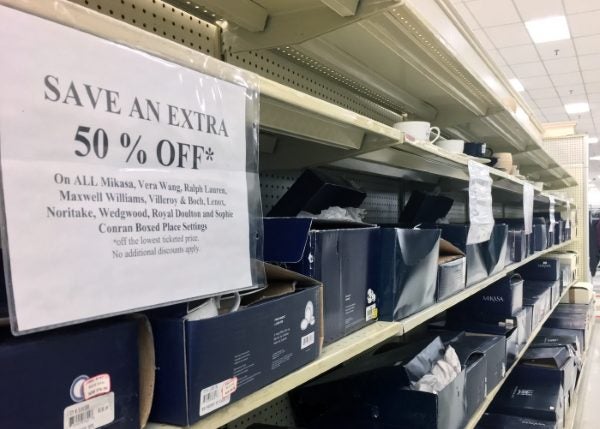 Products with open or damaged packaging was a very common sight.
Cookware and dinnerware sets were also available, but with the same caveat as small appliances, as most boxes were either open or damaged. Dinnerware in particular was noteworthy, as most products also included an extra 50% off the label price, which made some sets as low as $25.00.
Furniture and Home Décor
Towards the back of the store lay row upon row of couches, sofas, recliners and chairs at up to 60% off, along with a small selection of mattresses. Most chairs were priced individually while most mattresses featured an extra 25% off the label price. A delivery service is available for an additional fee.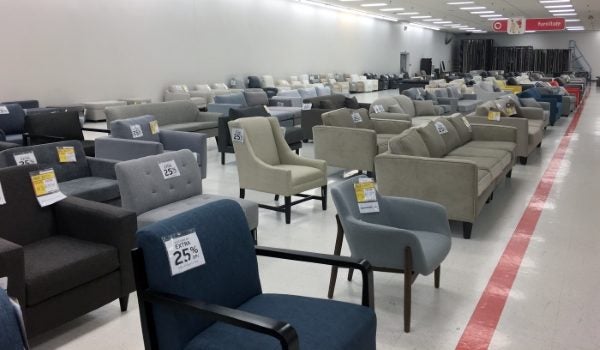 One side of the store was lined with chairs.
Home accoutrements included some canvas artwork, a small section with towels and bath accessories, along with a few aisles of bedding, including sheets, blankets and pillows. All home décor products were new and priced as-is. Colour selection was not great, particularly with bedding, as there was abundant stock of neon orange and bright green sheet sets available.
There were no big-ticket electronics like televisions or video games and the deals weren't outstanding, but this store does serve a niche of bargain hunters who don't mind the limited selection or roughed-up packaging. It isn't for everyone, but there are deals to be found for the savviest of deal hunters.
The days of this location may be numbered, as the Kipling Queensway Mall is slated for demolition in the near future and as a result, could make the Nepean store the last surviving Zellers location by the end of the year.
Overall, the 2017 Zellers experience was one part thrift store, one part outlet store, with a shopping experience similar to Winners but with far less selection and some questionable product quality. For a chain that once thrived and went to the brink of extinction, Zellers has found a way to survive and outlive the likes of Target, American Apparel and HMV. It may not be the Zellers you once remembered, but its spirit lives on in these two very unique stores.
Shoutout to wilson_wu for creating this thread in our Shopping Discussion forum, which served as the inspiration for this piece.