Nintendo Switch Presentation Roundup: Release Date, Pricing, Upcoming Games, and More!
By
Ambia Staley
January 13, 2017
For anyone looking for more details about the upcoming Nintendo Switch console, the wait is now over, as Nintendo officially dished out the details! Streamed live from Tokyo while many Canadians were sleeping soundly late Thursday night, the presentation revealed the release date, pricing, upcoming titles and more.
If you didn't get a chance to watch the entire show, here's our roundup of some of the most important details revealed during the Nintendo Switch presentation.
Release Date & Pricing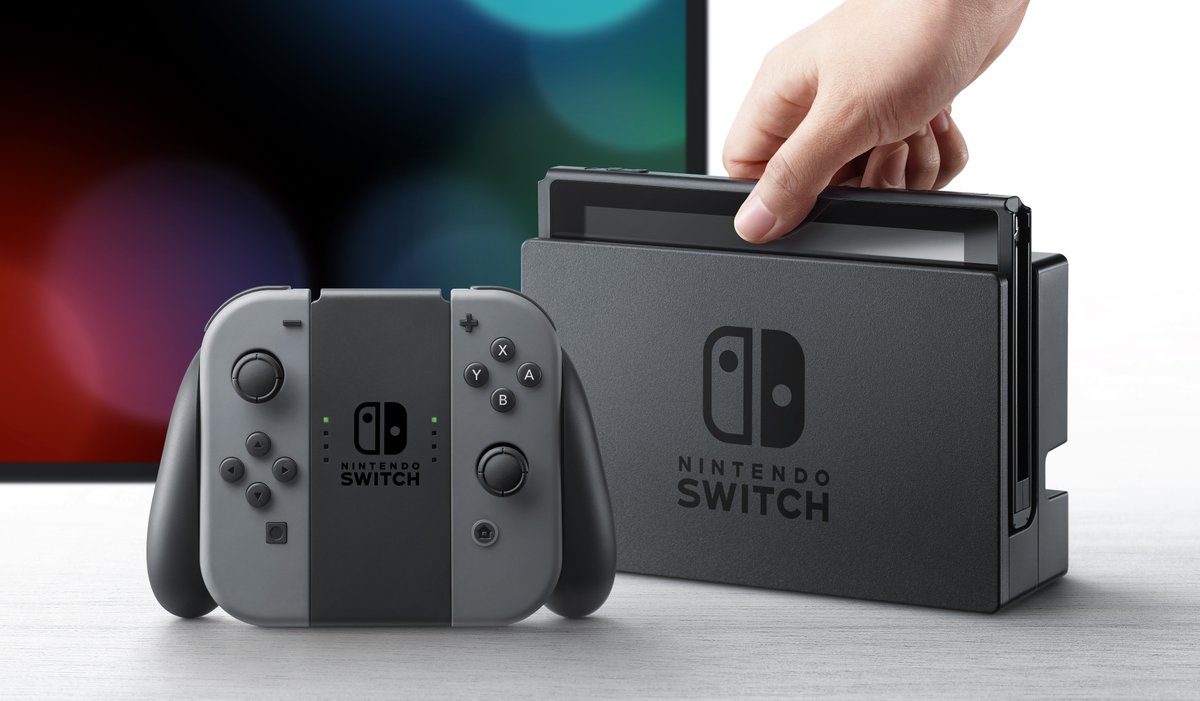 The Nintendo Switch hits store shelves this March
Probably the most important information gamers are waiting for is the information on when they can buy the Nintendo Switch and for how much. Starting off the presentation, Nintendo revealed that the Nintendo Switch will hit store shelves in North America on March 3, 2017 with a suggested retail price of $399.99 in Canada.
Switch Features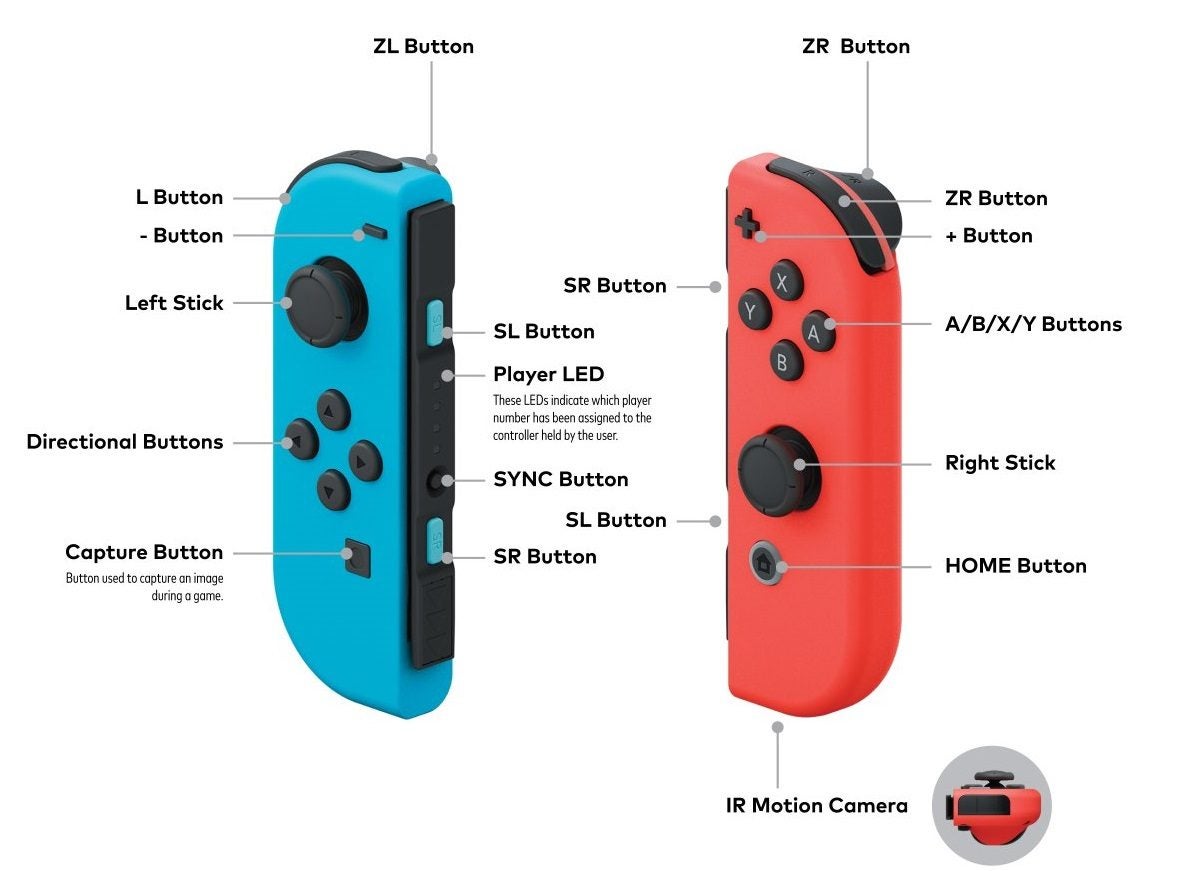 More features of the system and Joy-Con remotes were revealed
Nintendo skimmed through quite a few features of the Switch in their presentation. One big announcement was that Nintendo will finally abolish region locking and Switch titles will be region-free. Nintendo will also be offering online multiplayer for many titles. This service will be free at launch, but will become a paid service in fall of 2017. More details surrounding pricing and online services offered will be announced at a later date.
Many of the features announced were repeats of last year's short video announcement, including different ways to play at home and on the go, as well as details about different ways in which the Joy-Con remotes can be used. Nintendo did offer a bit more information on the Joy-Con remotes however, noting that each side can be used as a fully functioning remote, and that they feature HD rumble for more realistic vibrations while gaming. It was also announced that the left Joy-Con features a square button meant to take screenshots while gaming so that you can share pictures with friends. They are also hoping to expand this feature to include video capture at a later date.
If you're playing the Switch console off the dock and on your tabletop or on the go, Nintendo mentioned that the battery life of the system is between 2.5 and 6.5 hours depending on the game.
Upcoming Games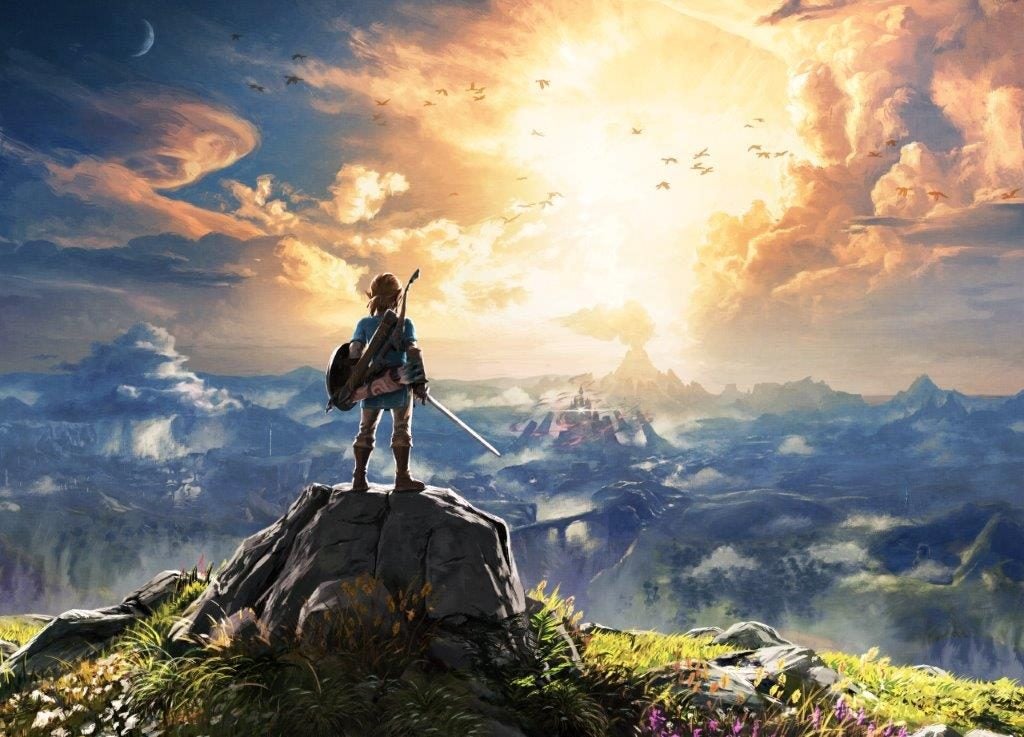 The Legend of Zelda Breath of the Wild finally receives a release date
Nintendo announced quite a few games that will be released either at launch or a later date. While there are 80 active titles in the works for the Switch, here's a look at a few of the titles announced during the presentation:
The Legend of Zelda Breath of the Wild (March 3)
1-2 Switch (March 3)
Arms
Splatoon 2 (Summer 2017)
Super Mario Odyssey (Holiday 2017)
Xenoblade 2
Fire Emblem Warriors
Project Octopath Traveller
New "Shin Megami Tensei" title
Skyrim
FIFA
Product Configuration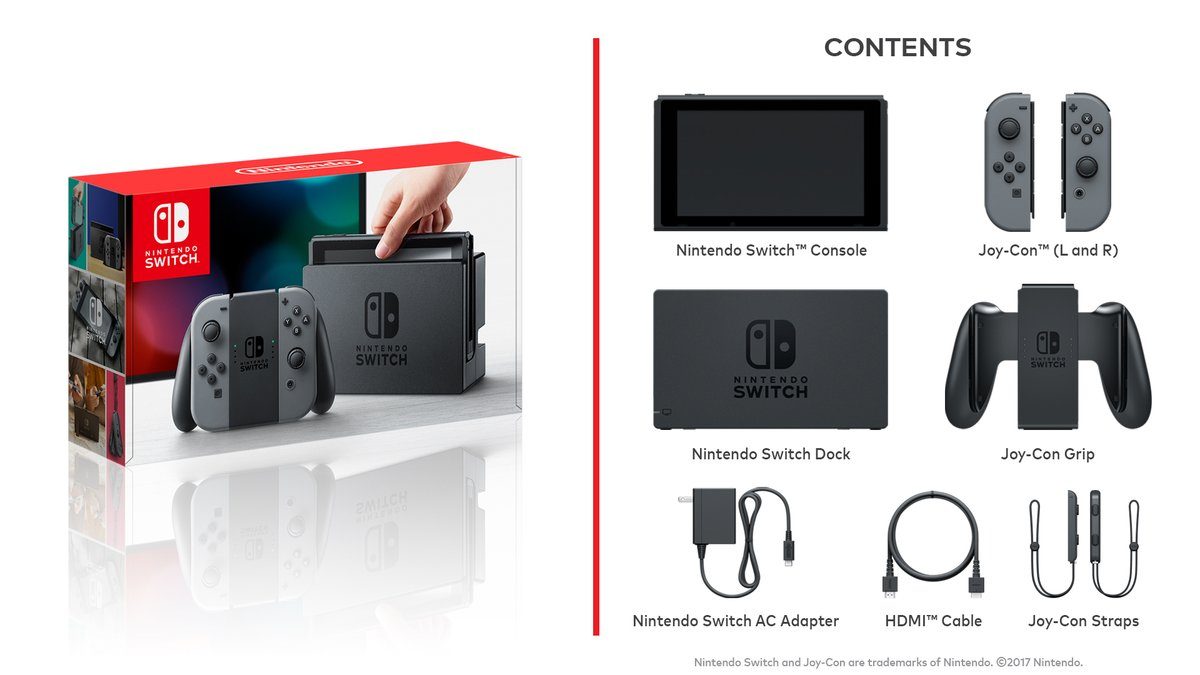 A look at what's included with your Switch purchase
While exact product specifications were left out of today's presentation, Nintendo did reveal exactly what comes included in the box when you purchase the Nintendo Switch console:
Nintendo Switch Console (screen)
Left and right Joy-Con
Wrist strap
Joy-Con grip
Switch dock
HDMI cable
A/C Adapter
Nintendo also mentioned that when you go to buy the console, you'll have a choice between a system with grey Joy-Con remotes, or a system with one red and one blue Joy-Con remote -- both of which have the same retail price. Pro remotes will be available separately.
More info is expected to be released in the upcoming weeks as more presentations and hands-on events occur leading up to the Switch's release date.
Update: Nintendo's website just announced that the Switch and Play Preview Tour will be visiting Toronto's Metro Convention Centre on January 29, 2017. As of right now, this is the only Canadian tour date listed.
Did you watch the Nintendo Switch presentation? What are your thoughts on the console? Will you be picking one up? Let us know in the comments!