Six Things to Consider When Buying a BBQ
By
Amanda Aikman
May 24, 2016
Sorry oven, grilling season is here and we're moving this party outside. Now that the majority of Canadians are enjoying grill-worthy weather conditions, it's time to treat family and friends to some barbecued culinary delights.
But if you're in the market for a new backyard cookout setup, how can you ensure you're getting the right one? Luckily, we're here to help you wade through the world of burners, briquettes and BTUs with our list of 6 things to consider when buying a BBQ.
1. Gas or Charcoal?
The debate rages on. Charcoalers swear by the range of flavours achieved with different wood types and coals while the gas set appreciate the quick start-up time and accurate cooking temperatures of propane or natural gas. Price-wise, a gas grill can be considerably more expensive to purchase than a charcoal grill, but the cost of gas can often be more affordable than bags of charcoal over time. Your choice may also come down to what's for dinner—burgers, hotdogs and steaks are easily (and tastily) cooked over charcoal, but more complicated dishes requiring variations in temperature (like vegetables and pizzas) are best left to a gas grilling surface.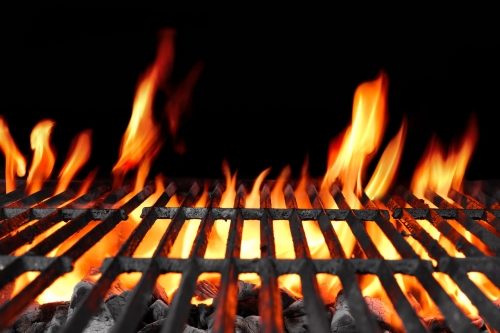 Another benefit to a propane grill is portability. A small propane grill can be transported easily to enjoy cookouts at the beach, park or campsite. If you live in an apartment that won't allow gas or charcoal grills on the balcony, you can always opt for an electric model. It may not provide the same flames and flavours, but you'll still get the outdoor cooking experience.
2. Size
It's easy to have your head turned by a gargantuan grill, but there's no point in paying for more BBQ than you need. When deciding on size, think about how you plan to use your grill. Are you hosting regular backyard BBQs for the whole neighbourhood or grilling steaks for two? The basic rule of thumb is to have 50 square inches (322 cm2) of primary cook space per portion of food. It's also handy to have a grill large enough to accommodate multiple cooking zones: one for searing, one for slower cooking, and one for finishing. If you plan on hosting big BBQs, you may want a grill with plenty of prep area, including side burners and warming areas, which will also increase the size.
3. Materials
Why invest in a new grill only to watch it break down under high cooking heats and exposure to the elements? BBQs are available in less expensive materials such as aluminum and sheet metal, but you'll get what you (don't) pay for. Stainless steel is pricier, but is rust-resistant, easier to clean and durable enough to earn its keep over time. If plastic is being used for knobs and handles, look for heavy grade durable options that won't break down or break off quickly. A good dual-layer stainless steel hood will help keep heat inside the cooking area for faster, more accurate cooking times.
4. BTUs
The British Thermal Unit (BTU) measures the maximum heat produced when the main burners are on high, but higher BTUs don't necessarily equal more heat. Other factors contributing to your grill's heat efficiency include a snug fitting lid, a back that isn't wide open, and thick sides to adequately retain heat. When choosing your BBQ, the cooking surface generally plays a more important role than the number of BTUs, but basically 35,000-45,000 BTUs is hot enough for light meats and vegetables and 50,000-60,000 BTUs are good for searing and grilling heavier meats such as steak.
5. Grates & Burners
Often made from porcelain-coated cast iron or porcelain-coated wire, a good cooking grate will capture and hold heat to create deep, impressive grill lines. Higher-end BBQs feature rust-resistant stainless steel grates, which conduct heat evenly and are easy to clean and maintain.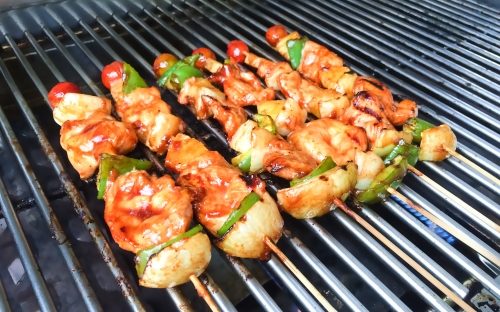 In gas grills, tube burners produce flames that run along a straight line. Look for a grill with tented bars called "flavourisers," which cover burners to protect them from being clogged while vaporizing drippings for added flavour. The more burners you have the more you'll be able to control your cooking temperatures. A one-burner grill will cost less but will have more cold spots. Two, three and four-burner options let you create cooking zones of various temperatures, and fancy models with multiple burners really allow you to release your inner backyard chef.
6. Extras
Warming racks, side burners, rotisseries, and utensil storage—it can be tempting to pile on the bells and whistles. But if you're not going to use them, these extras will just end up being unnecessary expenses of both money and space. Think about what you'll realistically use on a regular basis; just because it's possible you may need to deep-fry a turkey while rolling your own sushi and roasting a whole pig, doesn't mean it's likely.
Finally, some other things to consider before welcoming a new BBQ into your family are whether or not assembly is required, what type of warranty is provided, and if replacement parts are readily available. The last thing you want after finally settling on the perfect grill is to not be able to put it together or to have it fall apart and leave you paying for costly parts or repairs.