Swedish Ingenuity: How to Shop at IKEA Like a Pro
By
Simon Hung
March 7, 2016
Mats Sundin, Dolph Lundgren and IKEA are undeniably three of Sweden's all-time greatest exports. While the hockey legend and actor are beloved by a few, the Swedish furniture giant happens to be one of RFD's favourite stores.
With 12 locations (and one more on the way) and four Pick-Up and Order Points scattered across Canada, IKEA is one of the go-to places to visit if you're in need of furniture or décor, and a family trip to the iconic store is usually a day-long excursion.
It's said that IKEA is the second-leading cause of divorce after Monopoly.
It can be daunting and stressful if you're unprepared or don't know what to expect, but we've listed a few of our best tips that'll help you shop like a seasoned veteran the next time you go to IKEA.
Preparation
Research -- Before taking a trip to IKEA, research online to budget and plan what you want to buy. IKEA's website is very comprehensive and includes their entire inventory, allowing you to settle silly internal debates such as whether you want a Brusali or Regissӧr bookcase.
Measure Twice, Buy Once -- While researching, take note of the dimensions of any items you're interested in. Be sure to measure areas in your home to ensure that you have enough room to accommodate your purchase, including other factors like walking room. While returns to IKEA are easy, it can be annoying to have to disassemble your purchase after you discovered that it won't fit.
Make a List, Check It Twice -- Utilize the Shopping List feature on IKEA's website. Choose the "Save to list" option on any product page to create your own custom shopping list and print out your list to bring with your during your visit, as it'll have stock levels and the exact locations in the warehouse to help make your trip quick and efficient.
IKEA Family -- Every month, IKEA has store-specific offers for member of the IKEA Family program. Membership is free and entitles you to special perks including an extended return policy and a chance to win a $100.00 gift card every month. We post roundups of the IKEA Family offers for some locations every month on RedFlagDeals.
Get Wacky -- Similarly, Wacky Wednesday occurs every week with store-specific deals that are only valid on Wednesday. While the deals are varied, it can be worth it to make a trip as the discounts can be significant and are valid for everyone. We post roundups of the Wacky Wednesday offers every week.
Avoid Peak Times -- Anyone who's visited an IKEA during the weekend can attest to the fact that it can feel like a zoo. Visit during the evening or on a weekday if you want to avoid the hectic crowds. Plus, there will be more associates available to help and shorter checkout lines if you go at an off-peak time.
Phone a Friend -- IKEA is famous for their flat-packed furniture, but just because your furniture is flat doesn't mean that it's light. Bring a friend or relative to help you with transporting and lifting heavier items. An added benefit is that you'll have someone to talk to during your time in the massive complex.
Bring a Car -- Speaking of heavy, the last thing you want to do is look silly and carry your new dresser onto public transit or a taxi. If you're buying a large piece of furniture, make sure you bring a car with ample room to transport your items.
Execution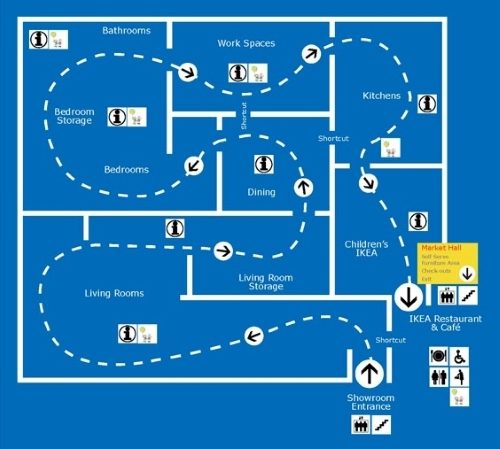 Look for maps in-store to help guide you through the maze and locate the shortcuts.
Know the Layout -- Each IKEA location is laid out similarly and the three major areas of interest are the Showroom, Market Hall and Self-Serve Warehouse. The Showroom is where you'll find all of their furniture assembled to help you visualize and test products (the IKEA Restaurant is usually located adjacent to the Showroom). The Showroom leads to Market Hall, where you'll find most of IKEA's non-furniture offerings, like lighting and kitchen utensils. Leaving Market Hall leads you to the Self-Serve Warehouse, which is the massive space where you pick up the flat-packed items for your furniture.
Go With the Flow -- IKEA is set up so that you're meant to follow a specific path, usually Showroom → Market Hall → Self-Serve Warehouse → Checkout. Arrows on the floor in the Showroom and Market Hall help to guide you, but look for shortcuts scattered throughout the Showroom and Market Hall to avoid the temptation of impulse purchases and to quickly make your way through and escape the maze.
Check the As-Is Section -- Usually located in a small area next to the checkout, the As-Is section contains products that have been returned, display models and items that may have minor imperfections. While they may not be new, items in this section are marked down and you can sometimes find a good deal if you look hard enough.
Not Just Furniture -- Aside from furniture, IKEA is also famous for their Swedish meatballs in the IKEA Restaurant. You can find other cheap meals such as hot dogs, pasta and desserts to help satisfy your hunger. The IKEA Restaurant is usually located next to the showroom and there is also a food kiosk in the checkout area.
Småland -- While kids can have a blast playing around in the showroom, they may become bored (and useless) once you need to fetch your furniture in the self-serve warehouse. Every IKEA location has a supervised Småland playroom for kids to enjoy for up to 60 minutes. There are some height restrictions, but leaving your kids here while you do the heavy-lifting will make your trip easier.
In-Store Wi-Fi -- There are self-serve kiosks located throughout IKEA to help you browse products, but they're stationary and not as detailed as their website. Save your mobile bandwidth and connect to IKEA's free in-store Wi-Fi to browse stock, view dimensions or find product location on your phone.
Assembly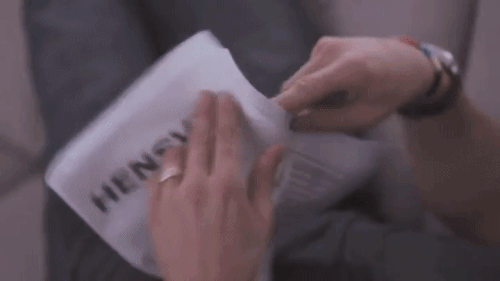 Even celebrities aren't immune from IKEA assembly headaches.
Phone a Friend (Again) -- Some refer to IKEA furniture as "advanced LEGO," as it can be simultaneously fun, aggravating and exhausting to assemble your furniture. While it isn't impossible to assemble furniture solo, having a friend to help makes it easier as you can bond and share the pain and misery together.
Keep the Included Tools -- IKEA includes the necessary tools (like Allen keys) to assemble their furniture. In case you ever need to disassemble your furniture, having the included tools or spare parts on-hand can be helpful. After assembly, tape the included tools in a small bag to the underside of your furniture to make it easy to find in case you ever need them.
Spare Parts -- Missing a hex screw or want a spare set of rubber feet? You can find the part number of individual parts in the manual of your furniture and IKEA keeps walls of these individual parts in their returns area. They're typically free and the more common parts are self-serve, but if you need a specific part, have the part number ready and an associate can hunt it down for you in their parts warehouse. If you can wait, you can also call their customer service line (ask for the recovery department) to have specific parts mailed to your address.
Returns -- If you ever need to return your products, you can do so for most items within 45 days (90 days for IKEA Family members). It can be a headache (especially for large items) as you have to disassemble your furniture to return it, but once you're at the location, look for the separate Returns entrance along the main storefront that will lead you directly to the returns area.
Other Services
Shipping -- Most furniture is eligible for delivery to select regions in Canada starting at $79.00. While the price seems steep for shipping, it can be worth it for large orders as the price is a flat-rate fee. Some small household items are also available for online purchase and shipping will vary depending on size and delivery location.
Planning and Installation -- For large projects like kitchen renovations, you can book an appointment to meet with an associate to help design and plan your purchase. Some stores can also store your purchase (for a fee) in case you want to take advantage of a promotion and pick up your items at a later time.
Pick-Up and Order Points
-- IKEA has four Pick-Up and Order Points in Canada (
London
,
St. Catharines
,
Whitby
in Ontario and
Quebec City
in Quebec), where you can ship your products for a flat-rate fee of $20.00 and pick-up your order.
Have any IKEA tips of you own? Want to tell us about some pun-tastic IKEA items you've found? Share your thoughts in the comments and make sure you follow some of our tips the next time you take a trip to IKEA!