Ready to upgrade your grill? There are a ton of options on the market this time of year but whether you go with a gas or a charcoal grill, BBQs are a good way to stay outside longer and extend the season. With the COVID-19 pandemic forcing lockdowns and restricting indoor dining, you can grill some of your favourite meats — ribs, chicken and steaks — in the comfort of your own backyard. It's hard to know the right one to buy but in this guide below, we'll walk you through some of the options that are sure to bring some variety to your afternoon and evening meals.
We'll also show you some of the best-selling models from various retailers as well as recommendations from our RFD forums, where you can find past reviews and current deals for BBQs and propane accessories. Once you've picked out the best grill for you, don't forget accessories. You'll want to look at grill covers and pick up grilling tools like a grill brush, a thermometer to check for food-safe temperatures and liners for the drip tray.
Read more: The Top 5 Camping Grills to Buy for the Outdoors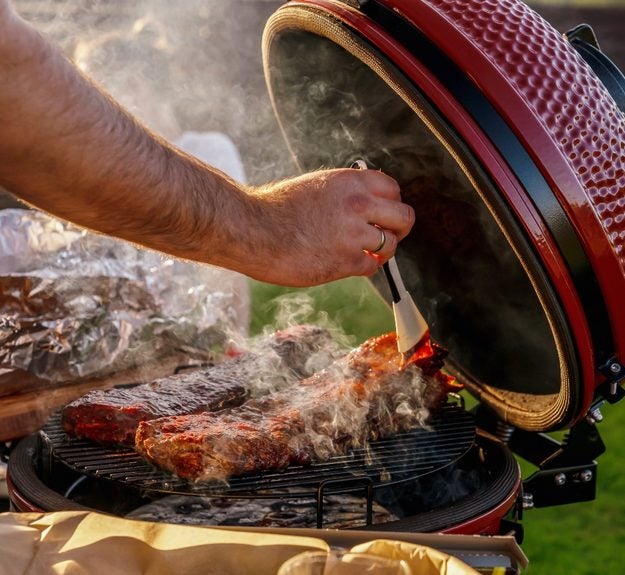 The Top 5: Gas, Charcoal and Portable Grills
Finding the right grill is all about knowing what you want to cook with it most. New grillers tend to go with gas grills as they are consistent and easy to start. The more experienced grillers might want a charcoal grill for the BBQ recipes they've perfected over the years.
Also, one of the factors in purchasing a grill is whether you want a portable grill for the occasional camping or hiking trips. If you want to grill a couple hot dogs or a few burgers, you can get a relatively inexpensive grill to handle the job with ease. You don't need to buy an expensive grill for quick and easy meals.
However, if you want to grill specific seafoods or smoke ribs, you'll need a grill that can get the job done. These type of slow-cooks usually require a charcoal grill so you'll want one that allows you to control its heat source with ease, leaving you enough space to add charcoal or fuel.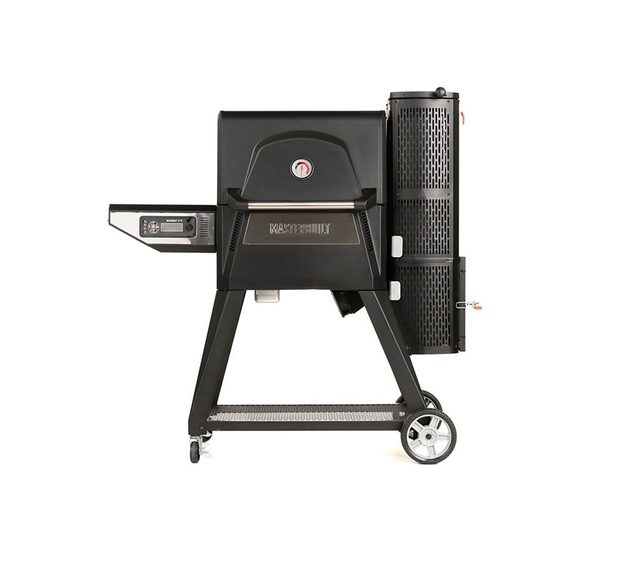 Pros: Heats quickly, versatile
Cons: App can have connection issues without strong Wi-Fi
Price Range: Around $750.
Whether it's your first grill or your second upgrade, the MasterBuilt has the potential to be your last. You can reach 700°F in 13 minutes to grill and/or sear meats of your choice. You can also get to 225°F in seven minutes for low and slow smoking. The GravityFed charcoal hopper holds over 12 hours of charcoal and gravity ensures you have constant fuel to the fire. What's more, it has Bluetooth connectivity through the MasterBuilt app, which has a whole variety of smoking and grilling recipes.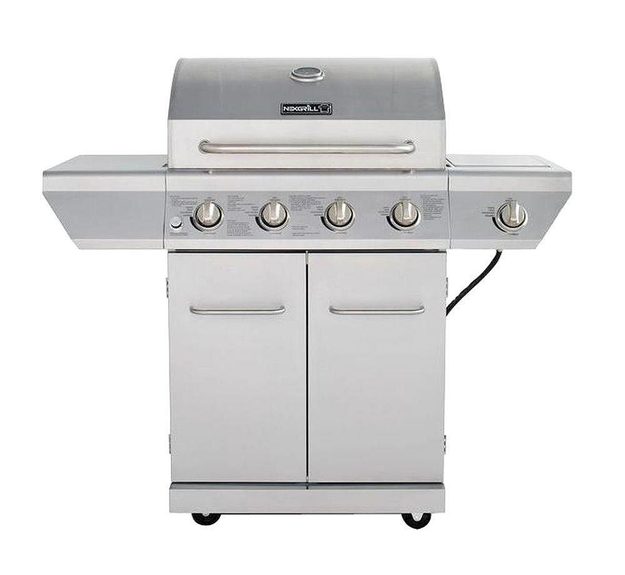 Pros: Includes side burner (12,000 BTU); no-stick, no-burn.
Cons: Smaller surface (164.5 sq. inch); some assembly required.
Price Range: Around $300.
Football season means beer-can chicken, ribs and burgers for the crew! You can get this four-burner propane BBQ for your fall patio space. It boasts 626.8 sq. in. of total cooking space and it also has one side burner, supplying 60,000 BTUs of flame-roasting energy. An electric ignition allows it to fire up instantly and an upper-level warming rack provides a place to heat buns and keep foods toasty. Casters make it easily portable and the built-in thermometer allows for consistent temperature control.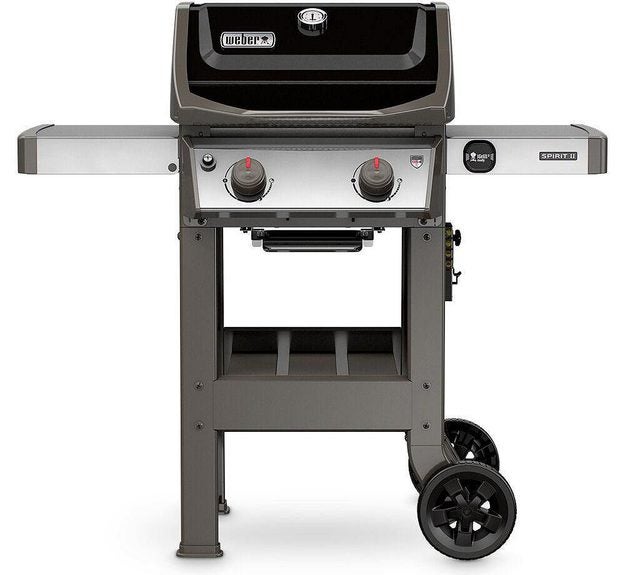 Pros: Offers 26,500 BTUs in a 360 sq in surface; grease management system.
Cons: Smaller surface; can rust if not properly treated in outdoor conditions.
Price Range: Around $650.
This grill packs a lot of punch for its size. If you're looking for a solid gas grill, this is the model for you — especially if you're a rookie griller. It has two burners and has cast-iron grid to get the best sear on all of your steaks, chicken wings and burgers. The thin side of the porcelain-enameled, cast-iron cooking grates is ideal for delicate food such as fish and shrimp, while the wider side creates a thick sear mark enhancing the flavour of your food. What's cool about this model is its iGrill3 Bluetooth digital thermometer, which allows you to control the grill from afar.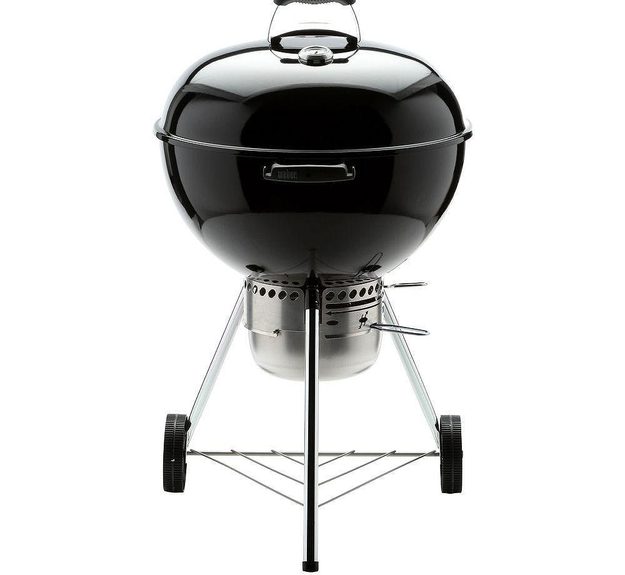 Pros: Great for thicker meats such as brisket and short ribs; setting variety; great for year-round use.
Cons: Temperature sensor hard to read, at times, when cooking.
Price Range: Around $250.
It's hard to beat a good Weber grill and if you want something small but solid, this 22" Weber is a great upgrade for the backyard or the park. It has more than 360 sq. ft. of cooking space and it has a stainless-steel grill surface that's perfect for chicken, hot dogs, burgers and more. The built-in lid thermometer allows you to monitor your grill's temperature, which is important if you're slow-cooking pork and beef ribs. Its durable wheels allow you to move it into your truck when you're done or you can easily store it in your shed during the winter.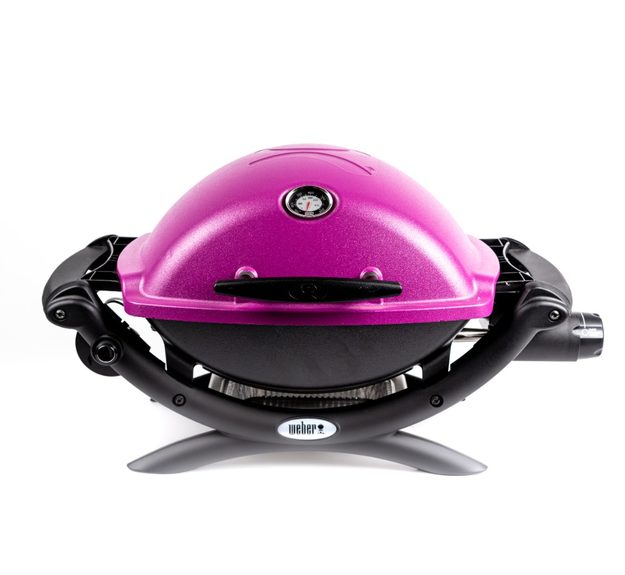 Pros: Good for easy storage, fast and easy to assemble, solid heat controls, spacious cooking area.
Cons: Minimal settings, small propane tube (accessories required), long heat times, hard to clean if not done right away.
Price Range: Around $300.
Known for its portability and ease-of-use, the Weber Q1200 Liquid Propane Grill can be a great choice for all of your camping trips and tailgating events. The BBQ kicks out 8500 BTUs-per-hour and it has 189 sq. in. of porcelain, cast-iron cooking space. Great for portable cooking, it's only 29 lbs. and it's a tabletop-style grill that can be powered by a single 1lbs. propane cylinder. The tall lid accommodates the grilling of small roasts and birds, while the large built-in thermometer allows you to monitor temperatures inside the grill. It also has a quick push-button ignition so you'll need to heat it up for a few minutes before cooking.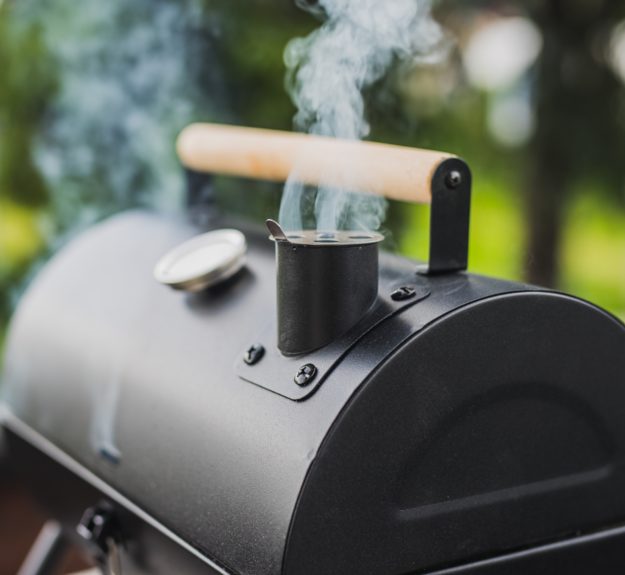 Things to Consider When Buying a Grill
A good grill can really elevate your meats and bring your favourite seasonings and rubs to life. Whether you choose to buy a gas grill or a charcoal grill, either one has their advantages and disadvantages. We'd suggest using a gas grill because it's easier to light in colder conditions but we also understand the smoked flavour you can get from a good charcoal smoke. But in the meantime, here are some things you need to pay attention to with either grill.
Safety: You won't have to continuously monitor a gas grill. As long as its connected and there's gas in the chamber, you're good to go. A charcoal grill needs to be monitored to make sure it's burning safely.
Control: You can't control the temperature of a charcoal grill. Once it's hot, it's hot. We recommend using a charcoal grill for meats that need a longer cook. With a gas grill, you can easily set the heat level that's required to cook any meat to perfection.
Cleaning: Gas grills are easier to clean because you don't need to load the charcoal and then deal with the hot coals once you're finished. You can get a gas grill that has a one-pound camping-sized propane cylinder. In some cases, you can get an adapter hose for larger propane tanks. This is especially true for portable grills, which if charcoal-fueled, are harder to clean.
Grease: It's not all good for the gas grill. One thing about them is that you'll have to deal with grease. A charcoal grill simply burns off the juices from the meat and turns crispy, so there's no need to have a grease trap or some sort of management set-up to deal with that. In some cases, it's also hard to dispose of that grease in a gas grill if you don't have a can or some way to bring it home.
Versatility: Remember — Not all gas grills have more than one burner or control knob. A portable gas grill, unlike its full-size option, usually has one burner which means one heat level will apply. If you want to grill several different meats at the same time, you're going to have to monitor it to make sure it doesn't burn. Some meats take longer to cook than others.
Temperature: Not all grills have warming racks or built-in thermometers so pay attention to that and buy a thermometer that can access the temperature of your meats.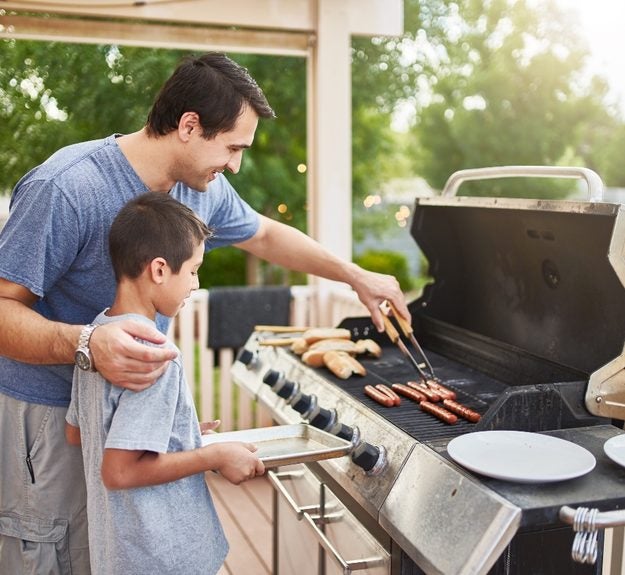 Additional Grills to Consider
Just because we've been looking at gas or charcoal grills doesn't mean there aren't other types of BBQs you shouldn't check out. Aside from charcoal and gas grills, we'll briefly take a look at other grills you should consider for your new backyard patio space. With football season in full swing, you can get your creative juices flowing with these options below:
Kamado Grill: Known as an "egg" grill, they are similar to kettle grills but have a few differences. They have a longer shape to it and they are much heavier. Its ceramic base allows it to trap smoke and they retain heat better than kettle grills as well. They are great for smoking, cooking pizzas, and other foods that don't need constant attention.
Pellet Grill: Wood pellet BBQs burn lower and for longer, providing tender, fall-of-the-bone results. When you're looking for a rich, smoky flavour for your meats, a pellet grill is a solid choice to consider.
Natural Gas BBQ: Natural gas grills connect to the gas connections of your house, eliminating the need to refill a propane tank. If you're considering an outdoor kitchen design for your backyard, these are popular for outdoor kitchen designs.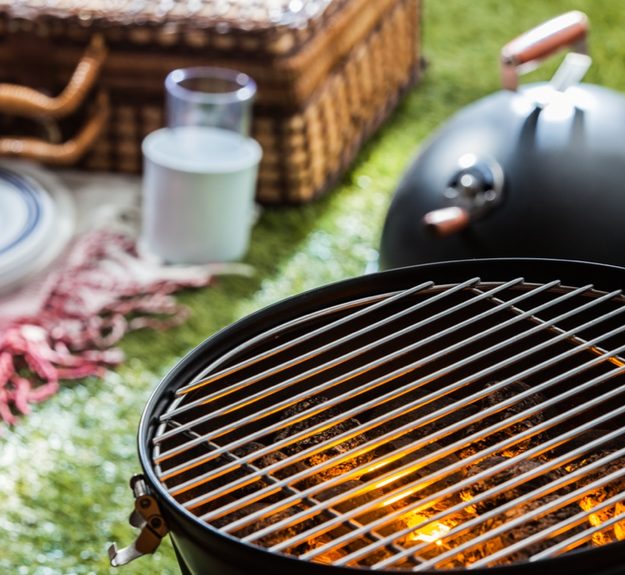 Start Shopping for a Grill Today!
Gas or charcoal? Propane or wood? There are many options to consider when choosing the perfect BBQ for your outdoor space. Some grills and BBQs cook meats and seafoods better than others so check out the above and make an informed decision before buying. Also, look into the all of the BBQ or grill accessories that comes with it. Remember, you want it to last, right? We'll be listing some of them on our sidebar to the right. Make the most of the fall and extend the season with a new grill for your home. Happy shopping!