Back to School Laptop Buying Guide
By
Kevin Ngai
August 22, 2016
Every student needs a laptop and with back to school deals on now, it's a great time to shop for one. Here is what you need to consider before buying a new laptop for the upcoming school year.
How Will You Use Your Laptop?
Buying a laptop is complex and may seem overwhelming at first. The most important thing to consider when you're choosing a laptop is what are you going to use it for? You want to take your needs into account. A good way to begin your search is to set a budget and make a list of must-have features. Afterwards cross check your list with the specs of any laptop you are considering. This will help you avoid buying more than you need.
Check Your School For Ideas
Your next step starts with understanding what your school recommends to its students. You'll want to check with instructors and TAs, your faculty & department and school IT department. They'll be able to recommend a set of minimum specs for laptops, along with the software you should have in your program of study. This will establish the baseline laptop specs to begin your search. A student in engineering will have completely different needs than a digital arts student.
Be Informed
Do your own due diligence and research laptops that interest you by reading reviews. Along with professional reviews, a ton of information can be obtained by real world experience from user reviews on sites such as Amazon.ca and Newegg.ca. Remember it's equally important to test the laptop yourself before buying. You can read all about a model but you'll need to try it out to truly understand what it's like to type on its keyboard, use the trackpad, or know how well it's really built. Most everyday laptops are available for testing at brick-and-mortar stores. You don't necessarily have to make a purchase in the store, but should at least get some hands-on experience before making any decision.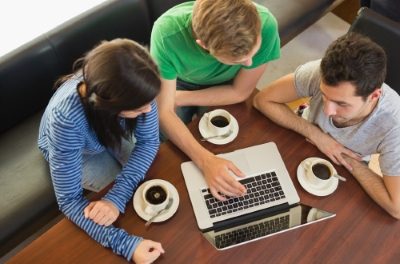 Types of Laptops
Chromebooks run on an operating system created by Google called Chrome OS. They are budget laptops designed to be used primarily while connected to the internet. It is a cloud computing system that can run on modest hardware.
Gaming laptops are notoriously expensive, big, and heavy. They are designed for high performance and are equipped with the latest mobile dGPUs from Nvidia and AMD in order to play the latest games.
General use laptops are considered budget or mid-range devices with screen sizes ranging from 11" - 17". They are designed to handle everyday computing tasks for the average user.
Ultrabooks are a class of laptop that meet a certain standard of thinness, lightness and size established by Intel. They are often premium machines that are less than an inch thin, with long battery life and high resolution displays.
Business laptops are designed for work and productivity. They are workstations built to be robust and are characterized by a wide variety ports, including easier access to their internals than consumers laptops. Many feature hardware-level security options.
Hybrid laptops or 2-in-1 are dual-purpose devices that are able to serve as both a laptop and a tablet. They come in either a detachable design that sees the touchscreen doubling as a tablet, or in a convertible form where the laptop's screen rotates 360 degrees into a tablet mode.
Choosing The Right Size
Laptops come in all shapes and sizes, however those with a 13" - 15" display remains the sweet spot and best choice for most students. They typically weigh 3-6 pounds, making them light enough to carry to and from classes. The ideal size really depends on how you plan to use your laptop. Going small is a good idea if you plan on bringing your laptop to class daily. Larger models may be too bulky unless you're using the system mostly at your desk as a desktop PC replacement. Laptops with a 15.6" display are the most common size on the market and if you're on a budget, tend to be the least expensive.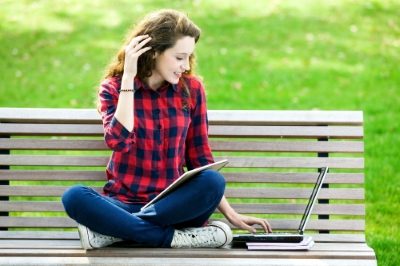 Having Enough Power When You Need It
Battery life matters and it's as important as portability -- nobody wants to be chained to a power outlet. Whichever laptop you're considering, you'll want to compare the manufacturer's battery life estimations vs. user reviews to see whether their claims match up. Initially you may think to get the laptop with the largest battery, however, keep in mind, bigger batteries with more cells mean more weight. You'll generally find replaceable batteries in more modest machines, while many higher end laptops use a sealed battery to keep their form factor small. Battery life can be negatively impacted by high resolution displays because more power is needed to drive all those pixels. If you plan to be fairly mobile, I would suggest a laptop that will last at least 6 hours on a charge.
How Does You Laptop Look and Feel?
The look and feel of the laptop and materials used is important. Some laptops are built to last, while others are made from cheap plastic and feel flimsy. When it comes to build quality, you'll want to be hands-on to understand what you're buying. One thing to look out for is flex -- if you press down on the lid or keyboard and see a lot of flex, you should move on. Don't forget to also checkout the hinges to see if it opens and closes smoothly.
As a student, you'll be doing lots of typing. You'll want to pay extra attention to the trackpad and keyboard, as these are the areas you'll interact with the most. Having a laptop with the best specs won't mean much if it doesn't have good ergonomics. Things to consider: how responsive does the trackpad feel and is it multitouch gesture capable? For keyboards you'll want to ensure they're large enough to type comfortably with a solid tactile feedback. You'll also want to check if there are any keys in non-standard places. For non-bilingual Canadians, you may seriously want to consider a laptop with an U.S. English-only keyboard. Bilingual keyboard layouts are known for having a narrow "enter" and "left shift" key.
Read on for OS, specs, peripherals and today's best laptop deals!