With an abundance of world-class dining options, it's easy to spend a lot of money on a good meal in Vancouver. While Tojo's and Gotham Steakhouse are happy to take your money, it is possible to eat well and still make your rent or mortgage payments. Check out these local spots for delicious dinners priced $10 or less.
1. Meat & Bread - 370 Cambie St. and 1033 West Pender St., Vancouver
Raising the art form from fast-food subs to simple, high quality perfection, these guys are true "sandwich artists." Tuck into their famous $9 Porchetta Sandwich (made with crackling and salsa verde on a fresh ciabatta bun). From jerk chicken to a mouthwatering meatball number to a grown-up grilled cheese, Meat & Bread will send you to sandwich heaven for $9.50 or less.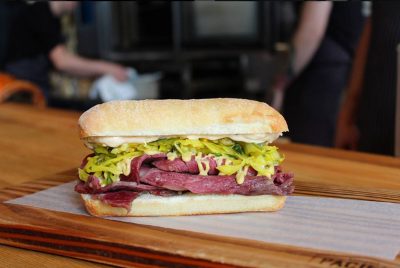 Meat & Bread's Corned Beef
2. Bon's Off Broadway - 2451 Nanaimo St., Vancouver
The $2.95 all-day breakfast special at Bon's Off Broadway is a Vancouver rite of passage. This cheap plate of greasy goodness has been a beloved East Van hangover cure for years. Sure you can enjoy burgers, fish and chips and spaghetti here, but getting toast, eggs, fried potatoes and bacon or sausage with the coins you found in your pocket from the night before is the real draw.
3. Mega Donair - 912 Clarke Rd., Port Moody
When you want a delicious donair, a fresh donair, a GIANT donair, head to Mega Donair in Port Moody. Regular and super-sized chicken, beef, lamb or falafel donairs are less than $8. If you're extra hungry, tackle the Mega size for $10.59-$14.38 — it's earned the distinction of largest donair available in BC. Pitas here are baked fresh to order and toppings include spicy carrots, hummus and assorted fresh veggies.
4. Budgies Burritos - 44 Kingsway, Vancouver
Stuffed with fresh and filling ingredients, the meat won't be missed in these vegetarian burritos ($8 or less). Try The Henry, with kielbasa Tofurkey sausage, or The Poser, with veggie ground round – both include rice, beans, cheese, sour cream, salsa and lettuce or cabbage. Tasty tacos are available for $3.25 a piece or two for $6 and quesadillas, nachos and tortilla soup round out the affordable menu.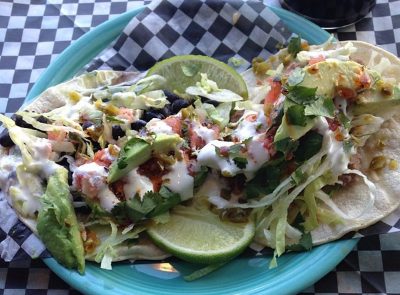 Budgie Burritos' Tacos
5. Lucy's Eastside Diner - 2708 Main St., Vancouver
Satisfy your comfort-food cravings whenever they strike at this inviting, retro-inspired diner. Open 24 hours, seven days a week, Lucy's dishes out to-die-for diet-busters like the Mac N' Cheese Pulled Pork Hoagie for $10 or the Lucy's Reuben hot dog topped with corned beef and sauerkraut for $8.50 (both come with fries or salad).
6. Lido Restaurant - 150-4231 Hazelbridge Way, Richmond
Lido specializes in Hong Kong diner food ($9.99 white pepper pig stomach soup, anyone?). A substantial menu of Western- and Chinese-style dishes is also available, from which you can pick any two items for $9.95. But the main attraction here is the pineapple butter buns. This customer favourite is a bundle of warm, fresh and doughy deliciousness stuffed with a slab of butter for only $3.
7. Tung Hing Bakery - 1198 Kingsway, Vancouver
For less than four bucks, you can take a culinary trip to Vietnam with the Banh Mi sandwiches at Tung Hing. Options include lemongrass chicken, honey garlic sausage and vegetarian. Add something from their tempting selection of baked goods, like the generously sized egg tarts for less than a buck each, and you're still only out $5. Cash only.
8. Save On Meats - 43 West Hastings St., Vancouver
Enjoy generous portions of tasty classics like the Traditional Breakfast for $4.99, the Legendary S.O.M. Burger with salad or fries for $7.95 or the meal-sized Tex-Mex Poutine for $8.95. A cup of hearty chili on a rainy Vancouver afternoon will set you back a measly $3.95. The community-minded Save On Meats gives back to the Downtown Eastside with much-needed meals and clothing through their token program.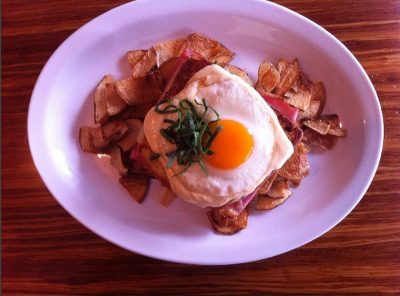 Save On Meats' Croque Madame
9. Volcano Sushi - 1861 Commercial Dr. and 1991 East Hastings St., Vancouver
With sushi joints rivaling Starbucks locations in quantity, Vancouverites are spoiled for choice. This spot is a definite contender for top marks with its low-cost dinner specials and inventive sushi combos. Try the Volcano Special Combo, which includes half-and-half tuna and salmon maki, half-and-half California and dynamite roll and a volcano roll for just $6.95.
10. IKEA - 100 Lougheed Hwy, Coquitlam
You don't need an Allen Key to put together a cheap meal at IKEA. With $0.75 hot dogs, $2 cinnamon bun-and-coffee combos and $1 breakfasts, affordable food options make the flat-pack furniture giant a go-to spot whether you need a new sofa or not. A kids' menu and free baby food (with adult meal purchase) makes it a good deal for the whole family.