It'll cost you more to have your order shipped for free at Amazon.ca, because the popular online retailer has quietly raised their minimum order threshold for free shipping from $25.00 to $35.00.
The unpopular change will affect those who aren't subscribed to Amazon Prime the most, as the $10.00 increase means you'll have to up your basket size on smaller purchases if you want to have your order shipped for free. Otherwise, standard shipping rates vary depending on the product. There are no changes to Amazon Prime members -- all orders will continue to receive free two-day shipping.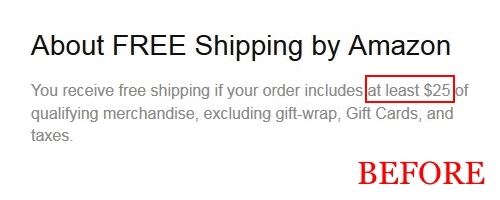 It'll cost you $10.00 more than before to have an order ship for free.
No official statement has been released, but the move is likely a strategy to increase Amazon Prime subscribers, as the holiday shopping season is fast-approaching and many shoppers would have likely already used their free 30-day trial of the service for Prime Day. The wording used to describe the new shipping policy also specifically mentions Amazon Prime. An Amazon Prime subscription costs $79.00 per year or $39.00 per year for students.
Back in 2010, Amazon.ca lowered their free shipping threshold from $39.00 to $25.00. At the time, the Canadian dollar was performing very well and the company stated the move was made in response to customer feedback and to better align shipping policies with the American counterpart.
One by-product of the 2010 change was that major competitors like Best Buy and Indigo also lowered their free shipping thresholds to $25.00 to match Amazon.ca. While both retailers currently still retain the $25.00 minimum, we can't help but wonder if they'll also increase their free shipping minimum to $35.00 in the near-future.
Will the higher free shipping threshold change your shopping habits on Amazon.ca? Let us know how you feel by leaving a comment and voting in our poll!