We recently wrote about our woes with delivery couriers (which you can read here) and it looks like Amazon is throwing their hat in the delivery ring, as they've recently began shipping some orders in Canada using their own delivery service, Amazon Logistics.
Amazon has been testing their delivery service in San Francisco, Los Angeles and New York since 2014, contracting their own personnel to deliver Amazon packages instead of using a third-party courier like UPS or FedEx. The company has invested heavily in the service, including purchasing thousands of delivery assets like trucks and leasing 20 Boeing 747 freighter jets in order to expand this venture beyond the United States.
The company has stated that their goal isn't to compete with other couriers, but to offer a faster delivery option for their customers. The move has worried some financial analysts, as they've questioned Amazon's intentions and fear that this move will increase the struggles of major delivery couriers.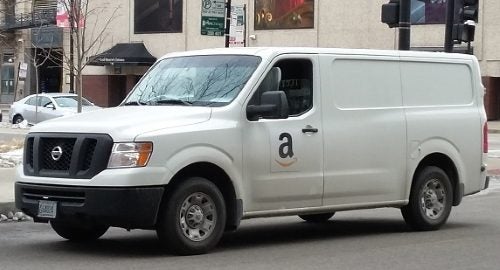 You may see more Amazon-branded vehicles on the street delivering your packages.
On the other hand, the move does make sense for Amazon, as having their own courier service will help alleviate their costs of outsourcing shipping, especially with growing popularity of Amazon Prime, which offers free two-day shipping on all orders for subscribers at the price of $79.00 per year.
This move will also help Amazon customers, as it eliminates steps in the logistical process when ordering from Amazon. Instead of having to wait for a courier like UPS to pick up packages from an Amazon warehouse and sort it in their facility, Amazon can sort and expedite packages directly from their own warehouse, bypassing steps that can typically take a couple of days.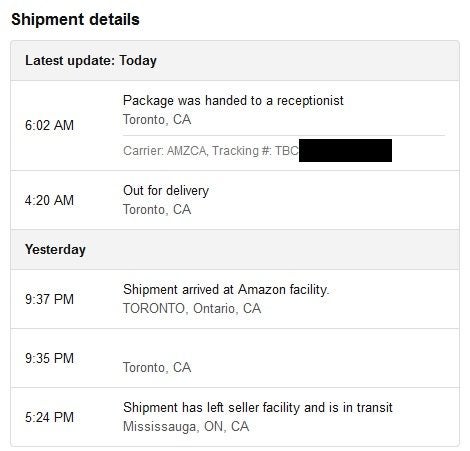 Delivery time for our test order via free super saver shipping was an impressive 12 hours.
We tested this new service by placing an order with Amazon.ca on Tuesday, April 26. The account we used was not subscribed to Amazon Prime and we opted to use free super saver shipping. Although a day passed before we received a shipping notification (Wednesday, April 27 at 5:30 PM), the package itself was delivered the next morning at 6:00 AM. The 12-hour delivery time was impressive, especially when compared to previous orders shipped with free super saver shipping via Canada Post. However, our shipping address was located relatively close to a major Amazon warehouse, so your mileage may vary.
Amazon won't abandon third-party couriers, as they'll continue to use Canada Post, UPS, FedEx and others to deliver most orders. We aren't sure if there's a specific method to have an order delivered with Amazon Logistics, but we speculate that it's determined by a combination of order size, product availability and address.
The service is in its infancy in Canada, but we can't help but wonder if they'll make this service an Amazon Prime exclusive in the future if it does prove to be better than third-parties couriers in an effort to gain more permanent Prime subscribers. Plus, this venture may also be a precursor to Amazon's crazy yet brilliant plan of delivering packages with drones.
In the meantime, you can click here to learn more about Amazon Logistics or look for the courier abbreviation AMZCA in your Amazon shipping notices to identify if your order is being shipped by Amazon Logistics.
Have you had an Amazon order shipped by Amazon Logistics? How do you think this new venture will affect the other major delivery couriers? Tell us about your experience and share your thoughts in the comments!