Ever since Rogers announced that they were shuttering Mobilicity and transferring existing customers to Chatr, customers have been left in limbo, wondering how the move will affect their current plans.
That period of uncertainty appears to be over, as Chatr has released details with a My Chatr Move page that shows the plans available to Mobilicity customers once the merge is complete.
Customers can log in with their Mobilicity number and PIN -- if you're not sure of your PIN, you can visit a Mobilicity store, call (877) 866-2458 or *611 from your Mobilicity phone.
In most cases, there are two plans available -- an "Essentials Plan" with talk and text, along with a "Best Value Plan" with talk, text and data. Details for each plan include:
Essentials Plan
Unlimited in-zone talk and text
Unlimited in-zone province-wide talk
Unlimited in-zone North American text/MMS
International talk saver
Voicemail
Best Value Plan
Unlimited in-zone talk, text and data
Unlimited in-zone province-wide talk
Unlimited in-zone North American text/MMS
6GB of data at 3G speed
International talk saver
Voicemail
All plans include unlimited incoming text, call display, call waiting, call forwarding and group calling.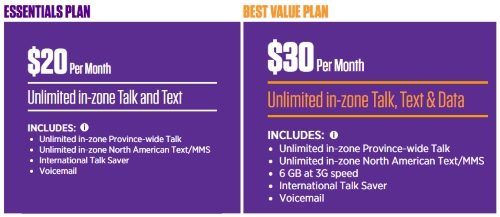 Customers can choose from an Essentials or Best Value Plan (pricing varies by customer).
Plan specifics and pricing vary depending on your current Mobilicity rate, but based on reports in our forum, the Essentials Plan ranges from $15.00-$35.00 per month while the Best Value Plan ranges from $25.00-$45.00 per month. There are currently no reports of Chatr offering an unlimited data option.
Mobilicity customers who complete the transfer will also receive a $10.00 bonus credit and are eligible for a $10.00 credit every month (up to a maximum of $80.00) if they sign up for Chatr's auto-pay pre-authorized payment plan -- click here to learn more about auto-pay. The credits cannot be used to pay your monthly bill, but they can be used for long distance calling, roaming or more data.
The Chatr plans do seem comparable to Mobilicity plans and offer a good value -- for comparison, Rogers currently offers a basic talk and text plan with only 100 local minutes for $25.00 per month while a smartphone plan with a paltry 1GB of data is $90.00 per month.
The general consensus seems to be that of relief, as many were expecting the worst when Rogers first announced plans for the merge, but it remains to be seen if these rates will remain unchanged, as Chatr does not use a contract model.
If you're a Mobilicity customer mulling over your options, leave a comment with your thoughts on the new plans. You can also click here to view a full FAQ about the merge or view our forum thread about this topic for more insight.