It's an exciting time to be a Toronto Blue Jays fan. Whether by blowout or grinding out victories, the team has captivated fans across Canada, and the thought of playoff baseball north of the border for the first time in over 20 years is thrilling.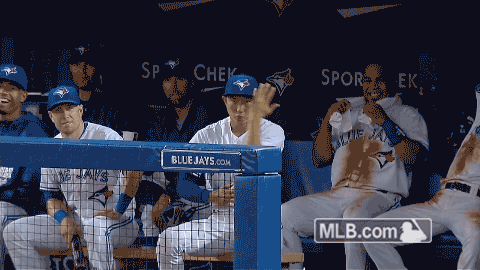 It's hard to contain our excitement about the Jays.
In Part 1 of our Blue Jays Survival Guide, we gave some tips on different methods to snag tickets and what to look out for to avoid overpaying or being scammed. Now that you have your tickets, you'll need to make plans for the game itself. Here are some of our tips on how to get to the game and make the most out of your time at the ballpark.
Travel
When making travel arrangements to get to Rogers Centre, make sure you plan accordingly, taking into account different factors such as traffic and weather. Gates typically open two hours before game time, and it's always better to be early to ensure that you can easily find your seat and don't miss any of the action.
The best option for many people heading downtown to a game is to take public transit. It's cheap, avoids Downtown Toronto traffic, and takes you within a ten minute walk of the stadium. Take the subway or GO Train to Union Station, and follow the signage within the station to head to Rogers Centre. When in doubt, use the CN Tower as a visual landmark and it will lead you to the right place. Those with more familiarity with the TTC network can also take the 509 Harbourfront or 510 Spadina streetcars to stops on Rees Street or Bremner Blvd., which are within a couple of blocks of the stadium.
For those driving in from further away, take advantage of commuter parking offered at 14 TTC subway stations and then take transit down to the game. Parking for weeknight games is only $2.00 between 5:00PM and 2:00AM, and free on weekends. The price of parking and TTC fare will likely cost less than parking near the stadium itself. But, if you are driving all the way, use a tool like Parkopedia to map the cheapest parking in the vicinity of Rogers Centre. Keep in mind that parking prices on game days are often inflated, and the cheapest lots usually fill up quickly. Also, the closer you park to the stadium, the messier the traffic will be before and after the game.
Troy Tulowitzki, Josh Donaldson, Jose Bautista and the Jays are cruisin' right now.
Food
Food and drink are notoriously expensive at sporting events, and it's no different at Rogers Centre. Once you're inside the stadium, you have little choice in terms of affordable options. There are a plethora of food choices available, ranging from pizza to gourmet poutine, but you'll likely be paying a hefty price for them. But, you aren't out of luck. There are a couple of tricks to get food into the venue, without having to pay exorbitant stadium prices.
Here's a Rogers Centre policy that few people seem to take advantage of – you can bring in your own food. That's right – as long as your food is covered and your drinks are non-alcoholic, 600ml or less, and in a plastic bottle (cans, glass and metal bottles are not allowed), you're free to bring them in with you. Stop by one of the many restaurants or a grocery store near the stadium before the game to buy food and drinks and save yourself a lot of money.
There are five grocery stores within walking distance of Rogers Centre.
Like food, most drinks (especially alcohol) at Blue Jays games are wildly overpriced. But, there are two Tim Hortons booths on the 100-level (near Sections 114 and 128), where they sell coffee, Iced Capps and fruit smoothies at regular price! In a place where bottled water goes for $5.00 each, these Timmies locations are the place to go for affordable refreshments. There are also 12 water fountains (four on each level) scattered throughout the stadium that are free to use.

If you aren't driving after the game, head over to a Guest Services booth (two locations on each of the 100, 200 and 500 levels) and fill out a designated driver form. Lines at these booths are usually short as they don't receive much attention, but once you've filled out a form, you'll get a voucher for a free fountain drink, which would otherwise cost $7.00. As a bonus, you'll be automatically entered for Blue Jays prize draws for the rest of the year.
Additional Tips
This standing-room only section is in the middle of the 200-level outfield, free for anyone who owns a ticket. For comparison, tickets for neighbouring sections average $40.00. But, even if you own the cheapest ticket available, you can enter this area and stay the entire game. Spots are first-come-first-serve, so head to the stadium early if you want a prime location and take advantage of the great atmosphere here.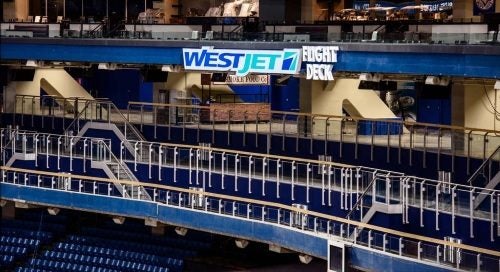 The WestJet Flight Deck is a fun area to take in a ballgame.
Make your way to field-level or the left-field seats during batting practice (usually 1-2 hours before the game starts) and you may be able to get a photo or autograph with certain players, or catch some foul balls and dingers from players taking batting practice. You're free to roam any seat in the building during warm-ups, as long as you're in your own designated seat when the game starts.
There are three giveaway games left on the Jays' schedule this season: free replica jerseys August 30 vs. the Tigers; free t-shirts September 18 vs. the Red Sox; and free hoodies September 27 vs. the Rays. Giveaways are limited to the first 15,000 or 20,000 fans that enter the stadium (depending on the game), and devoted fans will usually line up two hours before game time in order to guarantee themselves some free swag. If you're going to one of these games, avoid entering at gates near the south side of the stadium. Lines at these gates are always the longest and more likely to run out of their allocated supply, since they're along Rogers Centre's main thoroughfare (Bremner Blvd.) and close to several tourist attractions. Enter at gates along the north end of the stadium (Gates 1-3 or 13-15), where lines are shorter and are less likely to run out of supply.
On a hot and sunny day, one of the hottest places in the city is the open cauldron of concrete and metal that is Rogers Centre. Unless the forecast calls for rain throughout the day, bring sunscreen, sunglasses, a hat, and fluids to fight the heat. Even on days when the game begins with the roof closed, officials can choose to open the roof up to six innings into the game if weather permits.
If it's their first trip to a Jays game, visit Guest Services to receive a free 'First Game Certificate' along with a Jays button as a keepsake. Also, "Junior Jays Saturdays" is a promotion that runs during every Saturday home game, with many activities throughout the stadium for kids, including the opportunity to run the bases on the field after the game. It's free to participate, and will give your young ones a great memory. Lineups for this program are located in Sections 108, 208 and 508.
Cell service is notoriously poor inside Rogers Centre, even with an open roof, giving rise to conspiracy theories of Rogers blocking cellular service inside the dome. Save your data bandwidth and connect to the free Wi-Fi available within Rogers Centre.
We've got you covered. MLB.TV Premium is only $24.99 a year. The service is great for fans and cable-cutters, as it allows you to watch live and archived games on your TV, computer or mobile device. Plus, Rogers does not enforce any broadcast blackout restrictions in Canada, so as long as you're watching from a Canadian IP address, you'll be able to watch all MLB games, including the playoffs. Just be sure to cancel the service via phone or e-mail before March 1, 2016, as it is an auto-renewal subscription and normally costs $129.99.
With these tips in mind, you should be all set to watch your Toronto Blue Jays down the stretch run. With a month left in the regular season, sports fans across Canada are keeping an eye on the Jays, and with upcoming games at home against each of their division rivals, there's never been a better time to see the Jays' new acquisitions, solid pitching and lethal offense in action.
The Jays face Carlos Beltran and the Yankees in seven pivotal games that will likely determine who wins the division.
Have any tips of your own? Leave a comment and help out your fellow Jays fans at the ballpark.