The Canadian retail landscape is changing once more, as Future Shop closes it's doors effective immediately. It was announced on March 28 that all 131 Future Shop locations across Canada will be closed permanently and the consolidating with Best Buy, it's parent company under the Best Buy brand.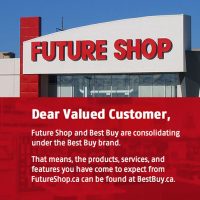 In order to strengthen its position in a competitive consumer electronics market, the company said 66 Future Shop stores will be closed for good. Meanwhile, 65 stores will be temporally closed for about a week while they are converted into Best Buy stores. It's all part of a larger plan to consolidate the stores and websites under one name. It seems likely to us that the Future Shop stores that will not be rebranded are the ones currently located adjacent to a Best Buy.
Best Buy president & CEO Ron Wilson was quoted in a press release that "80 per cent of our customers are within a 15 minute drive to a store and this won't change." In all, some 1500 jobs are now gone. This includes 500 full-time and 1000 part-time employees. The statement adds affected employees will receive severance, employee assistance and outplacement support.
This is brutal year and blow for Canadian retail. However in moving forward, Best Buy Canada says it will be investing up to $200 million into what it calls a multi-channel customer experience to boost it's stores and online presence. An example of what we can expect is a new ship-from-store program, making in-store inventory available to online shoppers. This means customers can order items directly from their local retail store and have it delivered.
All Future Shop orders and warranties will be transferred over to Best Buy, who will also accept Future Shop returns and exchanges. If you have an open FutureShop.ca order, you can track your online order by following this link. For anyone with gift cards, they will be honoured online at BestBuy.ca and at all their retail store fronts. Click here for more details and FAQs.
Join our discussion in the forums to talk about this news.