Finally ending over a year of endless rumours surrounding their next generation console, Nintendo officially announced the Nintendo Switch, earlier today.
Nintendo's Switch announcement streamed online earlier today.
Previously known by its codename, the "NX", the Nintendo Switch is a hybrid home and mobile console as some earlier rumours speculated. Based on trailers, the Switch appears to have both a dock that allows you to game on your television, as well as a detachable tablet screen for on-the-go gaming.
The new controllers, dubbed "Joy-Con" can be attached to a central unit making a single game controller called the "Joy-Con Grip", or they can be separated and then slid onto the sides of the tablet screen to create something resembling the current Wii U gamepad. Alternatively, the two main pieces of the controller can be used independently in each hand for more comfortable gameplay. If none of these options are to your liking, Nintendo will also offer a "Pro Controller" option, similar to what exists with the Wii U.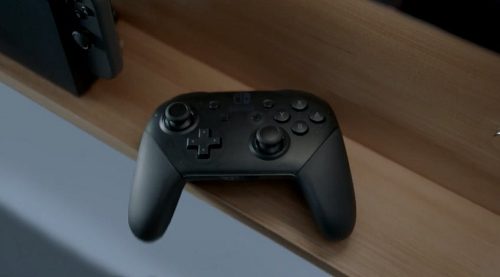 The Pro Controller, one of the many options offered for the Switch.
Game cartridges this time around look quite small, with the preview video showing something around the size of a typical SD card being inserted into the system (although at this point it's not confirmed if this indeed is the game cartridge). Gaming prospects for the Switch already appear to have more promise than the Wii U, with Nintendo saying they have support from many popular developers including Square Enix, Ubisoft, Capcom, Konami, and more, along with their usual first-party titles such as Mario and The Legend of Zelda.
A look at what may be the game cartridge.
The Nintendo Switch will be released worldwide in March 2017. Prices are yet to be announced.
Are you excited for the Nintendo Switch? Will you be picking one up? Let us know in the comments!