After more than a week of radio silence following the revelation that some of their cars have been programmed to cheat emissions tests,
VW has released a Canadian FAQ
. Unfortunately, it doesn't contain any real, helpful information.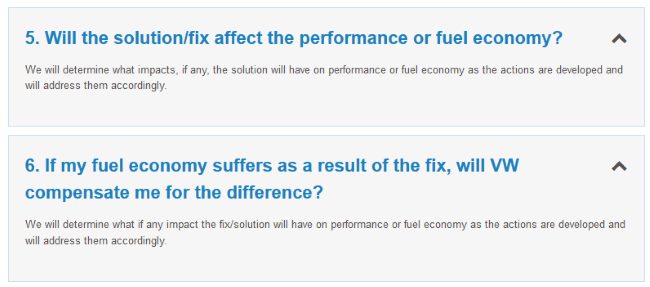 Of course, a complication to the the potential fixes that VW might offer is that it may not make financial sense to car owners to have the car repaired. Right now, the issue is that the emissions are way over the allowed limit. There are a couple of ways to fix that, the cheapest and easiest for VW being adjusting the software of the car to basically run in emission test mode all the time. Bringing the emissions into the legal allowable level by adjusting the software means the cars will be less fuel-efficient and have less powerful acceleration. Now, any reasonable car owner shouldn't want to drive a car putting forty times the legal limit of nitrogen oxides (NOx) -- it's particularly harmful to human respiratory health, among other things -- but I can see frustrated owners ignoring the environmental impact in favour of preserving the car the car with the speed/efficiency they purchased. I couldn't find stats for Canada specifically, but in the US, only about 65% of recalled cars are brought in by their owners for the fix. And that figure includes recalls that comprise the safety of the car, not just the environmental impact.
Alternatively, the affected cars could be retrofitted with a urea tank which would reduce the level of emissions considerably but cost between $5000-$8000 per vehicle.
In Canada, these cars are affected by this issue if they have a TDI/four-cylinder "Clean Diesel" engine:
Volkswagen Jetta model years 2009-2015
Volkswagen Golf model years 2010-2015
Volkswagen Beetle model years 2013-2015
Volkswagen Passat model years 2012-2015
Volkswagen Golf Wagon/Sportwagon model years 2009-15
In total, about 107,000 Volkswagen cars in Canada are affected. Worldwide, there are 11 million affected cars.
What would you do if your car had a similar issue? Sacrifice some speed and efficiency for better emissions, or ignore it as long as you can?