Today Amazon.com launched a product so specific and ridiculous that many thought it must be an April Fool's Day joke. It's not -- it's a tiny, branded button allowing you to reorder your favourite products with one push. Now, instead of laboriously using their computer or mobile device to order products with one click, Americans can simply push a button that they've mounted near the products in question (reusable adhesive is included, of course). The product isn't available in Canada yet, but we'll let you know the second it is.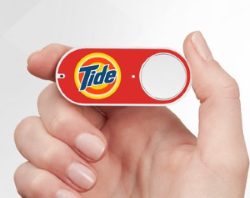 This is a similar product as their Amazon Dash remote that launched last year. The Dash is a handheld device that lets you reorder products by scanning their bar codes or dictating your requests. But while the Amazon Dash works for more than 500,000 different items in your home, the Amazon Dash Buttons each work for one item -- the item that they've been clumsily branded with. There's a limit of three Dash Buttons per household, a restriction I assume they've put in place to keep production costs low while people test the product. (The only thing more expensive than sending one plastic automatic-ordering Amazon widget to a customer so they can reorder a single item is sending ten of them to a customer so they reorder ten single items, right?) There's about 250 products available to order with the Amazon Dash Button and presumably each product available has it's own chubby, logo-laden button.
One of Amazon's strengths is that they're always innovating, and this product is certainly an innovation -- it's a completely new way to initiate your paper towel or laundry detergent order (but after the initial button press, everything is completed online as usual). It's also kind of absurd, unnecessary and I can't imagine it being anything but mildly helpful at best. Would you use one? If you did, what products would you want to use it for?
Not every ordering innovation from Amazon is quite so clunky -- they're also developing Dash Replenishment Service, a device that can be integrated with physical items to automatically reorder products you're getting low on. The examples Amazon gives are a coffee maker ordering more coffee beans or a pet food dispenser ordering more food. That seems like an idea that has merit and broad practical applications and I suspect is the sort of product integration (rather than chunky, branded, adhesive-included buttons) we'll be seeing a lot more of in the future.