Nike's Livestrong Women's Pro Fitted Short Sleeve Top - $39.99 (30% off)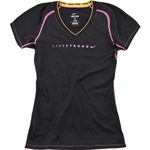 This deal has expired!
Since 2004, Nike has helped the Lance Armstrong Foundation raise more than $80 million to fight cancer. Join us and support the 28 million people living with cancer today. A competition-ready fit that shapes to your body, the short-sleeved LIVESTRONG Pro Combat Core Fitted Women's Shirt is designed to handle the heat of battle. Ergonomic flat seams act to reduce irritation during movement, while sweat-wicking fabric helps keeps sweat off the skin.