Mexx Spring/Summer 2014 Sample Sale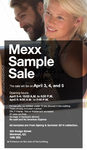 This deal has expired!
Mexx Spring/Summer 2014 sample sale from April 3 to 5! Great styles for women, men and kids. Prepare your wardrobe for the new season with our jaw-dropping collections. Prices include taxes. For security reasons, No children under the age of 12 will be allowed in the warehouse. Sample size only (Women M & 38, Men M & 32, baby 3-6 months, mini 9-12 months, children 5-6 years) All sales are final.