viarail.ca
VIARail.ca: 50% Off Economy & Select Business Class Fares Until December 14 (Book By August 31)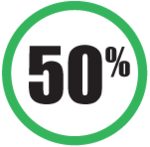 This deal has expired!
Get on board VIA Rail this fall for less with 50% savings on peak adult regular fares! This deal applies to Economy and Business class fares in the Quebec-Windsor Corridor and to Economy class fares in the rest of Canada.
Discounted fares are available for travel up until December 14 when booked by August 31. Examples of available fares include:
Toronto - Montreal, Business Class - $117
Toronto - Vancouver, Economy Class - $394 until October 22, $296 after October 22
Montreal - Halifax, Economy Class - $115
Note: Fares may vary by day of the week and time of departure.
Discounts apply to the peak adult regular fares, must be booked three days in advance of travel, and are non-refundable. Available on new bookings only.