viarail.ca
VIA Rail Valentine's Sale - Save 50% On Travel Within Canada, UPDATE: Extended to February 19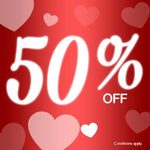 This deal has expired!
February 13 Update: This offer, which was originally set to expire on Valentine's Day, has been extended! You'll now have until February 19 to book your 50% off VIA Rail travel.
Originally Posted February 8: VIA Rail are having a Valentine's sale with a special 50% discount on travel throughout Canada when you book by February 14.
This discount applies to adult regular Economy and Business class fares in the Ontario-Quebec corridor or the regular adult Economy, Sleeper, and Sleeper Plus class fares for Eastern and Western long-haul trains. With travel to be completed by June 15, 2013.
For more information, visit VIARail.ca